2019-20 Topps Chrome Bundesliga is both shiny and colorful. As far as modern card sets go, it's not overly complicated, though. Like other sets under the Topps Chrome name, Refractors and autographs are focal points, this time centering on the German soccer league.

2019-20 Topps Chrome Bundesliga Overview
This is the second year that Bundesliga has been given the Chrome treatment. The base set is limited to 90 cards, covering the top players in the league. There's also some overlap to the international soccer scene as some also rank among the best in the world.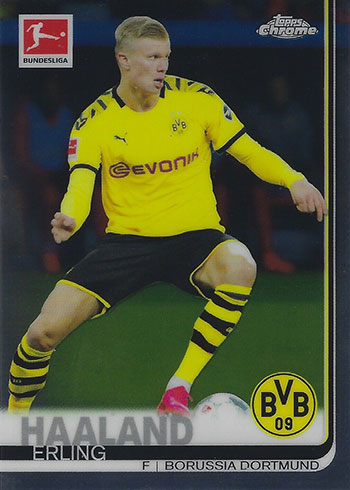 Regular Refractors kick off the parallels. Landing 1:3 packs, these have a colorful rainbow finish when shone under bright light. Additional Refractors include Green (/99), Gold (/50), Orange (/25), Red (/10) and Superfractors (1/1).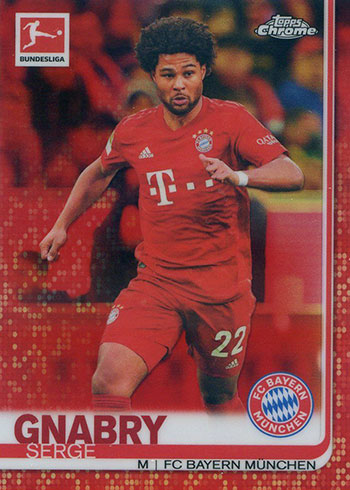 The base set has some league-focused short prints as well that are available in smaller numbers. These include the official ball, Supercup Trophy and Bundesliga Trophy all get the SP treatment.
Autographs fall one per hobby box. Base Autographs use the same general design as the main set. Parallels for these come in Gold Refractors (/50), Orange Refractors (/25) and one-of-a-kind Superfractors (1/1).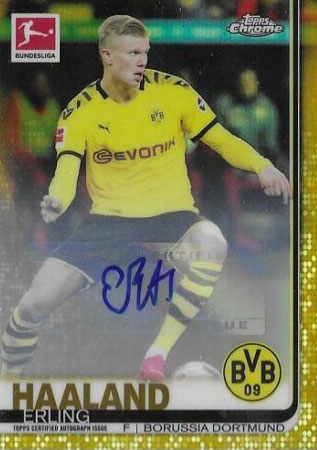 Three regular insert sets are also part of the checklist. Future Stars returns for another year, spotlighting young players. International Flair features a global standout on every team. Finally, there's Top XI, which has Bundesliga league leaders. All three of these have limited autographed versions as well.
2019-20 Topps Chrome Bundesliga soccer cards at a glance:
Cards per pack: 4
Packs per box: 18
Boxes per case: 12
Set size: 90 cards
Release date: July 15, 2020
Shop for 2019-20 Topps Chrome Bundesliga boxes on eBay:
What to expect in a hobby box:
Autographs – 1
Refractors – 6
2019-20 Topps Chrome Bundesliga Soccer Checklist
You can also download a spreadsheet copy of the 2019-20 Topps Chrome Bundesliga checklist here:
Base
Autographs
Inserts
Team Sets