2019-20 SP Game Used CHL Hockey Checklist, Team Set Lists and Details
2019-20 SP Game Used CHL Hockey gives the major juniors a high-end entry. It's not a big set and it's not overly complicated but it does offer a different spin for the sport's prospects. Hobby boxes come with four packs and inside of each pack is either an autograph or an autograph memorabilia card.
2019-20 SP Game Used CHL Hockey Overview
One of the cornerstones of modern SP GU products is the base set. Like recent NHL sets for the brand, the main set is actually extremely challenging as cards are numbered to the player's jersey number. So, thanks to Alexis Gravel, there's just one possible base set in existence. A handful of cards on the 75-card checklist have print runs in the low 90s, representing the most plentiful.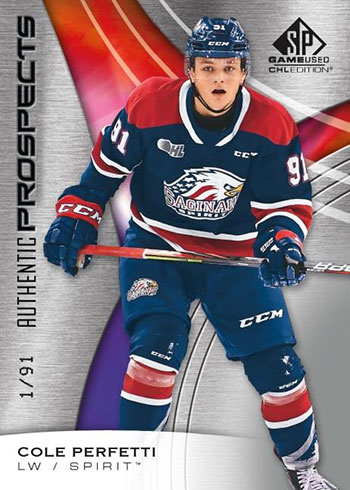 For 64 of the base cards, the final copy is autographed. So copy 11/11 for Alexis Lafreniere includes a signature. Given the nature of these, all can be considered one-of-ones.
Numbered to 199, Orange parallels are the most common cards in the product.
Select base cards also have unnumbered Autograph and Red Auto Patch versions.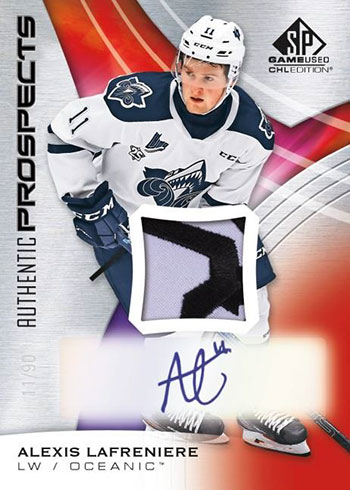 2000-01 New Style inserts, which have 99 copies each, bring back an old design used for Rookie Cards in 2000-01 SP Game Used Hockey.
These have one-of-one Orange parallels as well as Blue Autograph and Red Auto Jersey versions for select cards.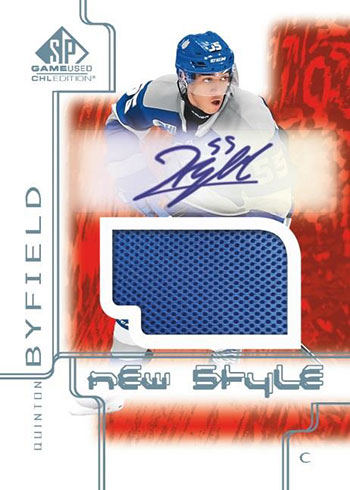 2019-20 SP Game Used CHL Hockey cards at a glance:
Cards per pack: 3
Packs per box: 4
Boxes per case: 10
Set size: 75 cards
Release date: August 5, 2020
What to expect in a hobby box:
Autograph Memorabilia Cards – 1
Additional Autographs – 3
2019-20 SP Game Used CHL Hockey Checklist
Please note that print runs have not been released for cards without serial numbers.
You can also download a spreadsheet copy of the checklist here:
Base
Autographs
Inserts
Team Sets