2019-20 Panini Prizm FOTL Premium Edition Boxes Take on Different Selling Format
2019-20 Prizm Basketball has a variety of configurations at both the hobby and retail levels. It's also got a Premium Edition that's exclusive to their online-exclusive 1st Off the Line program.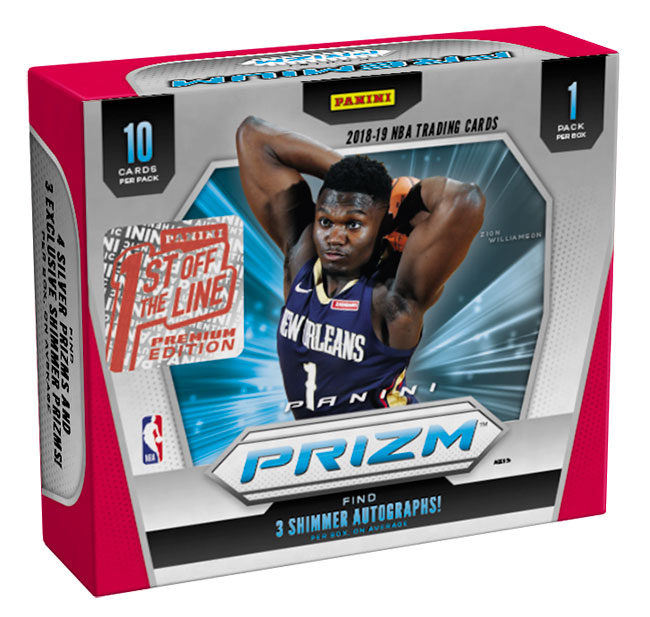 Over the last couple of  months, many 1st Off the Line have been instant sell outs that have left collectors looking to the secondary market — with much higher prices — for the boxes. But 2019-20 Panini Prizm FOTL Premium Edition is taking a different approach. Panini is providing some wiggle room in the price.
When the exclusive 2019-20 Prizm FOTL Premium Edition Basketball boxes first go on sale on Panini's website on Monday, December 2 at 11 AM EST (8 AM PST), the price will be $1,000 per box. Those wanting to jump in at that price can do so.
Every two minutes, the price will drop, though (the exact amount of the drop hasn't been announced). That means those getting in early will pay the most. However, those who wait run the risk of the boxes selling out.
Each 2019-20 Prizm FOTL Premium Edition box comes with ten cards: three Shimmer autograph parallels, three Shimmer Prizms, and four Silver Prizms. For both the Shimmer base parallels and autographs, the colors are Blue, Green (/25 or less), Gold (/10) and Black (1/1).
There is a limit of 12 boxes per transaction.
Panini has more details posted on their website.