2019-20 Panini Obsidian Basketball is heading for hobby. After making it's hoops debut in 2018-19 as an online-exclusive, Obsidian's standalone sophomore effort gets a more traditional distribution plan. The hallmarks of the brand remain the same, though. It's got a chrome-like foundation, albeit one that emphasizes a black backdrop versus the usual silver.
Hobby boxes come with one pack of seven cards. Contents include a pair of autographs and two total inserts and parallels.
2019-20 Panini Obsidian Basketball Overview
For those not familiar with Obsidian, the overarching design feature are the dark backgrounds done on chromium stock. In sets like Prizm and Select, backgrounds get the rainbow treatment. When the lights go out, parallels require a different approach. Enter the etching. These lines not only add pop but some colorful opportunities for parallels. This theme runs throughout the checklist, from the base set to the signatures and inserts.
And it all starts with the main set. The shell set has 200 cards — 150 veterans and 50 rookies. These come with eight different Electric Etch parallels: Purple (/75), Orange (/50), Green (/25), Blue (/16), Yellow (/10), Red (/5), Contra (/3) and White Mojo (1/1). Blue and Contra are exclusive to 1st Off the Line boxes.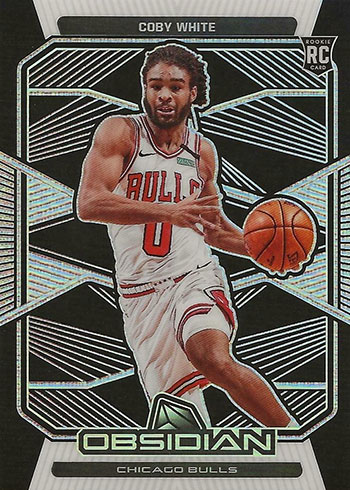 Rookie Jersey Autographs headline the hits. Zion Williamson, Ja Morant and other key members of the season's freshman crop appear. These are numbered as part of the base set. Electric Etch parallels come in a variety of colors and print numbers. Colors include Purple, Orange, Green, Yellow, Red and White Mojo (1/1).
Lightning Strike Signatures, Onyx Autographs and Volcanic Signatures provide ink from veteran and retired players.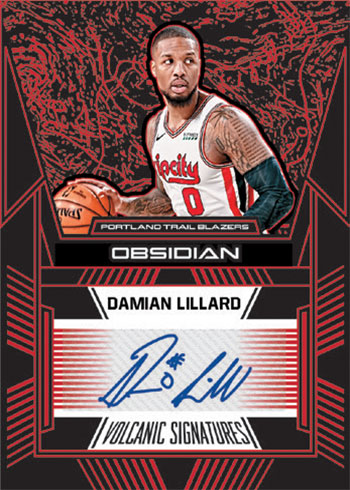 As for other inserts, designs get die-cuts. After 2018-19 Obsidian Basketball had just one chase set that wasn't autographs, this set has three new ones. Tunnel Vision and Pitch Black are both in 2019 Obsidian Football.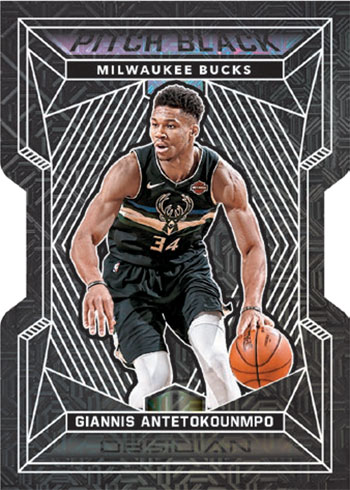 There's also Atomic.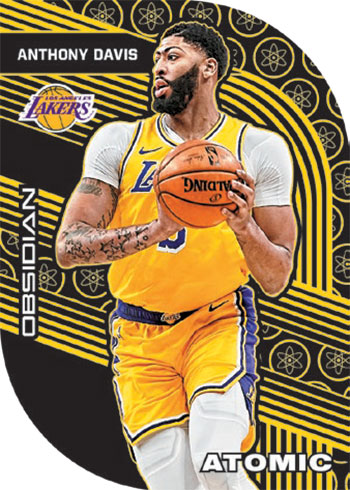 2019-20 Panini Obsidian Basketball cards at a glance:
Cards per pack: 7
Packs per box: 1
Boxes per case: 12
Set size: 241 cards
Release date: July 15, 2020
Shop for 2019-20 Panini Obsidian Basketball boxes on eBay:
What to expect in a hobby box:
Autographs – 2
Inserts or Parallels – 2 Total
2019-20 Panini Obsidian Basketball Checklist
Please note that print runs for cards without serial numbers have not been released.
If you would like to download a spreadsheet copy of the 2019-20 Panini Obsidian Basketball checklist, you can do so here:
Base
Autographs
Inserts
Team Sets