2019-20 Panini Mosaic Basketball is getting bigger — both in size and its distribution scope.
After a couple of years as an online-exclusive brand, this time around the patterned Prizm-style set getting a full hobby and retail release.
Like other chromium releases, hobby boxes have plenty of color with 20 total parallels. Collectors can also expect an autograph and lots of inserts as well.

2019-20 Panini Mosaic Basketball Base Set Basics
The look of Mosaic starts with an opti-chrome foundation. This puts it in the same realm as Prizm, Select and Spectra. In past years, all Mosaic cards — base and parallels — have come with a tiled background. This time around, base cards are more like Prizm with solid chrome. It's the parallels where the Mosaic background pattern is found.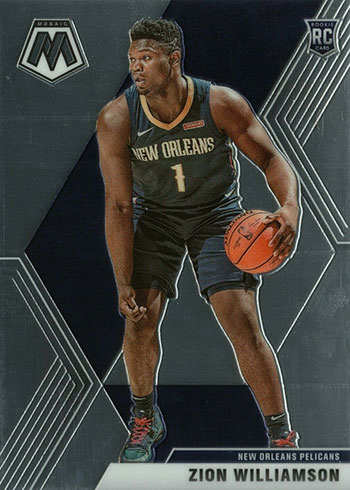 The 2019-20 Panini Mosaic Basketball checklist is ballooning in size. Last year, it was limited to 100 cards. This time around it makes a big jump to 300. It breaks down into several sections. With 200 cards. veterans and retired stars make up the majority of the set. A total of 50 rookies also make the cut. The balance of the checklist consists of Hall of Fame (15 cards), MVPs (five cards), NBA Debut (20 cards) and Team USA (ten cards).
Parallels come in a variety of colors. This includes five Silver versions plus 15 addition Mosaics per hobby box. This works out to approximately two per pack. Mosaic versions include Base Mosaic, Red, Blue, Purple, White, Gold and Black.
Retail has some additional exclusive parallels. Mosaic Green and Genesis are in all retail configurations. Blasters are the only place to find Orange Fluorescent cards. Cello packs have three Camo Pink cards as well as randomly inserted Blue Fluorescent Mosaics.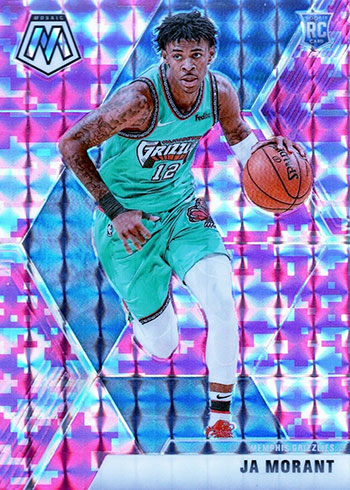 Rookie Variations offer up different photos of key first-year players including Zion Williamson and Ja Morant.
Autographs and Other Inserts
Signatures, which are one per hobby box, come in a couple of similar but separate formats. Autographs Mosaics cover veterans and retired players. Rookie Autographs Mosaic feature the season's freshman class.
Similar to the base set, there are additional parallels including Gold and Black.
Autographs in retail packs fall under the Scripts banner and are available for rookies, vets and retired stars.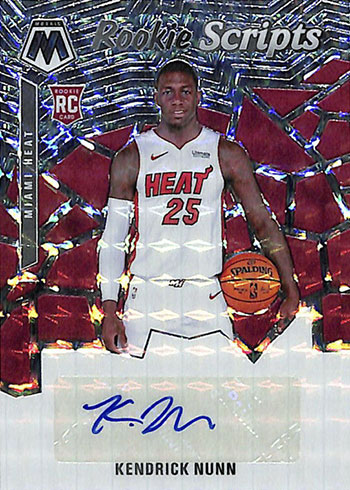 Other inserts in 2019-20 Panini Mosaic Basketball combine to land two per hobby pack. Themes include Stained Glass, In It to Win It, Swagger, Center Stage and Overdrive.
On the retail side, there's Will to Win, Jam Masters, and Give and Go.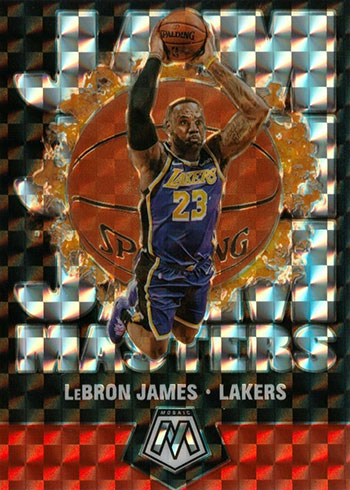 2019-20 Panini Prizm Mosaic Basketball cards at a glance:
Cards per pack: Hobby – 15, Blaster – 4
Packs per box: Hobby – 10, Blaster – 8
Boxes per case: Hobby – 12
Set size: 300 cards
Release date: Hobby – May 20, 2020 (retail is out now)
Shop for 2019-20 Panini Prizm Mosaic Basketball boxes on eBay:
What to expect in a hobby box:
Autographs – 1
Silver Parallels – 5
Additional Parallels – 15
Inserts – 20
2019-20 Panini Mosaic Basketball Checklist
Base
Autographs
Inserts
Team Sets