Premier League soccer cards have a new high-end brand. 2019-20 Panini Impeccable Premier League Soccer brings the autograph-heavy line to the sport for the first time.
Hobby boxes have five total hits, at least four of which are autographs.

2019-20 Panini Impeccable Premier League Soccer Autographs and Memorabilia Cards
Signature themes run deep on the checklist with more than a dozen different insert sets.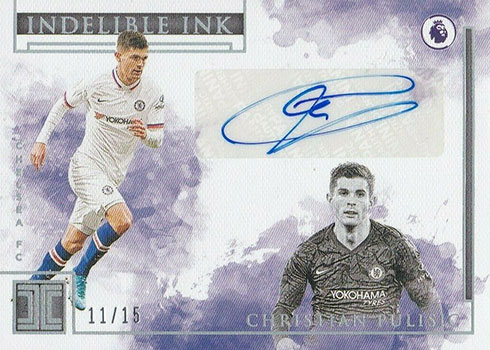 Elegance and Elegance Rookie Patch Autographs include an oversized piece of memorabilia. Parallels come in Silver (/25), Gold (/10), Emerald (/5) and Platinum (1/1).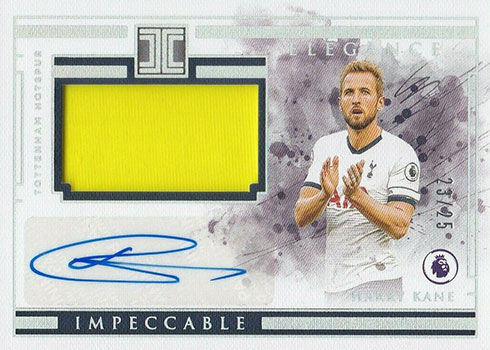 Sticking with the youth theme are Rookie Autographs. These feature some of the first signatures from players. Parallels line up with the Elegance cards both in color and print runs.
Jersey Number Autographs are self-explanatory. Not only is the player's number a big part of the design but it also matches the card's print runs.
All-Time Legends look to the past with 20 of the league's greats.
Impeccable Champion Signatures (/10) represent some of the toughest cards in the product. Players are shown with the Premier League Trophy.
All 20 teams on the 2019-20 Panini Impeccable Premier League Soccer checklist. Club History Autographs dig into clubs in a few ways. For starters, there's the team nickname that's prominently integrated into its design. Production runs for individual cards match the year the team began.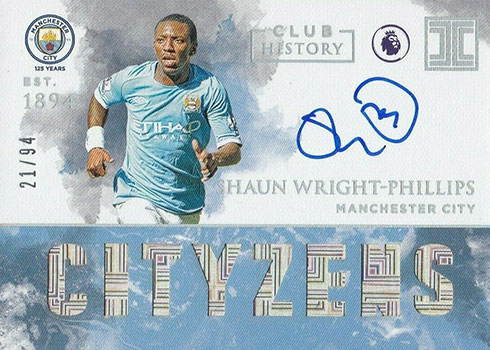 Impeccable Trios (/10) have autographs from three players from the same club.
For the strictly memorabilia cards in 2019-20 Panini Impeccable Premier League Soccer, there are two general themes. Impeccable Materials have one over-sized swatch. Dual Materials double up the number of pieces. In both instances, there are additional parallels with premium pieces and smaller print runs.
2019-20 Panini Impeccable Premier League Soccer Base Cards and Insert Overview
Impeccable is primarily about the autographs. But there are other elements as well.
The base set, which maintains a premium construction and design, has 100 cards covering top stars in the league. Parallels, which combine to land one per box, are available in Silver (/35), Gold (/20), Emerald (/5), Printing Plates (1/1) and Platinum (1/1).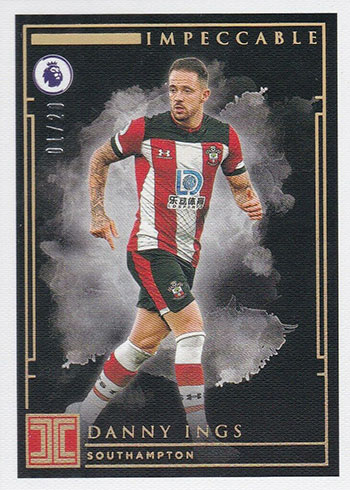 Boxes also come with one insert that doesn't have any ink or swatches. Rookie Metal (25 cards) and Stainless Stars both use steel stock. Both have autograph versions with 25 copies each.
From the earliest days of the brand, silver and gold pieces have been a part of Impeccable's inserts. Here, both are back with Premier League Logo cards. Silver versions are all numbered to 25. Gold are significantly tougher to pull with just three copies each. Also, the Premier League Logo Silver checklist has 80 players versus just 20 for Gold.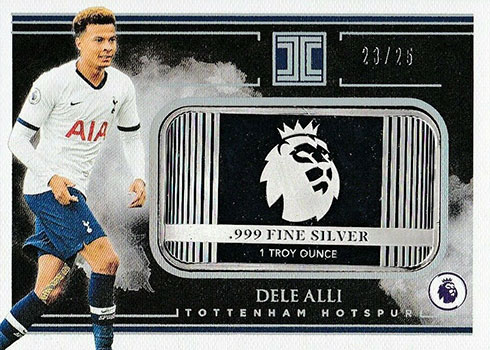 2019-20 Panini Impeccable Premier League Soccer cards at a glance:
Cards per pack: 8
Packs per box: 1
Boxes per case: 3
Set size: 100 cards
Release date: July 29, 2020
Shop for 2019-20 Panini Impeccable Premier League Soccer box on eBay:
What to expect in a hobby box:
Autographs – 4
Additional Autographs or Memorabilia Cards – 1
Inserts – 1
Parallels – 1
Base Cards – 1
2019-20 Panini Impeccable Soccer Checklist
You can also download a spreadsheet copy of the checklist:
Base
Autographs
Memorabilia
Inserts
Team Sets