When an illusion presents itself, you can be looking at one thing and, in an instant, it presents itself in a totally different way. To that end, 2019-20 Panini Illusions Basketball attempts to do this with a mix of designs and card elements. You can be flipping through a pack and going from cards with more traditional stock to others with wilder color palettes to others still on acetate.
Although there is an autograph in every hobby box, this isn't a hits-driven product. It's more about variety. To that end, 2019-20 Illusions Basketball hobby boxes also have 13 inserts (five of which are acetate) and 14 parallels.
Illusions also has three retail configurations that have some exclusives of their own in the form of both inserts and parallels.
2019-20 Panini Illusions Basketball Checklist Overview
This marks the first time the Illusions brand has hit the hardcourt. Panini introduced it in 2017 with football. It has also appeared for baseball, albeit in a more abbreviated form as a small part of the much larger Chronicles.
For its basketball debut, the base set has 200 total cards — 150 veterans and 50 rookies.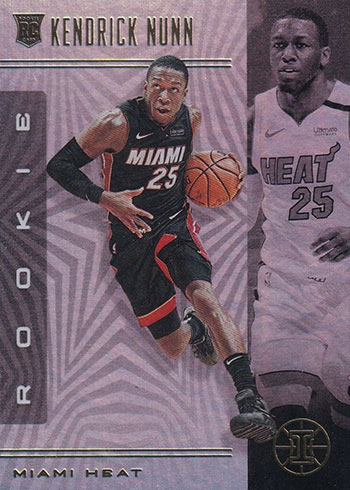 Parallels, which are one per hobby pack, include Gold, Green and Purple. Retail packs have additional parallels not found in hobby. Among them is Starlight that, according to Panini, are on the rare side. Emerald and Ruby parallels are only in blasters while Yellow and Sapphire cards are exclusive to retail mega boxes.
On the autograph front, one of the focal points is Draft Night Signatures. These are signed on a large acetate window that's layered over top of the 2019 NBA Draft logo. The checklist for these is limited to 27 rookies.
Other autograph inserts in hobby include Superlatives Signatures and First Impressions Jersey Autographs.
Trophy Collection Signatures and Rookie Signs are exclusive to retail packs.
Acetate is the anchor for several of 2019-20 Panini Illusions Basketball's inserts. These combine to fall five per hobby box, one per blaster and two per mega box. Astounding, Clear Shots and Shining Stars are among the themes using the clear plastic-style stock.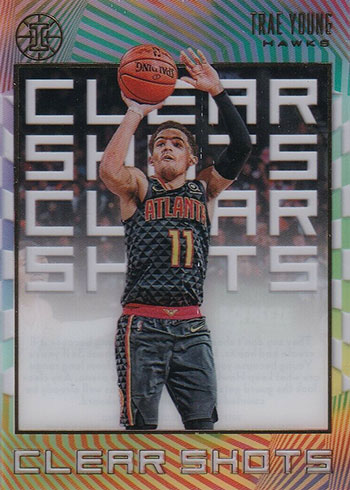 Inserts aren't all acetate in Illusions, though. Both hobby and retail have their own assortment of additional chase sets. Rookie Vision, Illumination and the dual-player Fantasy Matchups are in hobby packs.
Among the retail offerings is Career Lineage, a set that shows players at various stages from their playing days. Rookie Reflections pair up a rookie with someone from the past. There's also Rookie Visions, another place on the checklist that highlights the 2019-20 first-year class.
2019-20 Panini Illusions Basketball cards at a glance:
Cards per pack: Hobby – 6, Blaster – 6, Mega Box – 6, Fat Packs – 12
Packs per box: Hobby – 14, Blaster – 6, Mega Box – 10, Fat Packs – 20
Boxes per case: Hobby – 12, Blaster – 20, Mega Box – 20, Fat Packs – 20
Set size: 200 cards
Release date: August 5, 2020
Shop for 2019-20 Panini Illusions Basketball boxes on eBay:
What to expect in a hobby box:
Autographs – 1
Acetate Cards – 5
Additional Inserts – 8
Parallels – 14
What to expect in a retail blaster box:
Emerald Acetate Cards – 1
Additional Inserts – 2
Parallels – 3
What to expect in a retail mega box:
Sapphire Acetate Cards – 2
Additional Inserts – 3
Parallels – 5
2019-20 Panini Illusions Basketball Checklist
Please note that print runs for cards without serial numbers have not been released.
You can also download a spreadsheet version of the checklist:
Base
Autographs
Inserts
Team Sets