2019-20 Donruss Optic Basketball cards make the earlier Donruss set shiny. And with that comes color — lots of it. The chromium spin is back, offering up lots of parallels, inserts and some on-card ink from Zion Williamson and other members of the year's rookie class.

2019-20 Donruss Optic Basketball Base Set Basics
The base set adopts the same general layout as 2019-20 Donruss Basketball but with one major difference — the chromium card stock. This gives cards a shiny, metallic finish similar to Panini Prizm and Topps Chrome in baseball.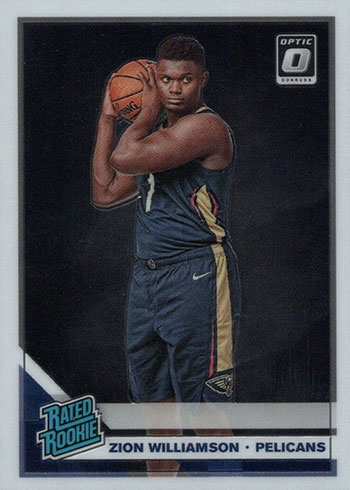 It also means a rainbow of colorful parallels. Holo, Orange (/199), Lime Green (/149), Red (/99), Pink Velocity (/79), Blue (/59), Black Velocity (/39), Gold (/10), Green (/5) and Gold Vinyl (1/1) are among those available in hobby boxes.
Special Fast Break Boxes have some exclusive patterned versions of their own: Holo, Purple (/95), Red (/85), Blue (/50), Pink (/20), Gold (/10) and Black (1/1). Besides the colored borders, Fast Break parallels have dots in the background to help make them distinct.
Autographs and Inserts
Leading the autographs in 2019-20 Donruss Optic Basketball are Rated Rookies Signatures. The all have on-card ink and a rainbow of their own that includes Holo, Blue (/49), Gold (/10), Green (/5) and Black (1/1). Fast Break boxes have their own base, Gold (/10) and Black (1/1) versions.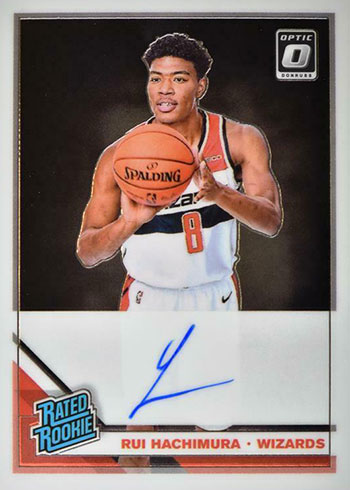 Additional autograph inserts include Dominators Signatures, Rookie Dominators Signatures and Retro Series Signatures.
Not all inserts in the product are autographs. All Clear for Takeoff, All-Stars, Rainmakers, Star Gazing and The Rookies are all exclusive to hobby packs. While these all have an assortment of regular parallels, Fast Break versions are only in Fast Break boxes.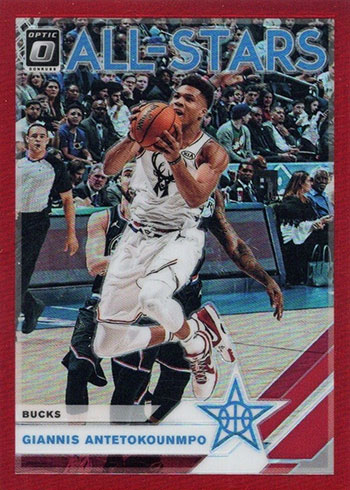 2019-20 Donruss Optic Basketball cards at a glance:
Cards per pack: Hobby – 4, Fast Break – 4
Packs per box: Hobby – 20, Fast Break – 18
Boxes per case: Hobby – 12, Fast Break – 20
Set size: 200 cards.
Release date: February 5, 2020
Shop for 2019-20 Donruss Optic Basketball boxes on eBay:
What to expect in a hobby box:
Autographs – 1
Inserts and Parallels – 20 total
What to expect in a Fast Break box:
Autographs – 1
Inserts and Parallels – 18 total
2019-20 Donruss Optic Basketball Checklist
Base
Autographs
Inserts
Team Sets