2018 Upper Deck Predator Trading Cards Stalk e-Pack
2018 Upper Deck Predator trading cards mark the first time the franchise gets a standalone release that doesn't include Xenomorphs or other movie creatures. It's not a big release. Nor is it a traditional one. But it is a set of Predator trading cards.
2018 Upper Deck Predator Overview
The product is exclusive to Upper Deck's e-Pack platform. While the cards themselves are all available physically, packs are digital. To get them, you first have to make a purchase of any Alien product from the e-Pack site. This unlocks the 2018 Upper Deck Predator packs. You can purchase multiple packs with just one Alien purchase, they just all have to be in your cart at the same time during checkout.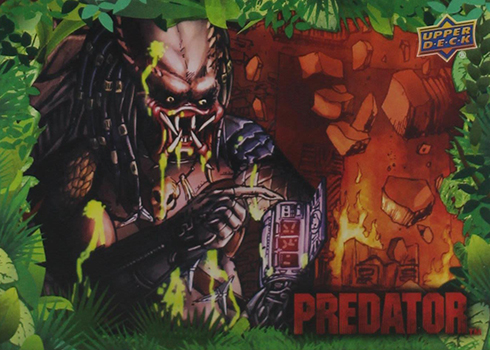 In each Predator pack are two base cards and a Predatory Instincts insert.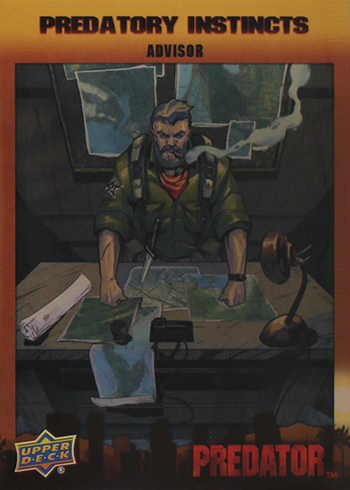 The set is being drawn out over 14 weeks so each week two new base cards and a pair of Predatory Instincts inserts are released. With only one of the inserts in each pack, it does require multiple packs to complete both.
Collectors can request shipping or add them to their COMC portfolio. However, to qualify for Achievement cards, they must remain in e-Pack accounts.
Packs are available for one week each with a new one launching on Monday mornings at 12 PM EST/9 AM PST. They could also sell out sooner. 2018 Upper Deck Predator trading cards have a small print run. Each pack is limited to just 250 copies.
Achievement Cards
While 28 cards are available for both parts of the set in packs, the final checklists for both are actually 29 cards. Those who complete sets have the option of redeeming them for an exclusive card #29. Both the base set and Predatory Instincts sets have these.
Those Achievement Cards can also be redeemed for a sketch card not in any of the packs.
Predator has been part of a handful of trading card sets over the years. However, they mostly all involve Alien as well, from both the AvP movies as well as the comics. Predator is also a part of the 1988 Topps Fright Flicks checklist.
2018 Upper Deck Predator trading cards at a glance:
Cards per pack: 3
Set size: 28 cards
Release date: September 17, 2018
2018 Upper Deck Predator Checklist
Checklist will be updated as new cards are released.
Base Set
29 cards.
2 cards released each week over 14 weeks.
#29 available only as an Achievement card for exchanging a full set.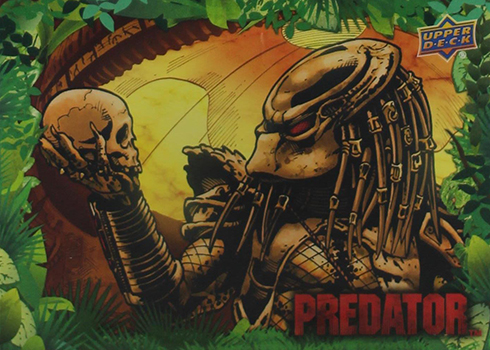 1 Aggression
2 Last Resort
3 Shoulder Cannon
4 Active Camo
5 Combi-Stock
6 Net Launcher
7 Smart-Disk
8 Yautja
9 Plasma Bolt
10 Gauntlet
11 Map of the City
12 Infrared
13 Ultraviolet
14 Plasma Caster
15 Bad Blood
16 Hunting Spear
17 Thermal
18 Disrupted Camo
19 Blooded Yautja
20 Battle Cry
Predatory Instincts
29 cards.
1 per pack.
#PI29 available only as an Achievement card for exchanging a full set.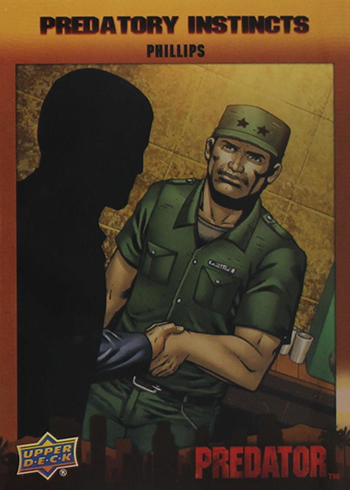 PI1 Advisor
PI2 Phillips
PI3 Hand-to-Hand Combat
PI4 Conspiracy
PI5 Tracking a Predator
PI6 El Scorpio
PI7 Payback Time
PI8 No Time to Bleed
PI9 Bad Attitude
PI10 In Its Sights
PI11 Stick Around
PI12 "If It Bleeds, We Can Kill It!"
PI13 I Got You! I'm Coming!
PI14 Old Painless
PI15 Take a Good Look
PI16 I Can't Tell…
PI17 Insubordination
PI18 It's Personal
PI19 We Came So Close
PI20 Rush Hour Rambos
Sketch Cards
Available only by exchange the base #29 and Predatory Instincts #PI29 Achievement cards.