2018 Upper Deck Goodwin Champions Checklist and Details
2018 Upper Deck Goodwin Champions has a little of this, some of that and a whole lot of in between. Like past installments of the brand, to call it eclectic may be a bit of an understatement. The various parts of the checklist cover various sports, history, nature and more.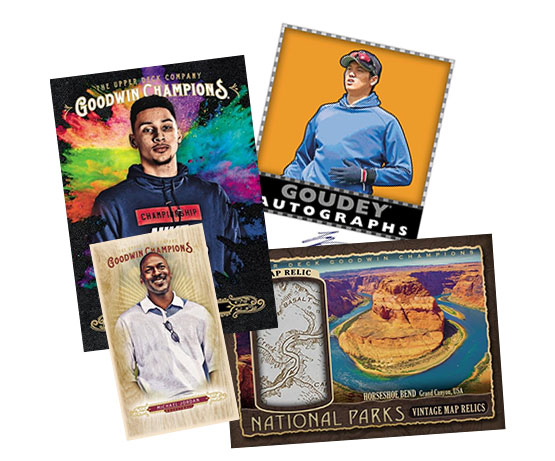 As for the types of cards, there's plenty of variety there as well. At the box level, this includes three hits or premium inserts. These come in the form of autographs, relics, manufactured patch cards and lenticular inserts.
2018 Upper Deck Goodwin Champions also marks the first time for the brand to include an Upper Deck Bounty element that rewards collectors with exclusive cards for finishing specific parts of the checklist.
2018 Upper Deck Goodwin Champions Overview
The main part of the base set consists of 100 cards. Athletes from a bunch of sports, both mainstream and not, appear. Some other surprises can also be expected.
Building off of these are 50 Splash of Color high number short prints.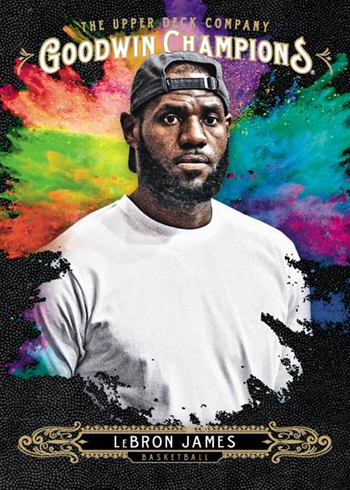 Mini cards make their return. Basic versions are 1:4 packs while Wood Lumberjack are approximately one per hobby box, landing 1:20 packs. Black Wood Lumberjack Minis come numbered to just 8 copies.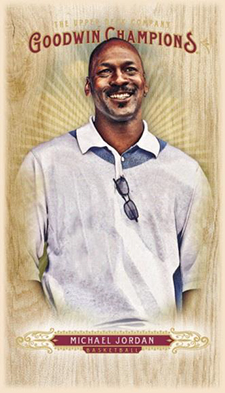 Autographs
On-card signatures are the theme for the 2018 Upper Deck Goodwin Champions autographs. Goodwin Autographs (1:52 packs) feature signatures from base set athletes. In addition to the regular versions are Inscribed versions that come numbered to varying amounts and tough Splash of Color Autographs (1:1,280).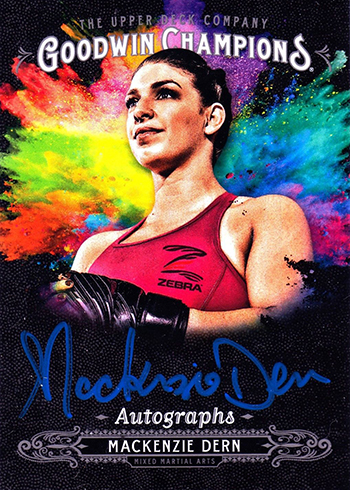 Goudey Autographs are 1:480 packs while separate Goudey Sport Royalty Autographs come in both single (1:8,000) and dual (1:25,000) versions.
Among the signers in 2018 Upper Deck Goodwin Champions are several of the company's exclusives like Michael Jordan, Ben Simmons, Wayne Gretzky and Tiger Woods. Serena Williams, their latest exclusive athlete, also has autographs in the product. Shohei Ohtani has new cards added to his growing autograph checklist, the first in from Upper Deck outside of their National Sports Collectors Convention promo set.
Genuine Heroes Signatures (1:320) honor a small number of those who have served and helped their communities. The nine-card checklist is filled with inspiring stories. Jennifer Maddox is a Chicago police officer who established a South Side after school program to help kids with tutoring and mentoring. Brenda Berkman was the first female fighter in New York City. Khali Sweeney has a boxing gym for at-risk children in Detroit that doubles as an academic tutoring hub. To most, these people might not be well known in the celebrity sense but all have made big impacts on peoples' lives.
The small number of autographs in the product that aren't on-card are one-of-one Goodwin Cut Signatures.
Memorabilia Cards and Relics
Goodwin Memorabilia (1:30) lead the relics in 2018 Upper Deck Goodwin Champions. Besides the basic cards, there are Splash of Color (1:600) and Dual Swatch (1:240) versions. All three also have numbered Premium Swatch cards.
Highlighting some of the bigger names in the product are Goudey Memorabilia (1:300), Goudey Sport Royalty (1:1,520) and Goudey Sport Royalty Dual Swatch (1:2,880) cards. Like Goodwin Memorabilia, numbered Premium Swatch cards are also randomly inserted.
Relics go beyond articles of clothing and other gear. It takes a sharp veer into the realm of historical memorabilia. Continuing from 2017 are World Traveler Map Relics (1:60) and National Parks Vintage Map Relics. Both come with pieces of maps embedded in them.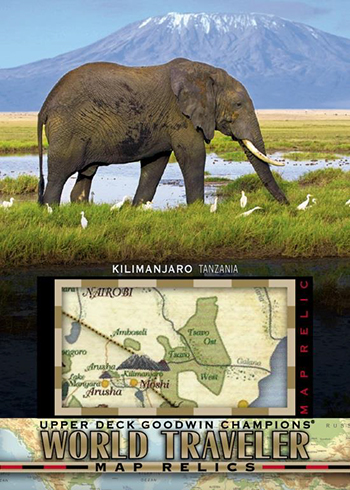 For the National Parks map cards, they're numbered to varying amounts ranging from a high of 90 copies down to a low of 17.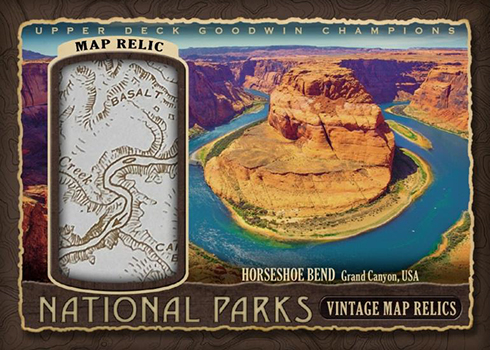 Museum Collection inserts take flight with an aviation theme in 2018 Upper Deck Goodwin Champions. The 40-card set comes with pieces of WWII artifacts as well as those used on space missions. Relics are 1:480 packs while Museum Collection Aviation Jumbo Relics are much tougher at 1:1,920.
A second series of Museum Collection cards focus on President Franklin D. Roosevelt. These nine Presidential Legacy Relics (1:4,000) have pieces of a wooden box he was gifted for visiting the 1933 World's Fair in Chicago. There's also one over-sized redemption that also has a cut signature.
Following in the footsteps of Alice and Wonderland and The Wizard of Oz come The Jungle Book Illustration Relics (1:3,200). These take the relic concept and apply them to images from original copies of the Rupyard Kipling classic. These come from a couple of editions dating as far back as 1894. Inspired by the book are Jungle Book Sketch Booklets (1:1,440) and Jungle Book Dual Sketch Booklets (1:5,120).
Goodwin Masterpieces Art of the Ages are all hand-painted recreations of some of the most famous masterworks in history. Each is a one-of-a-kind.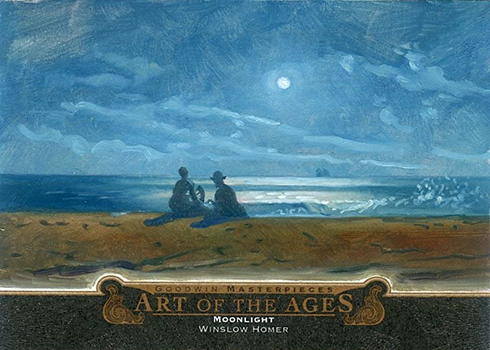 Additional Inserts
2018 Upper Deck Goodwin Champions goes to the dogs with Canine Companion Manufactured Patch Cards. This marks the second year for the premium insert set that celebrates man's best friend (unless you fancy yourself as more of a cat person). These come with six different tiers of rarity. The most common are 1:83 packs while the "Flying Dogs" portion of the checklist is the toughest at 1:7,500 packs.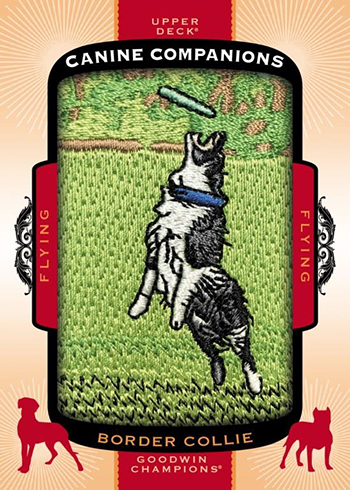 When Robots Rule the World (1:40) tell a Sci-fi story over 42 cards, all using lenticular 3-D stock. Like the patch cards, these have several levels of rarity to add to the challenge of building the full set. Autograph versions signed by the artist are randomly inserted.
As far as regular inserts go, Goudey are fairly easy to pull at 1:4 packs.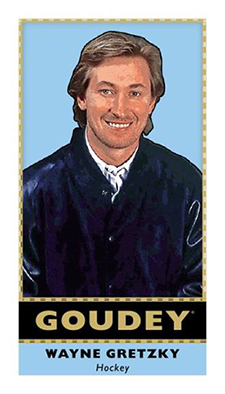 2018 Upper Deck Goodwin Champions Bounty Program and Bounty Checklist
The idea behind the 2018 Upper Deck Goodwin Champions Bounty program is to reward those who undertake the challenge with exclusive cards not available in packs. Here, it requires collectors to put together a full set of 20 Splash of Color 3D Lenticular cards.
While the regular copies appear somewhat regularly, these are tough. Odds vary, but the most common are 1:195 packs. On the far end are short prints that land 1:4,320 packs.
On the back of each variation is a code that can be registered on Upper Deck's special Bounty website. Once collectors finish the set, they lock themselves in for the exclusive cards.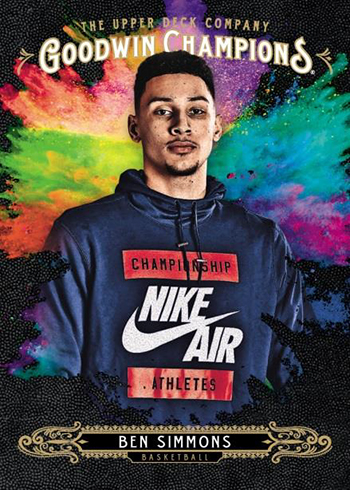 2018 Upper Deck Goodwin Champions trading cards at a glance:
Cards per pack: 5
Packs per box: 20
Boxes per case: 16 (two 8-box inner cases)
Set size: 150 cards
Release date: September 5, 2018
What to expect in a hobby box:
• Autographs, Relics, Manufactured Patch Cards or 3-D Lenticular Cards – 3 Total
• Goudey Inserts – 5
• Mini Cards – 7
• Splash of Color Short Prints – 5
2018 Upper Deck Goodwin Champions Checklist
Base
Autographs
Memorabilia
Inserts
Updates