Trenton Thunder Honor Bat Dog, Derby, with Set of Baseball Cards
Derby, the beloved bat dog for the Trenton Thunder, passed away in January. The Double-A affiliate of the New York Yankees is honoring the famed golden retriever with a set of baseball cards at their July 2 home game.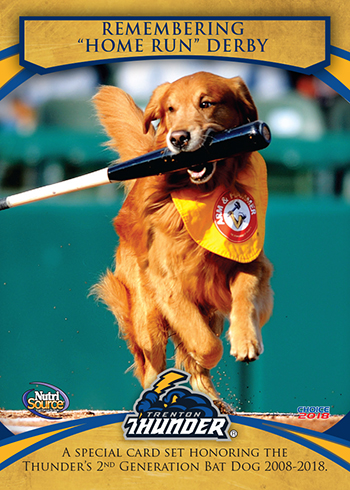 The 16-card set is part of Bat Dog Celebration Night. Sponsored by Nutri Source Dog Food, the first 1,025 people to the game (ages 6 and over) get one. They will not be sold afterwards through the team's store or website.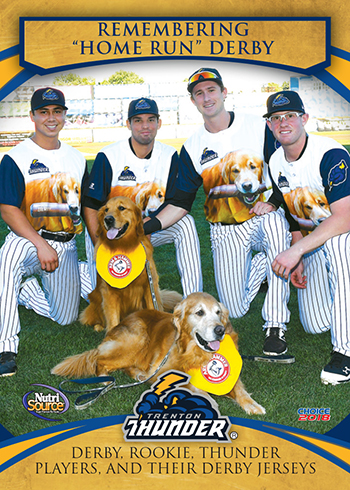 Derby was a member of the Thunder family from birth. The retriever's father, Chase, was a batdog with the team from 2002 until 2013. Derby was born in 2008 and shared duties with Chase for several years. Rookie, one of Derby's pups, now serves as the Thunder's bat dog.
These aren't Derby's first baseball cards. Recently, a tribute was included in the
2018 Topps Pro Debut
base set.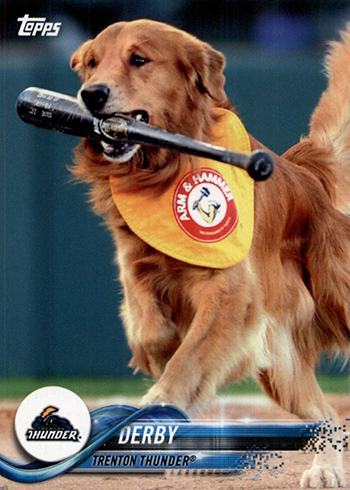 Derby can also be found in a few Trenton Thunder minor league team sets as well from previous years.