2018 Topps WWE Checklist Showcases Wrestling's Superstars
2018 Topps WWE trading cards don't shake up the flagship. Rather, it centers on the superstars of Smackdown, Raw and NXT. The base set is straightforward with a variety of inserts to compliment it.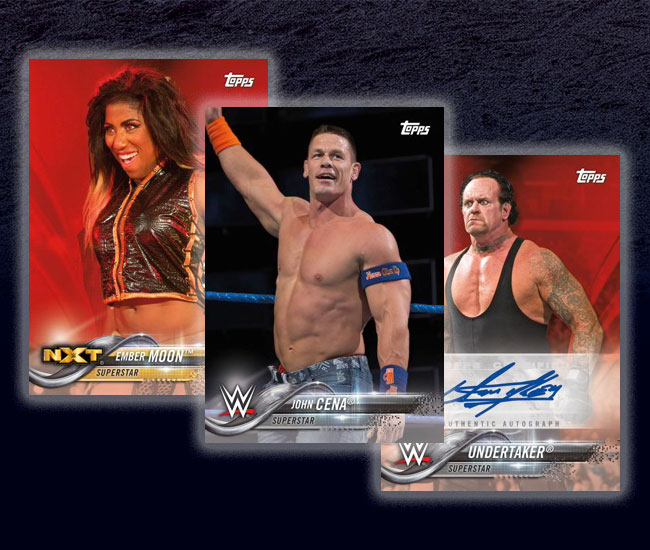 Hobby boxes stick with the promise of one autograph plus an additional signed card, memorabilia card or manufactured relic.
Base Set
The 2018 Topps WWE main set chimes in with 100 total cards. The focus is on wrestlers covering all three of the WWE rosters — Raw, Smackdown Live and prospects from NXT. The 2018 Topps WWE design is based on the one used for the year's flagship baseball set.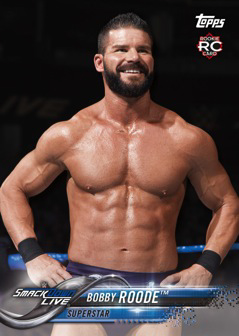 As usual, parallels come in a variety of colors. Hobby packs start with Bronze, which land every other pack. On the numbered side there's Blue (/99), hobby-exclusive Silver (/25), Gold (/10) and Red (1/1).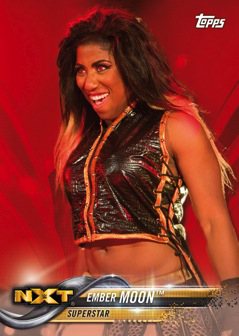 Select cards have variation short prints as well.
Autographs and Memorabilia Cards
Most 2018 Topps WWE autographs adopt the same general design as the base set. These autographs have Blue (/50), Silver (/25), Gold (/10) and Red (1/1) versions to go with the main ones.
On the scarce side, there are Triple Autographs that are numbered to 10 copies each.
Memorabilia cards come with a couple of different forms. Shirt Relics have clothing worn by superstars. Mat Relics have canvas from SummerSlam 2017 and NXT TakeOver: Brooklyn III. Shirt and Mat Relics come with Silver (/25), Gold (/10) and Red (1/1) parallels. Select cards have autographed parallels numbered to 10.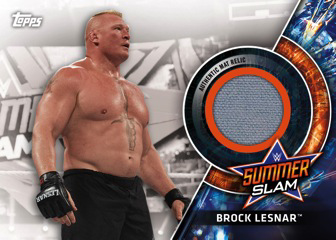 Dual Mat Relics are also randomly inserted in 2018 Topps WWE packs. These come with canvas from a pair of events.
Kiss Cards, a Topps WWE staple, return. These come with lip prints from the ladies of WWE and NXT. Available in both signed and unsigned versions, they have Gold (/10) and Red (1/1) parallels.
Inserts
If you look at the careers of the best wrestlers, they change over time. They're characters that transform. It's often more subtle than The Ringmaster giving way to "Stone Cold" Steve Austin, but it's a common trait. Evolution is a 50-card insert set that looks at these transformations.
The second part of WWE Hall of Fame Tribute finds a place in 2018 Topps WWE. Continuing on from 2018 Topps WWE Road to WrestleMania, this group of ten cards centers on the Ultimate Warrior.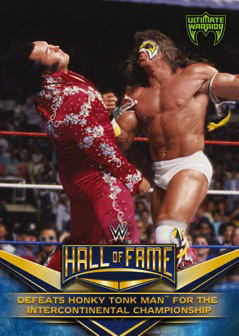 Commemorative Championship cards return with a new batch of manufactured belts. These cover nine different titles currently used by WWE: WWE Championship, Universal Championship, Raw and Smackdown Women's Championships, both brand's Tag Team titles, the Intercontinental Championship, United States Championship and Cruiserweight Championship.
Besides base versions, Commemorative Championship cards have Blue (/50), Silver (/25), Gold (/10) and Red (1/1) parallels. Some have autographed cards numbered to 10 as well.
2018 Topps WWE at a glance:
Cards per pack: 7
Packs per box: 24
Boxes per case: 12
Set size: 100 cards
Release date: May 2, 2018
What to expect in a hobby box:
• Autographs – 1
• Additional Autographs, Memorabilia Cards or Manufactured Relics – 1
• Bronze Parallels – 12
2018 Topps WWE Checklist
Base
Autographs
Memorabilia
Inserts
Comments? Questions? Contact Ryan Cracknell on Twitter @tradercracks or by email.