2018 Topps WWE Women's Division Checklist and Details
2018 Topps WWE Women's Division is all about the ladies of wrestling. And it's also the place collectors will find the first pack-inserted Ronda Rousey wrestling cards (at least in North America).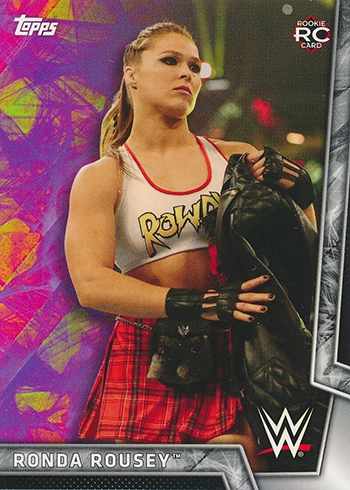 Although this is a follow-up to the similar 2017 WWE Women's Division set, this time around it's getting a hobby release instead of being a Walmart-exclusive.
Each box comes with a pair of premium inserts, at least one of which is an autograph.
2018 Topps WWE Women's Division Overview
Like last year, the base set is divided into two sections. Roster cards look at the ladies themselves, offering up profiles and a bit of insight. Matches & Moments look more at the stories behind specific events. All told, the base set has 100 total cards.
For Rousey, Topps has said these are her first in-pack wrestling cards. The former MMA headliner does have plenty of UFC cards already. Her WrestleMania appearance was also used in 2018 Topps Now WWE.
For parallels, Blue are exclusive to hobby packs.
Autographs lead the premium insert chase. Like the base set, Blue parallels for these are only in hobby packs.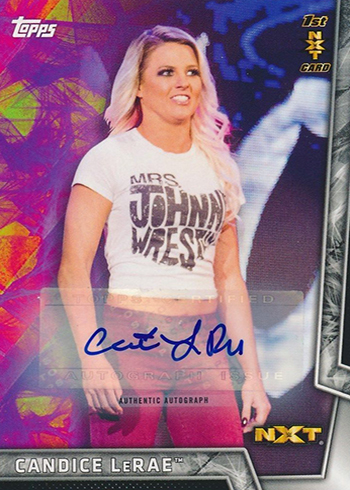 Kiss Cards, Shirt Relics (along with Shirt Relic Autographs) and Mat Relics are also available. The canvas on the Mat Relics for main roster stars comes from the first Women's Royal Rumble that took place in January.
Round out the premium chase cards are Commemorative Championship cards.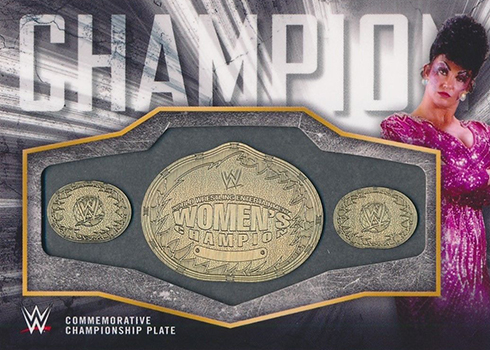 Regular inserts combine to land one per pack. These are based on specific events, the first being the Women's Royal Rumble. Hobby packs are the lone home to Mixed Match Challenge inserts.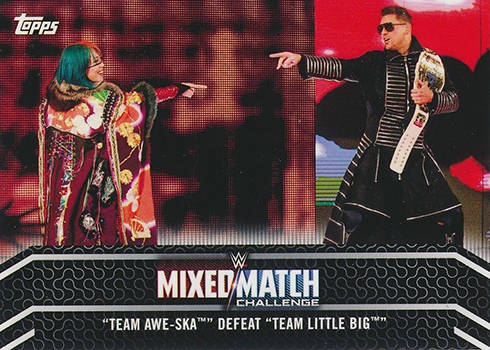 2018 Topps WWE Women's Division at a glance:
Cards per pack: 7
Packs per box: 24
Boxes per case: 12
Set size: 100 cards
Release date: October 3, 2018
What to expect in a hobby box:
• Autographs – 1
• Additional Autographs, Memorabilia or Manufactured Relics – 1
• Inserts – 24
2018 Topps WWE Women's Division Checklist
Base
Autographs
Memorabilia
Inserts