2018 Topps Walking Dead: Hunters and the Hunted Checklist and Details
When you're living amidst a zombie apocalypse, you're going to find yourself getting chased at times. But, in that fight for survival, sometimes you've got to flip it and go on offense. Predators and prey coexist to keep the world running. 2018 Topps Walking Dead: Hunters and the Hunted trading cards look at both sides with a character-focused set.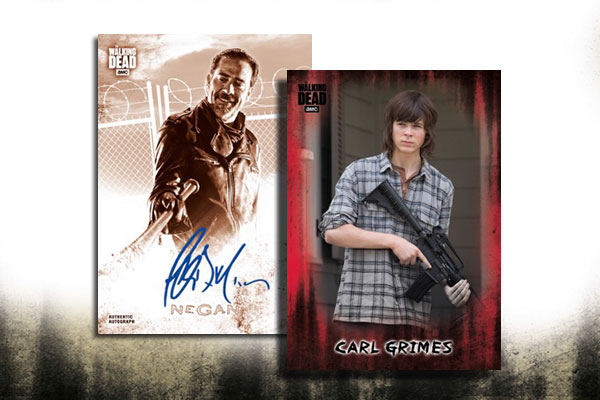 The configuration falls in line with most other Topps Walking Dead trading card sets with an autograph and another premium insert promised in every hobby box. Inserts and parallels are also plentiful on the checklist.
2018 Topps Walking Dead: Hunters and Hunted Base Set
This spin-off set covers several seasons of the show. Rather than taking a story-based approach, the base set is dedicated to characters. And over the years, there have been lots of them.
The checklist has 100 cards. This means it goes beyond main characters and branches out into notable guests.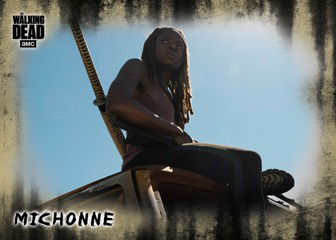 Parallels come in six colors. Orange are the most common with one in every pack. Others include Blue (/50), Green (/25), Purple (/10), Black (/5) and Red (1/1).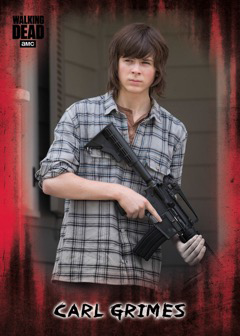 Select cards also have variation short prints that come with different images.
Autographs and Memorabilia Cards
Every hobby box has at least one signature card. Like the base set, these have several parallels, although the structure's a little different. Base autographs are done with black and white images.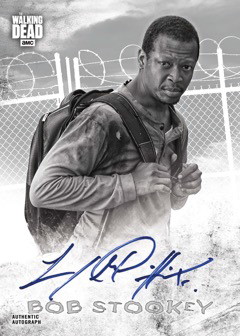 Parallels are Rust (/99), Blue (/50), Mold (/25), Sepia (/10), and Red (1/1). Printing Plates are also randomly inserted.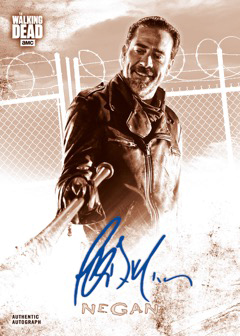 Dual and Triple Autographs are also available. Dual parallels begin with Purple (/10). Both also have Black (/5) and Red (1/1) versions.
Costume Relics come with wardrobe swatches embedded in them. For regular costume cards, there are Orange (/99), Blue (/50), Green (/25), Purple (/10), Black (/5) and Red (1/1) parallels.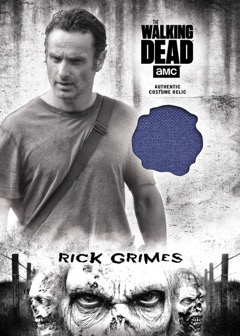 Dual Costume Relics have two swatches. These have three parallel versions, all numbered to 10 and under.
Both single- and dual-swatch cards also have rare autographed versions.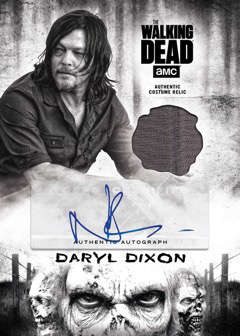 Inserts
Sketch cards are a third type of premium insert available in 2018 Topps Walking Dead: Hunters and the Hunted. These have original art done on them. Given that each is unique in that regard, many see all of these as one-of-a-kind.
Each pack comes with one regular insert. Epic Battles recap some of the major fights the show has seen between various groups over the years.
The Walking Dead has had no shortage of deaths, either. How to Take Down a Walker highlights some of the ways they've been taken out other than a basic shot to the head.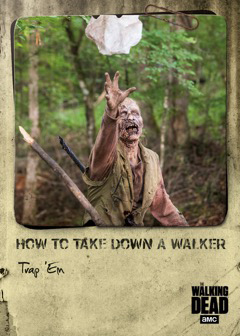 Finally, there's Leaders, which showcase those they have been in charge.
2018 Topps Walking Dead: Hunters and the Hunted trading cards at a glance:
Cards per pack: 8
Packs per box: 24
Boxes per case: 8
Set size: 100 cards
Release date: November 28, 2018
What to expect in a hobby box:
• Autographs – 1
• Additional Autographs, Memorabilia or Sketch Cards – 1
• Inserts – 24
• Parallels – 24
2018 Topps Walking Dead Hunters and Hunted Checklist
Base
Autographs
Memorabilia
Inserts
Sketch Cards