2018 Topps US Winter Olympic Team Trading Cards Checklist
2018 Topps US Winter Olympic Team trading cards offer collectors a glimpse of what to expect when the American athletes descend on PyeongChang, South Korea in February. In addition to the autographs and memorabilia cards that have become a regular part of Topps' Olympic sets, this release pays special attention to Lindsey Vonn.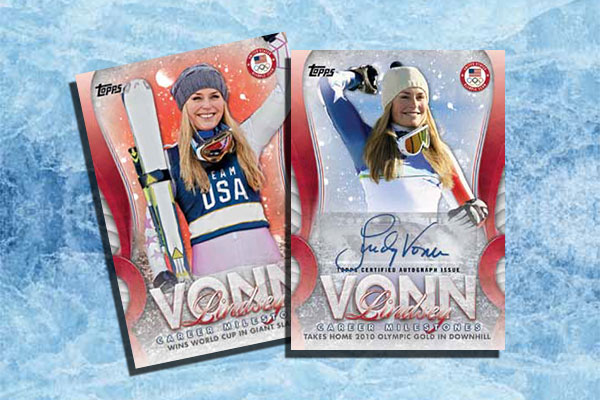 Base Set
The 2018 Topps US Winter Olympic Team base set covers lots of sports and athletes expected to take to both the Olympic and Paralympic stages.
Parallels kick off with Bronze cards, which are inserted one per pack. Numbered parallels include U.S. Flag, Gold (/25) and Limited Edition (1/1).
Select cards have short print Podium Image Variations that carry the same design as the base set but come with an alternate photo. The checklist here is limited to athletes who have won medals in the past and are expected to return to the Olympics for another year.
Autographs, Memorabilia Cards and Commemorative Relics
Each 2018 Topps US Winter Olympic Team hobby box comes with an autograph and two memorabilia cards or commemorative relics.
Base Autographs carry the same general design as the main set. These have similar parallels as well with numbered U.S. Flag, Gold (/25) and Limited Edition (1/1) versions.
Olympic Champions Autographs reflect back on medalists from the past. These are a case hit and have just two parallels, Gold (/25) and Limited Edition (1/1).
On the memorabilia side, Team USA Memorabilia Pieces have swatches of material worn by athletes. Parallels come in Silver, Gold (/25) that have a multi-colored piece, and one-of-one Limited Edition with a prime swatch. Jumbo Wreath parallels have a manufactured Team USA wreath.
USOC Insignia Commemorative Relics have a large acrylic USOC badge. Both the base version and Silver parallels are numbered. U.S. Flag parallels have 50 copies each. Instead of the badge, these have a flag patch. Gold Medal (/25) parallels take a similar approach, only with commemorative medallions.
Achievement Medallions make up a second set of commemorative relics. Numbered to 99, these spotlight past champions.
Inserts
2018 Topps US Winter Olympic Team inserts dig a little deeper into what people can expect in PyeongChang.
For Pride and Country offers another look at top athletes. Did You Know? cards use full-bleed photography and deliver Olympic trivia about specific Olympic events.
Lindsey Vonn Milestones spotlight the famous skier. Landing two per box, the set looks at some of the major moments in her illustrious career.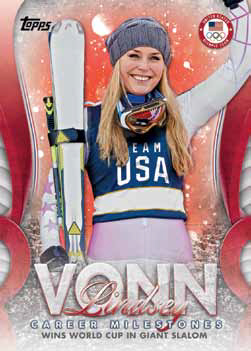 Each card also has rare signed versions.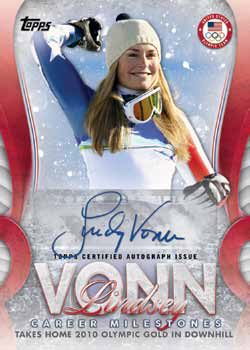 Both the Lindsey Vonn Milestones and For Pride and Country inserts have parallels including U.S. Flag and Limited Edition (1/1).
2017 Topps US Winter Olympic Team trading cards at a glance:
Packs per box: 24
Cards per pack: 8
Boxes per case: 12
Set size: 93 cards
Release date: January 26, 2018
What to expect in a hobby box:
• Autographs – 1
• Memorabilia Cards or Commemorative Relics – 2
• Lindsey Vonn Career Milestones – 2
• Bronze Parallels – 24
2018 Topps US Winter Olympic Team Checklist
Base
Autographs
Memorabilia
Inserts
Comments? Questions? Contact Ryan Cracknell on Twitter @tradercracks or by email.