The Topps Baseball animal kingdom is expanding. Detroit's "Rally Goose" is among the SSP variations in 2018 Topps Update Series Baseball. In doing so, he joins a handful of other non-human ballpark gatecrashers to get baseball cards in recent years.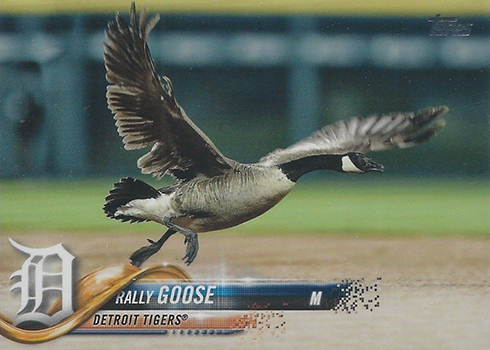 On May 30, a Canadian goose started hanging out in the Comerica Park outfield during a rain delay in a game between the Tigers and Los Angeles Angels. When it came time for the game to get going again, the goose didn't want to leave. Crew chased the large bird around. And when it finally took flight, the goose was soon back on the ground.
Following the crash, the Canadian Goose was taken in by a veterinarian and cared for. Despite the fall and ensuing plume of feathers,
he was okay
.
And after the strange visit, the Tigers went on a bit of a streak. They even went as far as adding a replica goose to their dugout decor. That replica already has a card, getting voted in as a 2018 Topps Now Moment of the Week.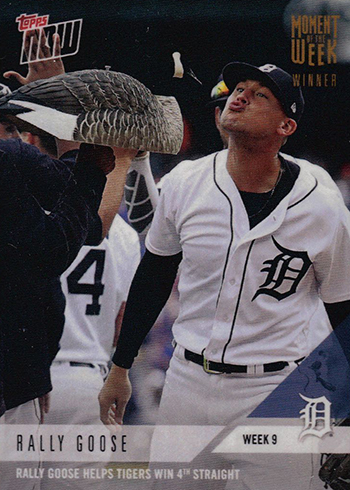 Animals on the Loose
Over the past decade, Topps has made a handful of cards of unexpected animal visitors. Poley Walnuts, a New York squirrel who took to Yankee Stadium, kicked off the trend with a short print in 2007 Topps Update. From there, a variety of "Rally Squirrels" have had cards, usually as short print variations like Rally Goose.
In September, the most recent St. Louis Rally Squirrel appeared on a Topps Now card that sold 2,294 copies.
The 2018 Topps Update Rally Goose is not an easy card to find. It's part of the SSP Variations checklist, which are the tougher of the product's two variation types. Rather than taking the spot of a Tigers player on the checklist, it's Boston reliever Craig Kimbrel, which seems like a curious choice until you see Kimbrel's pose.