2018 Topps UFC Knockout Includes Autograph, Relic Per Pack
2018 Topps UFC Knockout is another installment for one of the cornerstone MMA trading card brands. And like last year, it's getting a little help from another Topps brand for some of its autographs and memorabilia cards–Tier One.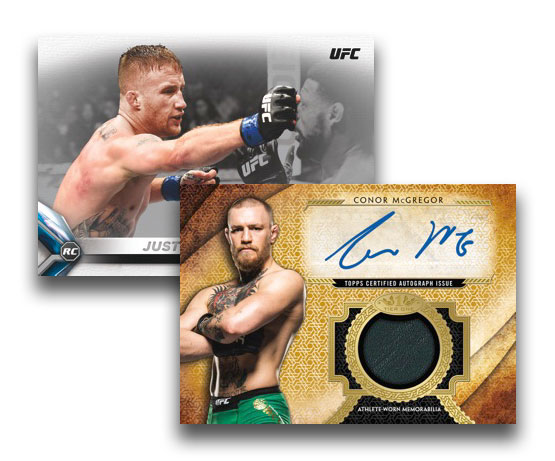 The high-end product has both an autograph and a relic card in every pack.
Base Set
2018 Topps UFC Knockout starts with a 100-card base set. It's spread out to include current champions, other top-ranking fighters, recent additions to the UFC roster and retired legends.
Every pack comes with a pair of parallels, all numbered to 199 or less. The four levels include Green (/199), Blue (/99), Red (/8) and Gold (1/1).
Autographs
Knockout Autographs are the main signature cards in the product. While the cards themselves take a relatively straightforward approach, all do come serial numbered. Parallels are available in Green (/50), Blue (/35), Red (/8) and Gold (1/1).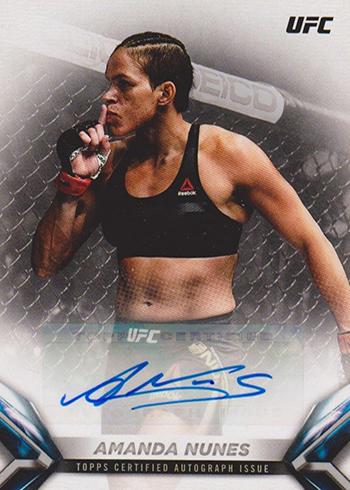 Knockout Autograph Relics take on a different design from regular autographs.But it's one that's similar to those from past sets. Based on preview images, signatures come on stickers. The memorabilia comes from gear worn by the featured fighter. All are numbered including Blue (/35), Purple (/25), Red (/8) and Gold (1/1) parallels.
Tier One Autographs come hard-signed directly on the card. This line originated in Topps' baseball portfolio. Base versions come signed in blue and are numbered. Parallels change the ink color: Bronze (/25), Silver (/10) and Gold (1/1).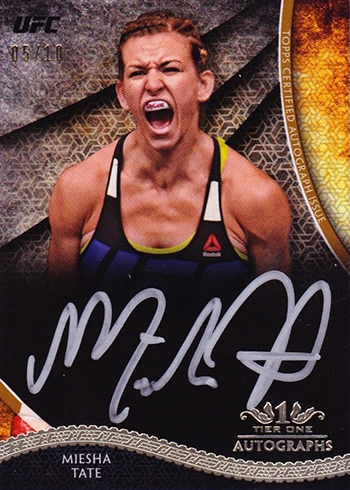 The Tier One theme carries over into signed memorabilia cards as well. Tier One Fight Glove Autographs combine a signature with a swatch from a fighter-worn glove. The only parallels for these are one-of-one Gold.
Autographed Tier One Dual Relics have signatures and gear from two fighters. In addition to base versions, these are available in Purple (/25), Red (/8) and Gold (1/1).
A.K.A. Ink debut with both the fighter's autograph and their nickname. Base versions have 25 copies each. Parallels are available in Bronze Ink (/10) and Gold Ink (1/1).
Rare book card themes include UFC Champion Autograph Relic Books (/5), Dual Autographed Tier One Relic Books (/10 or less) and Bitter Rivals Dual Autographed Relic Books (/10 or less).
Memorabilia Cards
Regular 2018 Topps UFC Knockout memorabilia cards come in three forms. Knockout Relics and Tier One Relics both have fighter-worn swatches. Fight Mat Relics come with pieces of an Octagon mat.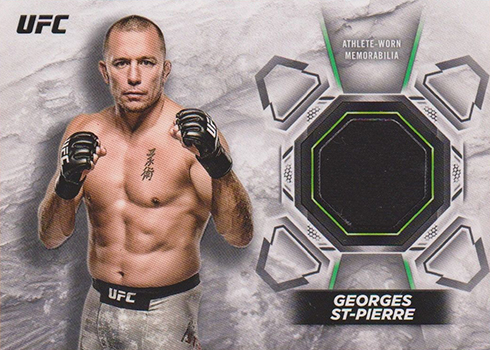 Base versions for all versions are numbered and have Blue (/50), Purple (/25), Red (/8) and Gold (1/1) parallels.
Inserts
Notable Knockouts is a new insert set. Each of the ten cards on the checklist highlight a major KO from some point in UFC's history. These have 100 copies each.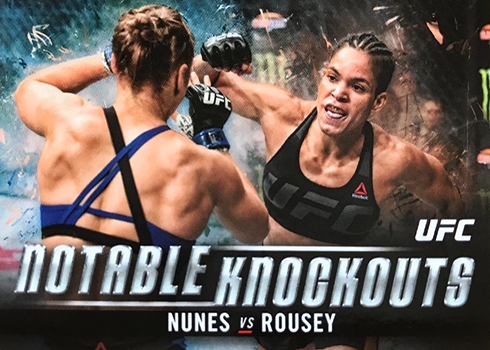 2018 Topps UFC Knockout at a glance:
Cards per pack: 10
Packs per box: 4
Boxes per case: 12
Set size: 100 cards
Release date: July 20, 2018
What to expect in a hobby box:
• Autographs – 4
• Memorabilia Cards – 4
• Parallels – 8
2018 Topps UFC Knockout Checklist
Base
Autographs
Memorabilia
Inserts