Here Are Some of the 2018 Topps Tier One Bat Knobs Found Thus Far
When you click on links to various merchants on this site, like eBay, and make a purchase, this can result in this site earning a commission.
The 2018 Topps Tier One Bat Knobs are among the most choice cards in a product that's only autographs and memorabilia cards. Since 2012, early in the high-end brand's recent history, these one-of-ones have become one of Tier One's signature cards.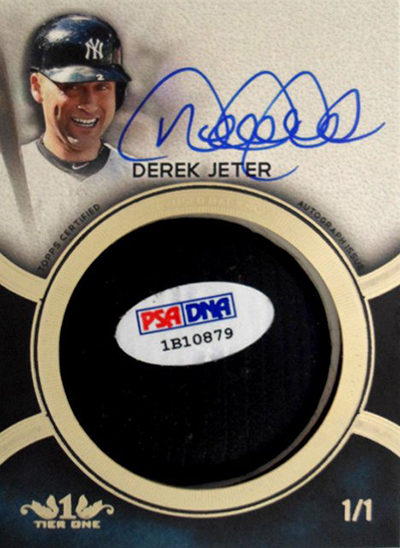 You can find them in other products, but the sheer number on the checklist each year makes Tier One a go-to of sorts for such cards.
But let's be honest — finding one is tough and chasing for knobs can get very pricey very fast.
As far as the 2018 Topps Tier One Bat Knobs go, the checklist has 97 of them, 32 of which come with an autograph as well.
But some have already surfaced through early groups and collectors busting boxes at their local hobby shops.
Check out some of the Bat Knobs that have been pulled in the gallery below (The Derek Jeter above is an image Topps shared on Twitter. It may still be in packs.).
2018 Topps Tier One Bat Knobs Gallery
If you see any online that aren't shown below, please feel free to post the links in the comments below. You can also email us with scans.
OH MY! Jaw Dropping 1/1 Derek Jeter Bat Knob just Pulled #mojobreak @Topps @SoozOnSports #nyyankees #groupbreaks #thehobby pic.twitter.com/GJUsuEMGhq

— mojobreak (@mojobreak_com) May 24, 2018
And Drew just pulled this monster Jim Thome #1/1 Bat Knob out of @topps Tier One! #customerpulls #collect #thehobby #supportyourlcs #hits #boxbreak @rbicru7 @SportsCardJunct @BrosInCards pic.twitter.com/ighMQGknM7

— Indy Card Exchange (@Ballcardxchange) May 23, 2018
Bat KNOB Sighting 1/1 Michael Conforto from @Topps 2018 Tier One #mojobreak #nymets #groupbreaks #thehobby pic.twitter.com/h9ZYI7d9Xf

— mojobreak (@mojobreak_com) May 24, 2018
1st card, 1st box, 1st case of 2018 @Topps #TierOne #baseball this year, 1st-time customer Justin E. hit this #1of-1 @TimRaines30 #batknob in the @Nationals spot! pic.twitter.com/FUlkGYRIiz

— Cardboard Treasures (@cboardtreasures) May 24, 2018
Second box had the 1/1 Bat knob… #DatKnobDoe pic.twitter.com/vHrxSJPwEP

— Brian (@BDilzJr) May 23, 2018
Comments? Questions? Contact Ryan Cracknell on Twitter @tradercracks or by email.