2018 Topps Legends of WWE Spotlight Hall of Famers and Wrestling Greats
2018 Topps Legends of WWE tackles wrestling history by way of trading cards — modern trading cards at that. While there are plenty of nods to the past, the structure is a modern one with multiple autographs per box and several levels of rarities.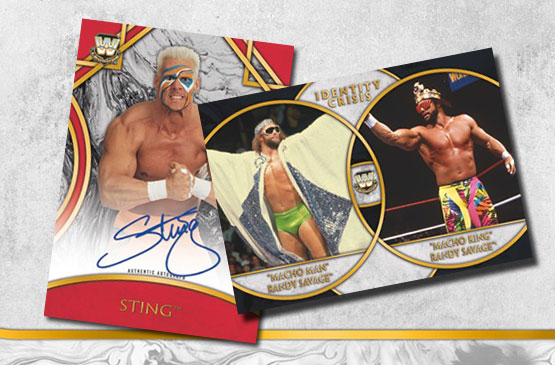 Like last year's debut set for the line, 2018 Topps Legends of WWE comes packaged in a mini box format. Each mini box comes with six packs holding two total autographs and memorabilia cards. With two mini boxes per master box, that works out to four hits. Of those, at least three are autographs.
2018 Topps Legends of WWE Base Set
The complete set comes in at 100 total cards. These come in a couple of forms. Regular cards make up the majority of the checklist with 70 men and ten of the greatest ladies to step into the ring.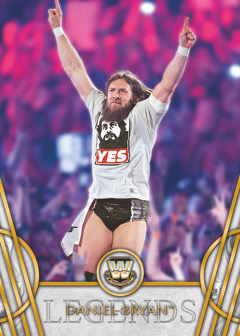 The final 20 cards are an Identity Crisis subset. Kind of a like "Then and Now" cards done in other sports over the years, these look at wrestlers who took their characters in new directions over the course of their careers.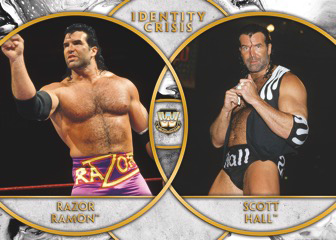 2018 Topps Legends of WWE base cards are done on foil card stock.
Parallels come in six different colors. Bronze are the most common at one per pack. The rest come numbered: Silver (/50), Blue (/25), Gold (/10), Black (/5) and Red (1/1). Each card also comes with Printing Plates.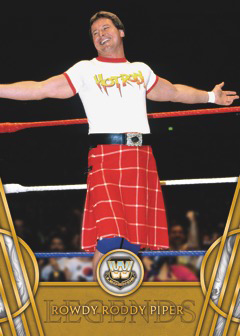 Autographs and Memorabilia Cards
The bulk of the 2018 Topps Legends of WWE signatures are part of the aptly named Autographs insert set. These bring sigs from Hall of Famers and retired stars from both recent and not-so-recent history. Basically, if you're a fan of the "old days," whenever decades those cover on a personal level, you should recognize some of the names.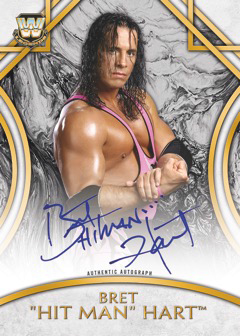 Autographs parallels cover similar ground as the base set with Bronze (/99), Silver (/50), Blue (/25), Gold (/10), Black (/5), Red (1/1) and Printing Plate versions.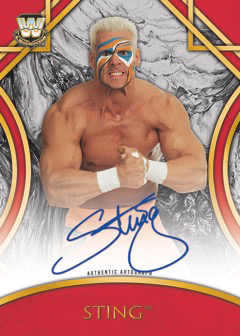 Both Dual and Triple Autographs are on the scarce side with ten copies for base versions, five for Black and one for Red.
In 2017, Legends of WWE had Autograph Retired Commemorative Championship cards made to look like belts from the past. This time around, a similar concept is used for Autograph Commemorative WWE Hall of Fame Ring cards.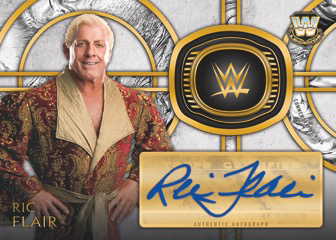 A small number of Tribute Cut Signatures are also randomly inserted. These are one-of-ones.
As far as memorabilia cards go, 2018 Topps Legends of WWE has regular shirt relics. Autograph parallels are available in Bronze (/99), Silver (/50), Blue (/25), Gold (/10), Black (/5) and Red (1/1).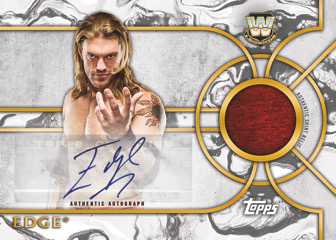 Autograph Dual Relics can also be found. Numbered to 25, these have a piece of mat and shirt alongside the signature. Three levels of parallels have ten copies each or less.
2018 Topps Legends of WWE at a glance:
Cards per pack: 5
Packs per box: 12 (two 6-pack mini boxes)
Boxes per case: 8
Set size: 100 cards
Release date: September 26, 2018
What to expect in a hobby box:
• Autographs – 3
• Additional Autographs or Memorabilia Cards – 1
• Bronze Parallels – 12
Comments? Questions? Contact Ryan Cracknell on Twitter @tradercracks or by email.