2018 Topps WWE Heritage Checklist and Details
2015 Topps WWE Heritage went back to 1985 for its design inspiration. The next two years progressed through 1986 and 1987. 2018 Topps WWE Heritage skips ahead a year, drawing from all things Topps Baseball in 1989. The result is a throwback look and feel for present and past superstars.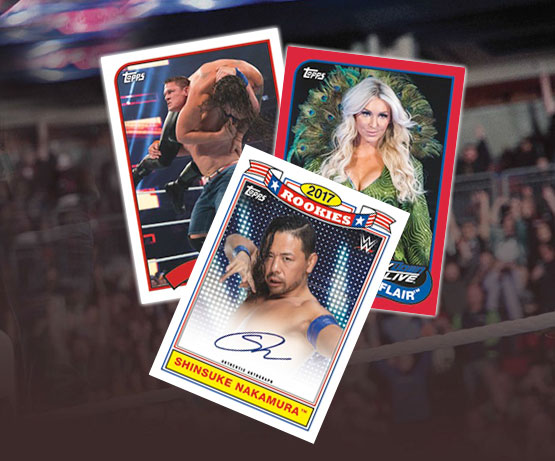 Keeping with other recent Topps WWE card sets, hobby boxes guarantee at least one autograph plus and additional hit.
2018 Topps WWE Heritage: What to Expect
2018 Topps WWE Heritage has a 110-card base set. Naturally, the design is influenced heavily by 1989 Topps Baseball. Raw, Smackdown superstars adopt the main base set design.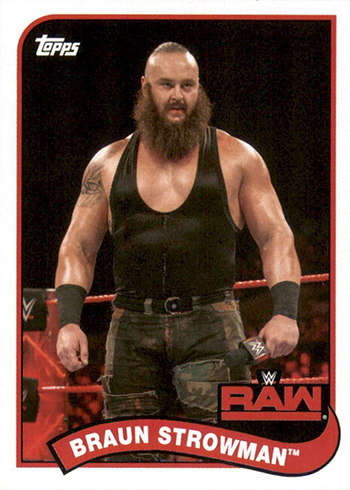 NXT prospects are done with a tweaked version of the original 1989 Future Stars subset.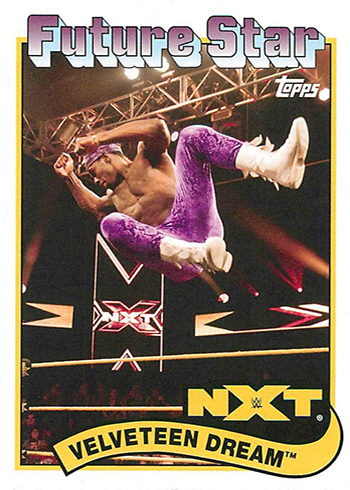 Parallels come in several levels and are based on border color. These include Bronze (1:2 packs), Blue (/99), hobby-only Silver (/25), Gold (/10) and Red (1/1).
Inserts
Several insert sets compliment the main 2018 Topps Heritage WWE checklist. They start with Big Legends, which has 50 cards and land two per hobby pack. Using the 1989 Topps Big Baseball design (scaled down to standard size), these highlight Hall of Famers and other big stars from yesteryear.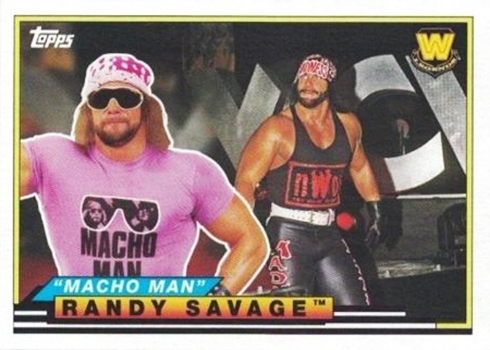 Tag Teams & Stables (20 cards, 1:2 packs), highlight factions from both the main WWE roster and NXT. The 1989 Topps Baseball Team Leaders subset is the inspiration.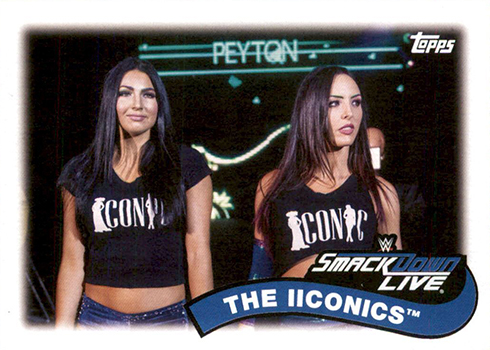 Top Ten Rookies (ten cards, 1:3 packs) spotlight recent call-ups with the 1989 Topps Baseball Glossy Rookies design.
All three of these inserts also have a full slate of parallels: Bronze (/99), Blue (/50), Silver (/25), Gold (/10) and Red (1/1).
The year-long Hall of Fame Tribute set continues, this time highlighting the career of Ric Flair. This is the third installment with ten more cards (1:6 packs).
Tables, ladders and chairs are the focus of the Commemorative TLC Medallion cards. These also have Bronze (/99), Blue (/50), Silver (/25), Gold (/10) and Red (1/1) parallels.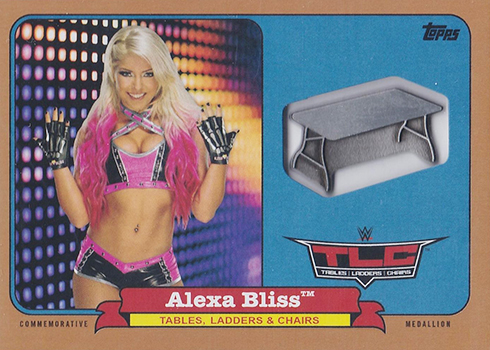 Retail blaster boxes are the only place to find Coins. These are a bonus, landing 1:3 blasters.
Autographs and Memorabilia Cards
Autographs follow a couple of different routes in 2018 Topps WWE Heritage. Base Autographs cover the full spectrum of the main WWE rosters, NXT and retired stars. The design is like the main set and also includes Blue (/50), Silver (/25, hobby-only), Gold (/10) and Red (1/1) versions.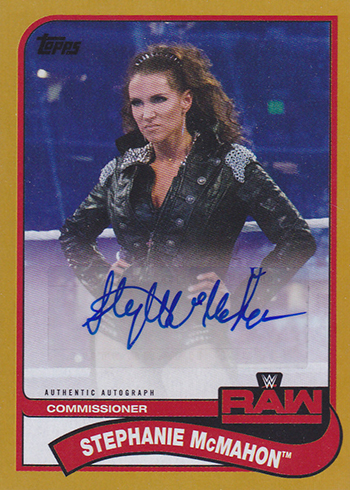 Dual Autographs are scarce, limited to ten copies each.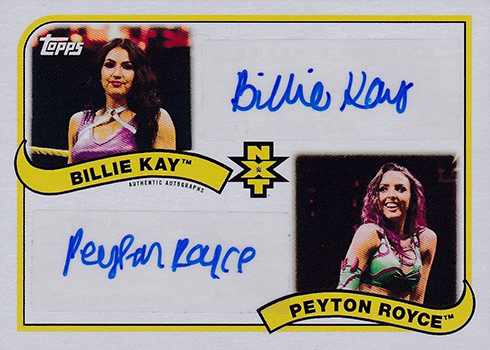 Select cards in both the Big Legends and Top Ten Rookies insert sets have signed versions along with Blue (/50), Silver (/25), Gold (/10) and Red (1/1) parallels.
Kiss Cards are back with more lip imprints. Both signed and unsigned versions have Gold (/10) and Red (1/1) versions.
Memorabilia cards are available with both shirt and mat swatches.
Separate mat relic inserts come from Survivor Series 2017, TLC 2017 and NXT TakeOver: WarGames 2017. These all have regular versions and a full slate of color-based parallels. Some cards also have Autographs (/10).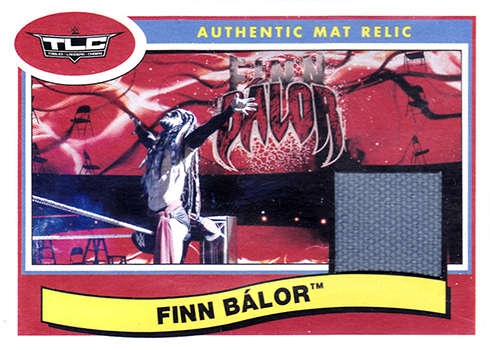 New to 2018 Topps WWE Heritage are Triple Threats Mat Relics. These have Silver (/25), Gold (/10) and Red (1/1) parallels.
2018 Topps WWE Heritage at a glance:
Cards per pack: 6
Packs per box: 24
Boxes per case: 12
Set size: 110 cards
Release date: August 1, 2018
What to expect in a hobby box:
• Autographs – 1
• Additional Autographs, Memorabilia Cards or Manufactured Relics – 1
• Bronze Parallels – 12
• Big Legends – 48
• Hall of Fame Tribute – 4
• Tag Teams & Stables – 12
• Top Ten Rookies – 8
2018 Topps WWE Heritage Checklist
Base
Autographs
Memorabilia
Inserts