2018 Topps Gallery Baseball Blaster Box Break and Review
When I was a kid, Diamond Kings were some of my favorite cards to pull. The artistic take was different from just about everything else at the time. Many years have past, but I've still got a thing for art on cards. So it shouldn't be surprising that I've been a fan of the Topps Gallery line for a while.
And speaking of strictly art, 2018 Topps Gallery Baseball might be the best in the line yet.
But it comes at a price, one that's probably going to keep me from going deep into the set, at least at the blaster or pack levels.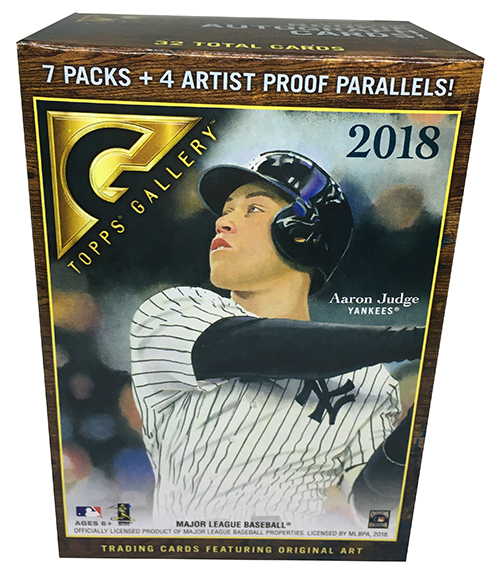 Base Set
As far as the base set goes, 2018 Topps Gallery might be one of the year's most improved baseball products. Returning last year after a long break, simply seeing Gallery back was refreshing. While a lot of the art was good, it was inconsistent. I suspect it was in large part due to the demands of one artist doing the entire base set. Two hundred portraits is a lot, even for an artist as strong as Mayumi Seto, who proves it every week with the Topps Living Set.
2018 Topps Gallery Baseball spreads things out more. With what I pulled from a single blaster, I count six different artists. With that, the inconsistencies are gone. Everything I see is strong. And while the styles all lean towards realism, you can still see some different styles among the artists. This gives the set an added layer of personality.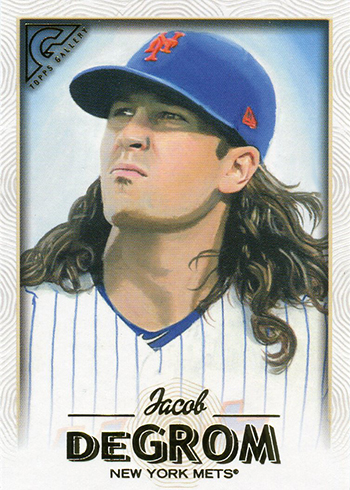 Beyond the art, the base set is elevated with a better layout. The images are bigger and the frame integrates more naturally. The font choice is clean and clear without being overpowering. The slight embossing around the borders add that perfect finishing touch, adding that little bit extra and even a bit of texture. This is a set where some of the best parts are found in the subtleties.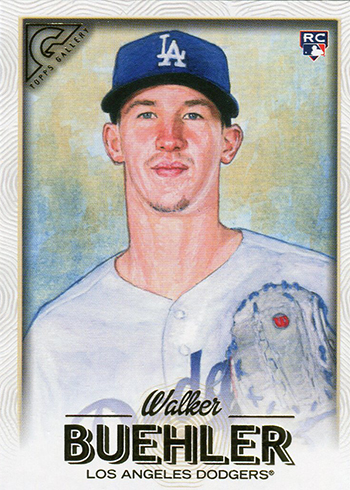 The parallels don't do a lot for me overall. I managed to pull a Blue Jordan Hicks. Not an easy find, which is cool, but the color doesn't add much. It's the same with the four Artist Proofs. Had they not been in a separate pack in the box, they're the kinds of cards I might miss during an initial run through the packs.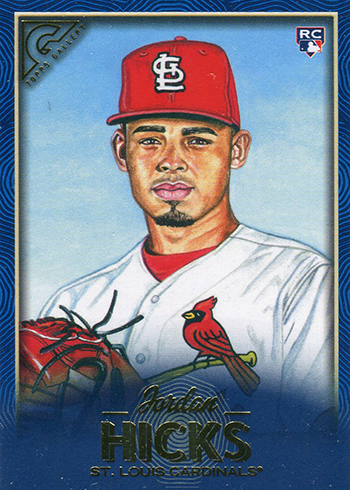 Inserts
I managed to pull a couple of other inserts. Hall of Fame Gallery adds more opportunities for all-time greats. The layout for these is reminiscent of the Canvas Collection Reprints in Museum Collection. The art for these is done by Carlos Cabaleiro, one of the top artists working in the industry today.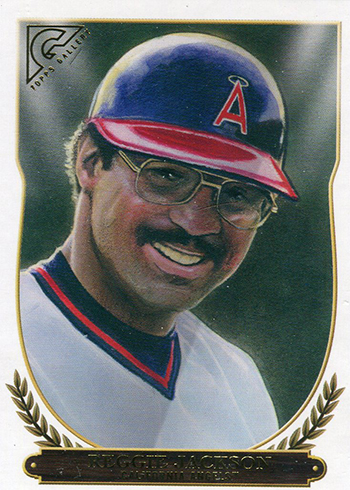 The weak point for me are the Heritage inserts. I can't pinpoint exactly what's not working for me but I think it's a combination of things. Personally, I'm not the biggest fan of the 1952 Topps design, which is the layout used here. It's also been reused a lot over the years, so it's probably just as much that seeing it again doesn't feel special. The thick and dark nameplate overpower Gerry Garcia's art as well. He takes a softer approach to his lines and colors compared to all of the artists who contributed to the set.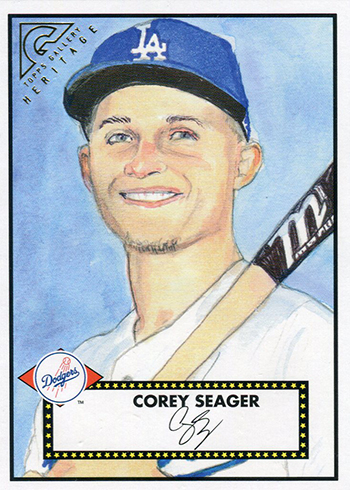 Overall Impressions
I really want to put together the 2018 Topps Gallery Baseball set. It's beautiful and the checklist is a good one (with this rookie class, it's hard not to). But the cost involved in building it, at least from packs, is too high. Up here in Canada, blasters are about $35 (Cdn.) after tax. With 32 total cards per box, that's about a dollar a card. With near-perfect collation, it'll probably take seven or eight blasters to get close to the shell set. Even then, I'm going to be missing about 40 short prints.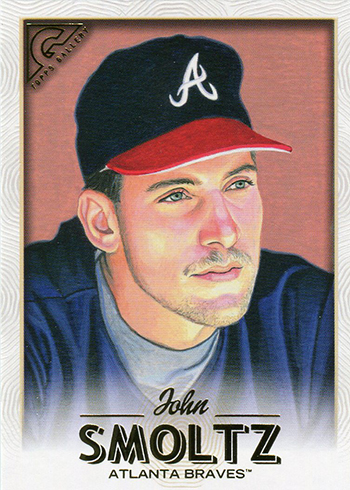 The hobby boxes might bring some better value, especially with the much more generous autograph odds, but that's not an option in my neck of the woods without heading to the secondary market.
I'll probably pick up a couple of fat packs here and there on a whim, but going as deep as I'd like to doesn't appear to be happening for me for 2018 Topps Gallery. I have no regrets giving one blaster a try but there's not quite enough there to keep me going back. If there were another couple cards per blaster pack, it might be a different story. Even dropping the short prints and shrinking the checklist to 150 cards might entice me and my set-building sensibilities. But with just four cards per pack and long odds on getting anything  fancy, the price feels high for what I'm looking to build.
2018 Topps Gallery Blaster Box Break:
Packs: 7 plus a pack of 4 Artist Proof parallels
Cards per pack: 4
Total Cards: 32
Base: 25
Short Prints: 1
174 Dustin Fowler
Artist Proofs: 4
50 Giancarlo Stanton, New York Yankees
98 Ian Kinsler, Los Angeles Angels
134 Jordan Hicks, St. Louis Cardinals
144 Manny Machado, Baltimore Orioles
Blue: 1
134 Jordan Hicks, St. Louis Cardinals 29/50
Hall of Fame Gallery: 1
HOF-6 Reggie Jackson, California Angels
Heritage:
H-27 Corey Seager, Los Angeles Dodgers