If you were a card collector in the early 1990s, there were a couple of reasons to go to Denny's, the pancakes and the baseball cards. The pancakes are still good, but the cards are but a memory residing in boxes and binders. Trading cards are returning to Denny's. Only this time you're not going to find baseball stars. Holograms aren't part of the picture either. 2018 Topps Denny's Solo: A Star Wars Story trading cards take it to a galaxy far, far away.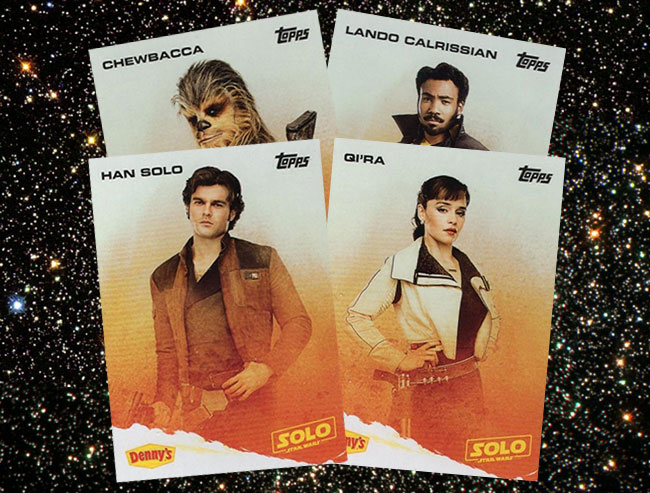 2018 Topps Denny's Solo: A Star Wars Story — What to Expect
The set isn't a big one and it's not overly complex. Produced by Topps, the Denny's Solo cards focuses on characters from the spinoff. Backs go together to form a pair of propaganda-style poster puzzles. One has the Millennium Falcon and the other is a TIE Fighter.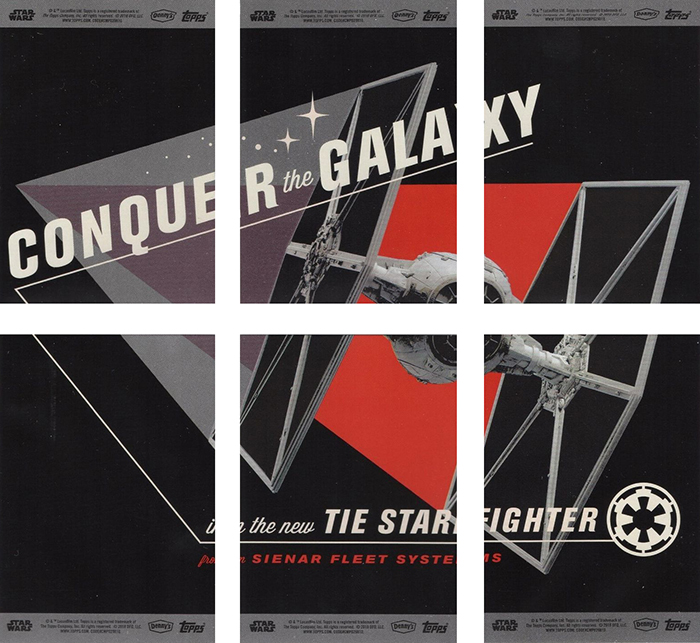 The checklist has 12 cards and come in packs of two.
2018 Topps Denny's Solo has a small chase element as well. Each card has a tough Foil parallel. One is inserted every 100 packs.
Each pack costs $3. Of that, at least $1.75 goes to the No Kid Hungry program.
Packs also come with a coupon for a discount on packs of the main 2018 Topps Solo set and items from Star Wars Authentics.
The film itself isn't slated to open until May 25. It's a prequel of sorts, focusing on a younger Han Solo before he met up with Luke, Leia and the rest of the Rebellion. Alden Ehrenreich stars in the lead role. The cast also includes Donald Glover, Emilia Clarke and Woody Harrelson.
The main
2018 Topps Solo: A Star Wars Story
card set comes out the same day the movie releases.
2018 Topps Denny's Solo: A Star Wars Story at a glance:
Cards per pack: 2
Set size: 12 cards
Release date: April 3, 2108
2018 Topps Denny's Solo: A Star Wars Story Checklist and Gallery
12 cards.
Parallels:
• Foil – (1:100 packs)
Argus "Six Eyes" Panox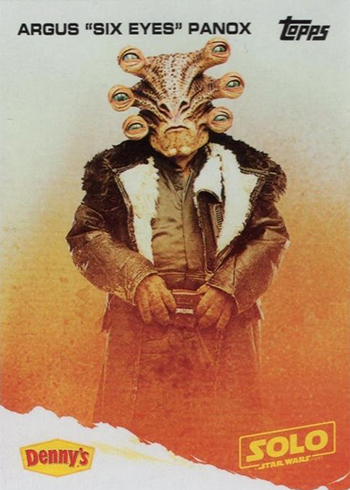 Chewbacca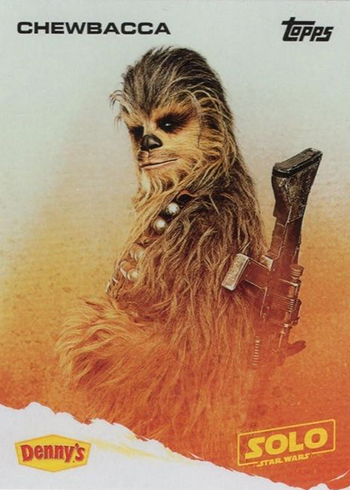 Enfys Nest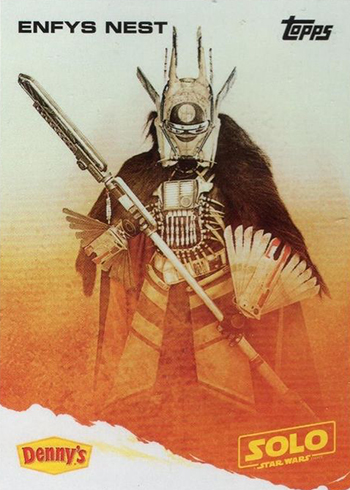 Han Solo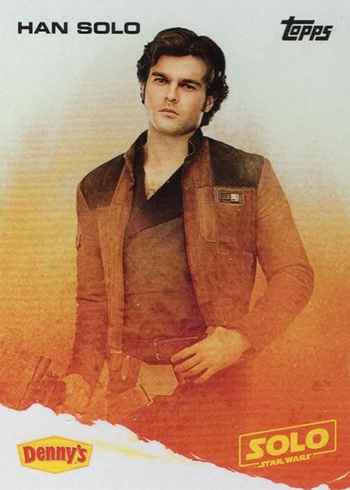 L3-37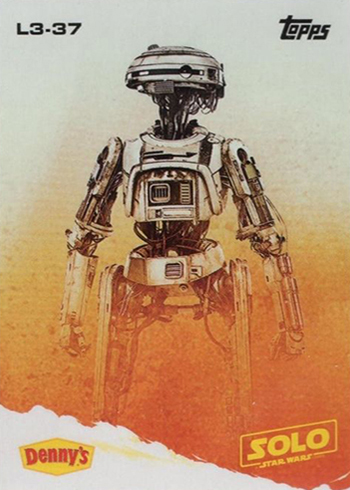 Lando Calrissian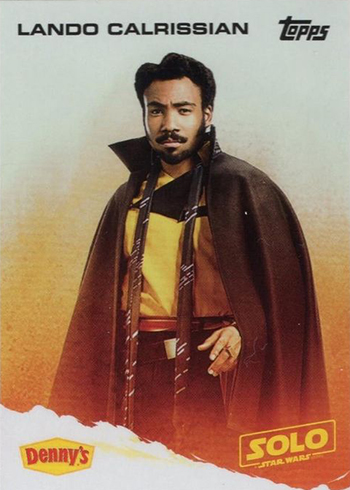 Moloch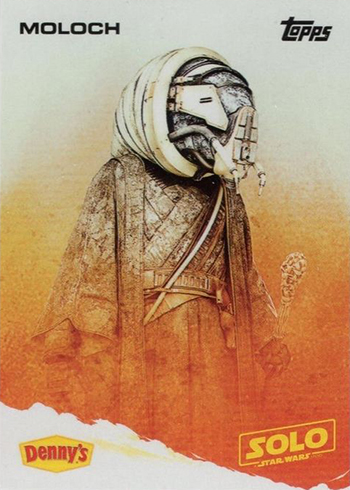 Mudtrooper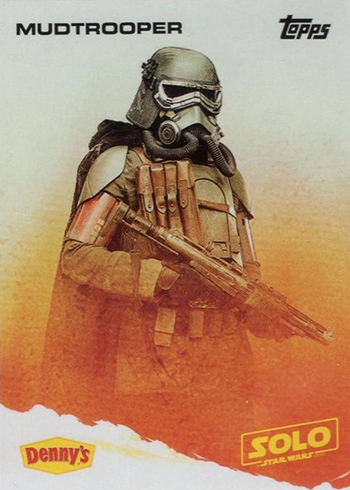 Qi'Ra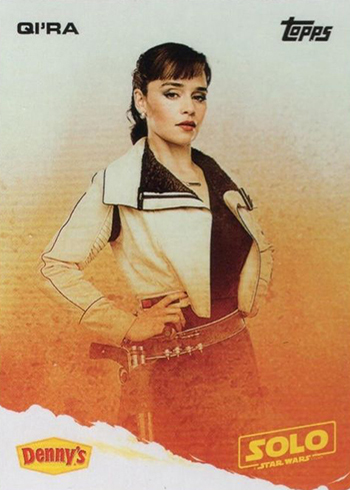 Range Trooper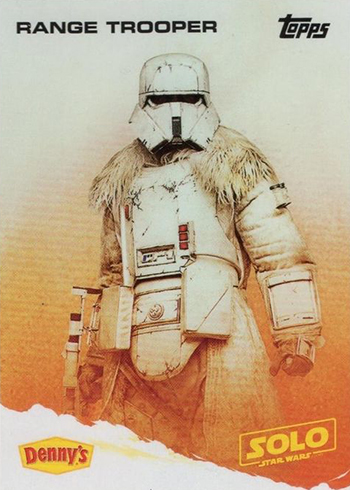 Therm Scissorpunch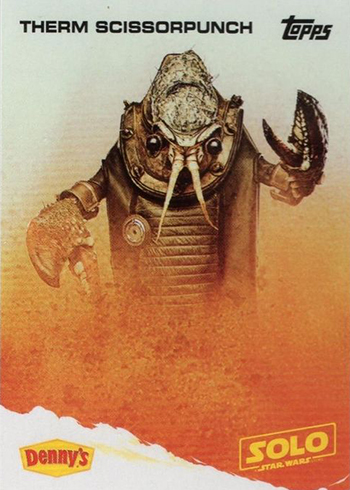 Val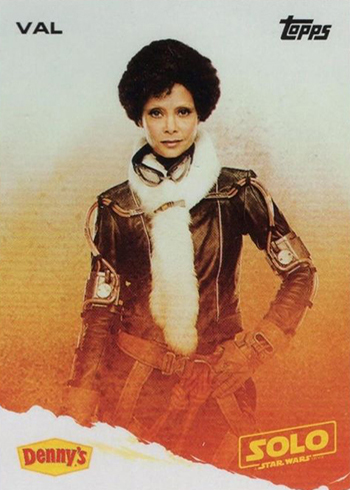 Comments? Questions? Contact Ryan Cracknell on Twitter @tradercracks or by email.