2018 Topps 80th Anniversary Wrapper Art revisits some of the company's iconic art that's greeted collectors over the years. Yes, cards of wrappers.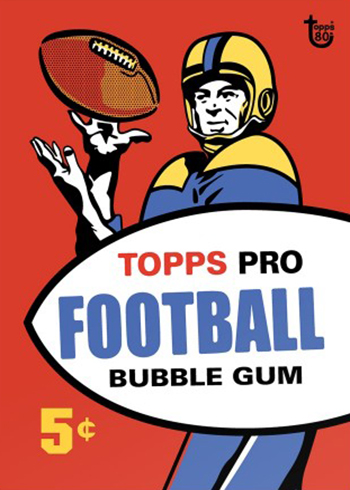 For longtime collectors, wax wrappers are more than something that that holds a pack of cards together. They're a form of modern pop art that leaves a lasting impression.
2018 Topps 80th Anniversary Wrapper Art reaches into the archives to highlight various sets in both the sports and entertainment realms.
Card fronts reproduce the original artwork. Backs have a brief history on the set that inspired it.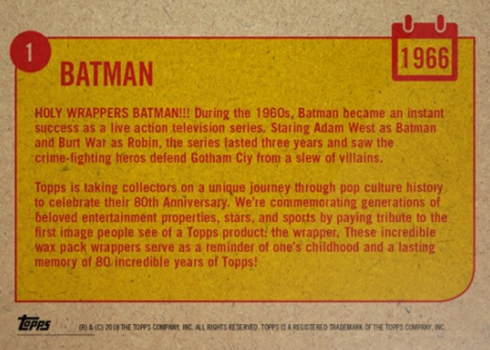 It's an online-exclusive release available only on the Topps website. Available for seven days at a time, cards were sold both on their own and as a small bundle of that week's batch. On top of those are poster versions measuring 10 x 14.
Cards are printed on vintage-style card stock similar to what's used in sets like Topps Heritage.
2018 Topps 80th Anniversary Wrapper Art Checklist
115 cards.
If you're looking for a specific card, click on the links to see what's currently available on eBay.
1 1966 Batman – 707
2 1956 U.S. Presidents – 596
3 1972 Baseball – 605
4 1964 Beatles Color – 515
5 1979 Rocky II – 413
6 1968 Hot Rods – 413
7 1977 Charlie's Angels – 224
8 1989 Back to the Future II – 213
9 1954 Hockey – 224
10 1982 E.T.: The Extra-Terrestrial – 214
11 1978 Three's Company – 220
12 1965 Ugly Stickers – 207
13 1976 King Kong – 152
14 1985 Cyndi Lauper – 146
15 1957-58 Basketball – 149
16 1966 Superman – 343
17 1990 Teenage Mutant Ninja Turtles – 262
18 1967 Baseball – 286
19 1984 Michael Jackson Series 1 – 234
20 1982 Donkey Kong – 256
21 1964 Baseball – 275
22 1973 Kung Fu – 190
23 1985 Garbage Pail Kids – 969
24 1988 Dinosaurs Attack! – 199
25 1976 Star Trek – 354
26 1989 Ghostbusters II – 237
27 1957 Planes of the World – 221
28 1976 Happy Days – 213
29 1966 Lost in Space – 247
30 1973 Football – 216
31 1991 Robin Hood: Prince of Thieves – 205
32 1985 Rambo: First Blood Part II – 232
33 1971-72 Basketball – 226
34 1965 Gilligan's Island – 304
35 1983 A-Team – 270
36 1958 Baseball – 340
37 1965 Battle – 248
38 1975 Million Dollar Man – 269
39 1963 Astronauts – 249
40 1990 The Simpsons – 322
41 1975 Bay City Rollers – 238
42 1973 Baseball – 287
43 1978 Grease – 271
44 1953 Tarzan and the She Devil – 238
45 1972-73 Basketball – 247
46 1969 Planet of the Apes – 304
47 1986 Howard the Duck – 250
48 1963 Hockey – 258
49 1956 Elvis Presley – 356
50 1965 Baseball – 331
51 1979 Alien – 266
52 1985 The Goonies – 244
53 1987 Harry and the Hendersons – 205
54 1968 Land of the Giants – 244
55 1964 John F. Kennedy – 391
56 1971 Bobby Sherman "Getting Together" – 254
57 1953 Baseball  – 1,043
58 1989 Nintendo Game Packs  – 305
59 1987 ALF  – 248
60 1966 Get Smart – 278
61 1969 Man on the Moon – 236
62 1978 Jaws 2 – 232
63 1973 Waltons – 220
64 1991 Beverly Hills 90210 – 198
65 1988 Pee Wee's Playhouse – 211
66 1975 Football – 261
67 1978 Mork & Mindy – 248
68 1979 Buck Rogers – 248
69 1984 Supergirl – 249
70 1990 Robocop 2 – 204
71 1969 Mod Squad – 214
72 1976 Hockey – 217
73 1989 New Kids on the Block – 203
74 1971 Partridge Family – 215
75 1956 Baseball – 356
76 1988 Growing Pains – 170
77 1986 Duran Duran – 178
78 1966 Rat Patrol – 201
79 1971 Brady Bunch – 294
80 1975 Good Times – 270
81 1960 Football – 299
82 1976 Welcome Back Kotter – 220
83 1978 Battlestar Galactica – 237
84 1986 Little Shop of Horrors – 209
85 1987 21 Jump Street – 198
86 1965 The Man from U.N.C.L.E. – 220
87 1962 Baseball – 286
88 1963 Beverly Hillbillies – 201
89 1978 Close Encounters of the Third Kind – 190
90 1978 Football – 194
91 1984 Masters of the Universe – 224
92 1983 Menudo – 194
93 1977 Hockey – 204
94 1991 Desert Storm – 184
95 1979 Moonraker – 199
96 1957 Football – 182
97 1962 Mars Attacks – 405
98 1966 Frankenstein Stickers – 245
99 1980 Basketball – 257
100 1955 Rails and Sails – 193
101 1967 Funny Travel Posters – 163
102 1979 Baseball – 276
103 1964 Addams Family –
104 1975 Shock Theater – 196
105 1968 Baseball – 303
106 1965 Monster Greeting Cards – 207
107 1975 Baseball – 314
108 1964 Football – 243
109 1957 Space Cards – 191
110 1978 Baseball – 269
111 1974-75 Hockey – 196
112 1973 Wacky Packages – 498
113 1950 Hopalong Cassidy – 348
114 1952 Baseball – 603
115 Checklist – 415
2018 Topps 80th Anniversary Gallery