2018 Sportkings Volume 1 Checklist and Details
2018 Sportkings Volume 1 sees the return of one of the most storied sports card brands. This time around, it's through SAGE but the focal points of legends from across the sporting spectrum and art remain true once again.
2018 Sportkings Volume 1 has a couple of different configurations for the hobby and retail markets. Hobby boxes are more hits-centric with a pair of autographs and four memorabilia cards. Retail blasters come in with a more affordable price tag but still have one premium insert.
2018 Sportkings Volume 1 Base Set Basics
The 2018 Sportkings Volume 1 base set has 50 total cards covering 48 different athletes. Sports represented on the checklist include the big ones like baseball, football, basketball and hockey. But it also goes outside these with stars from places like fishing, swimming, horse racing and even luge.
This is consistent with Sportkings' past, which goes back more than eight decades.
Also consistent all these years later is the design. This latest set sticks with the past in that regard including the detailed painted portraits.
Base Cards: Hobby vs. Retail
While the checklists are the same, hobby and retail base cards are different. Hobby base are limited to 100 copies each and land two per hobby box.
These can be spotted easily on the front with the circular trademark icon.
On the back, text is in green for hobby.
Retail base cards have no trademark on the front. Text on the back is in green.
These telltale signs carry over to the Mini parallels for each as well. Hobby minis have just 50 copies each. For retail, they're much more common landing one per pack.
Autographs, Memorabilia Cards and Special Inserts
All regular autographs and autograph memorabilia cards in 2018 Sportkings Volume 1 have on-card signatures. Similar to the base set, there's a lot of variety as far as represented sports go.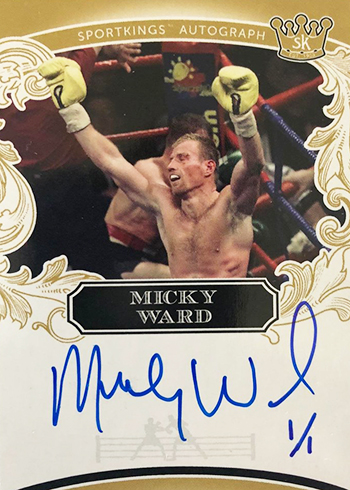 The same can be said for regular memorabilia cards.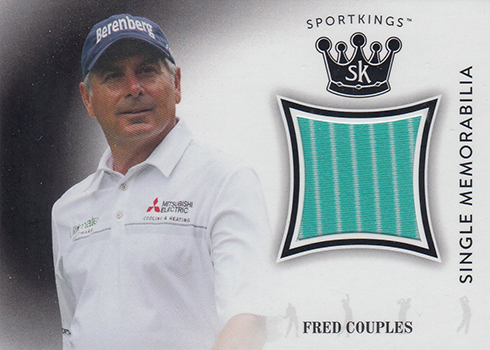 The main autograph, memorabilia and autographed memorabilia insert lines all have parallels as well which offer smaller print runs.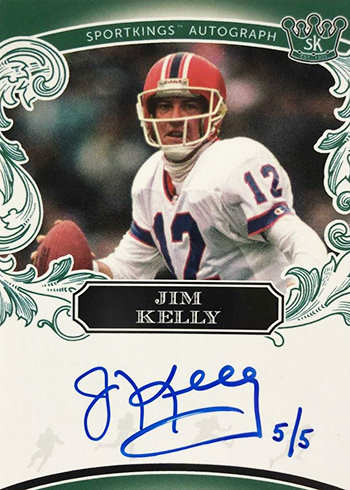 Grand Patch cards are all one-of-ones with massive patch pieces. These come from a variety of places including some full nameplate letters. Players all have multiple cards on the Grand Patch checklist but each is considered to be different.
The only autographs in 2018 Sportkings Volume 1 that aren't on-card are cuts. These include Icon Heroes, which feature some of the biggest names ever in sports like Muhammad Ali and Ty Cobb.
Century Heroes and Diamond Heroes both put an artistic spin on cut autographs. Century Heroes cards start with an embedded cut and use original art by Gary Kezele. Diamond Heroes take a similar approach only with signatures cut from baseballs.
2018 Sportkings Volume 1 has some additional premium inclusions. Jared Kelley did over 60 original hand-painted cards for the product. There's also randomly inserted 1933 Sportkings cards. All of these come graded.
2018 Sportkings Volume 1 at a glance:
Cards per pack: Hobby – 10, Retail Blasters – 5
Packs per box: Hobby – 1, Retail Blasters – 7 (plus a 1-card bonus pack)
Boxes per case: Hobby – 12, Retail Blasters – 20
Set size: 48 cards
Release date: November 15, 2018
What to expect in a hobby box:
Autographs – 2
Patch Cards or Memorabilia Parallels – 1
Additional Memorabilia Cards – 3
Mini Parallels – 1
Base Cards – 2
Additional Cards – 1
What to expect in a retail blaster box:
Autographs or Memorabilia Cards – 1 total
Mini Parallels – 7
2018 Sportkings Volume 1 Checklist
Base
Autographs
Memorabilia
Art Cards
Promos
Buybacks