2018 Panini Instant World Cup Soccer charts the tournament as it unfolds. And true to Panini Instant form, it's being done in a print-on-demand format with regular cards available for just 24 hours each.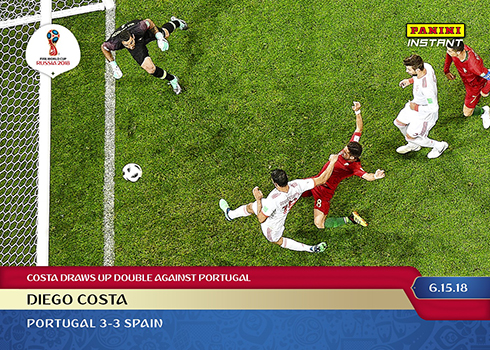 Key moments and players are captured, offering up highlights and milestones in near real-time. Of course, 2018 Panini Instant World Cup cards tell the story as 32 countries play for one of the most prestigious trophies on the planet.
Cards are available on the Panini website. Singles cost $9.99 each but there are discounts for bulk orders. Five of the same card are $29.99, ten are $49.99 and 20 are $99.99. Prices include shipping within the United States.
For those looking to build the set, Panini is also offering bundles for multiple cards from the same day.
The number of cards ordered within the 24-hour window are what's printed. At least that's how it works for the main base cards. There are also parallels that remain up for sale until they're sold out. These come in Green (/10) and Black (1/1). Select cards also have autographs.
The first 32 cards in 2018 Panini Instant World Cup Soccer make up a subset called Class of the Cup. These highlight a top player from each of the 32 teams in the tournament. Available individually and as a mini set, these got a longer sales window.
When the field shrunk to 16 and the knockout stage, 2018 Panini Instant World Cup team sets were issued for each of the remaining countries. Each has a team card plus 11 for individual players.
2018 Panini Instant World Cup Checklist
The 2018 Panini Instant World Cup Soccer checklist will continue to expand throughout the duration of the tournament. If you're looking for a specific card, click on the links to see what's currently available on eBay.
Parallels:
• Green – /10
• Black – 1/1
1 Lionel Messi, Argentina – Class of the Cup
2 Tim Cahill, Australia – Class of the Cup
3 Kevin De Bruyne, Belgium – Class of the Cup
4 Neymar Jr., Brazil – Class of the Cup
5 James Rodriguez, Colombia – Class of the Cup
6 Bryan Ruiz, Costa Rica – Class of the Cup
7 Luka Modric, Croatia – Class of the Cup
8 Christian Eriksen, Denmark – Class of the Cup
9 Mohamed Salah, Egypt – Class of the Cup
10 Harry Kane, England – Class of the Cup
11 Antoine Griezmann, France – Class of the Cup
12 Manuel Neuer, Germany – Class of the Cup
13 Gylfi Sigurdsson, Iceland – Class of the Cup
14 Alireza Jahanbakhsh, Islamic Republic of Iran – Class of the Cup
15 Keisuke Honda, Japan – Class of the Cup
16 Javier Hernandez, Mexico – Class of the Cup
17 Medhi Benatia, Morocco – Class of the Cup
18 Victor Moses, Nigeria – Class of the Cup
19 Jaime Penedo, Panama – Class of the Cup
20 Jefferson Farfan, Peru – Class of the Cup
21 Robert Lewandowski, Poland – Class of the Cup
22 Cristiano Ronaldo, Portugal – Class of the Cup
23 Fyodor Smolov, Russia – Class of the Cup
24 Mohammad Al-Sahlawi, Saudi Arabia – Class of the Cup
25 Sadio Mane, Senegal – Class of the Cup
26 Aleksandar Mitrovic, Serbia – Class of the Cup
27 Son Heungmin, Korea Republic – Class of the Cup
28 David de Gea, Spain – Class of the Cup
29 Emil Forsberg, Sweden – Class of the Cup
30 Xherdan Shaqiri, Switzerland – Class of the Cup
31 Wahbi Khazri, Tunisia – Class of the Cup
32 Luis Suarez, Uruguay – Class of the Cup
33 Iury Gazinsky, Russia – Hosts First to Find Net in Russia, 2018 (6.14.18) Russia 5 – 0 Saudi Arabia
34 Jose Gimenez, Uruguay – Gimenez's Late Header Delivers Win (6.15.18) Uruguay 1 – 0 Egypt
35 Diego Costa, Spain – Costa Draws Up Double Against Portugal (6.15.18) Portugal 3 – 3 Spain
36 Cristiano Ronaldo, Portugal – Hats Off for Ronaldo in Historic Feat (6.15.18) Portugal 3 – 3 Spain
37 Kylian Mbappe, France – Mbappe Makes History in Debut (6.16.18) France 2 – 1 Australia
38 Antoine Griezmann, France – First Review Leads to Griezmann Goal (6.16.18) France 2 – 1 Australia
39 Lionel Messi, Argentina – Messi Kicks Off His Fourth World Cup (6.16.18) Argentina 1 – 1 Iceland
40 Sergio Aguero, Argentina – Aguero Nets First FIFA World Cup Goal (6.16.18) Argentina 1 – 1 Iceland
41 Luka Modric, Croatia – Captain's Kick Clinches Points for Croatia (6.16.18) Croatia 2 – 0 Nigeria
42 Hirving Lozano, Mexico – Lozano's Debut Goal Downs Defending Champs (6.17.18) Mexico 1 – 0 Germany
43 Philippe Coutinho, Brazil – Coutinho Scores in World Cup Debut (6.17.18) Brazil 1 – 1 Switzerland
44 Romelu Lukaku, Belgium – Brace Highlights Second-Half Belgium Surge (6.18.18) Belgium 3 – 0 Panama
45 Harry Kane, England – Three Lions Claim Victory on Kane's Double (6.18.18) England 2 – 1 Tunisia
46 Shinji Kagawa, Japan – Early Penalty Sets Up Monumental Victory (6.19.18) Japan 2-1 Colombia
47 Mohamed Salah, Egypt – Salah Finds His First World Cup Goal (6.19.18) Russia 3-1 Egypt
48 Cristiano Ronaldo, Portugal – "CR7" Soars to European Goals Pinnacle (6.20.18) Portugal 1-0 Morocco
49 Luis Suarez, Uruguay – Suarez Connects at Third FIFA World Cup (6.20.18) Uruguay 1-0 Saudi Arabia
50 Christian Eriksen, Denmark – Eriksen Blast Helps Danes Secure Draw (6.21.18) Denmark 1-1 Australia
51 Kylian Mbappe, France – Record-Setting Goal for French Youngster (6.21.18) France 1-0 Peru
52 Philippe Coutinho, Brazil – Selecao Gets Late Breakthrough via Coutinho (6.22.18) Brazil 2-0 Costa Rica
53 Neymar Jr., Brazil – Neymar Jr. Climbs to Third on Brazilian List (6.22.18) Brazil 2-0 Costa Rica
54 Ahmed Musa, Nigeria – Super Performance for Super Eagles' Musa (6.22.18) Nigeria 2-0 Iceland
55 Xherdan Shaqiri, Switzerland – Swiss Stun Serbs on Last-Minute Strike (6.22.18) Switzerland 2-1 Serbia
56 Romelu Lukaku, Belgium – Lukaku Logs Second Consecutive Brace (6.23.18) Belgium 5-2 Tunisia
57 Eden Hazard, Belgium – Hazard, Belgian Red Devils Run Wild in Win (6.23.18) Belgium 5-2 Tunisia
58 Javier Hernandez, Mexico – Chicharito's 50th Goal Seals Win for El Tri (6.23.18) Mexico 2-1 Korea Republic
59 Marco Reus, Germany – Reus Nets First FIFA World Cup Goal (6.23.18) Germany 2-1 Sweden
60 Toni Kroos, Germany – Reigning Champs Come to Life at Death (6.23.18) Germany 2-1 Sweden
61 Jesse Lingard, England – Lingard Lets Loose in First-Half Barrage (6.24.18) England 6-1 Panama
62 Harry Kane, England – Captain Performs Rare Trick for England (6.24.18) England 6-1 Panama
63 Sadio Mane, Senegal – Lions of Teranga Get Opener Through Mane (6.24.18) Japan 2-2 Senegal
64 Keisuke Honda, Japan – Honda Cruise's Into Tournament's Record Books (6.24.18) Japan 2-2 Senegal
65 Radamel Falcao Garcia, Colombia – Los Cafeteros Roar to Victory Vs. Poland (6.24.18) Colombia 3-0 Poland
66 James Rodriguez, Colombia – Midfielder Serves in Key Role for Colombia (6.24.18) Colombia 3-0 Poland
67 Luis Suarez, Uruguay – Suarez Scores Seventh FIFA World Cup Goal (6.25.18) Uruguay 3-0 Russia
68 Edinson Cavani, Uruguay – Cavani and Co. Claim Top Spot in Group A (6.25.18) Uruguay 3-0 Russia
69 Isco, Spain – Spain Responds and Advances to Round of 16 (6.25.18) Spain 2-2 Morocco
70 Uruguay – Uruguay Advances to Knockout Stage
71 Fernando Muslera, Uruguay – Uruguay Advances to Knockout Stage
72 Martin Caceres, Uruguay – Uruguay Advances to Knockout Stage
73 Diego Godin, Uruguay – Uruguay Advances to Knockout Stage
74 Jose Gimenez, Uruguay – Uruguay Advances to Knockout Stage
75 Guillermo Varela, Uruguay – Uruguay Advances to Knockout Stage
76 Rodrigo Bentacur, Uruguay – Uruguay Advances to Knockout Stage
77 Matias Vecino, Uruguay – Uruguay Advances to Knockout Stage
78 Lucas Torreira, Uruguay – Uruguay Advances to Knockout Stage
79 Nahitan Nandez, Uruguay – Uruguay Advances to Knockout Stage
80 Edinson Cavani, Uruguay – Uruguay Advances to Knockout Stage
81 Luis Suarez, Uruguay – Uruguay Advances to Knockout Stage
82 Russia – Russia Advances to Knockout Stage
83 Igor Akinfeev, Russia – Russia Advances to Knockout Stage
84 Yuri Zhirkov, Russia – Russia Advances to Knockout Stage
85 Sergei Ignashevich, Russia – Russia Advances to Knockout Stage
86 Ilya Kutepov, Russia – Russia Advances to Knockout Stage
87 Mario Fernandes, Russia – Russia Advances to Knockout Stage
88 Aleksandr Golovin, Russia – Russia Advances to Knockout Stage
89 Roman Zobnin, Russia – Russia Advances to Knockout Stage
90 Iury Gazinsky, Russia – Russia Advances to Knockout Stage
91 Alexander Samedov, Russia – Russia Advances to Knockout Stage
92 Denis Cheryshev, Russia – Russia Advances to Knockout Stage
93 Artem Dzyuba, Russia – Russia Advances to Knockout Stage
94 Spain – Spain Advances to Knockout Stage
95 David De Gea, Spain – Spain Advances to Knockout Stage
96 Jordi Alba, Spain – Spain Advances to Knockout Stage
97 Sergio Ramos, Spain – Spain Advances to Knockout Stage
98 Gerard Pique, Spain – Spain Advances to Knockout Stage
99 Nacho, Spain – Spain Advances to Knockout Stage
100 Koke, Spain – Spain Advances to Knockout Stage
101 Sergio Busquets, Spain – Spain Advances to Knockout Stage
102 Andres Iniesta, Spain – Spain Advances to Knockout Stage
103 Isco, Spain – Spain Advances to Knockout Stage
104 David Silva, Spain – Spain Advances to Knockout Stage
105 Diego Costa, Spain – Spain Advances to Knockout Stage
106 Portugal – Portugal Advances to Knockout Stage
107 Rui Patricio, Portugal – Portugal Advances to Knockout Stage
108 Raphael Guerreiro, Portugal – Portugal Advances to Knockout Stage
109 Jose Fonte, Portugal – Portugal Advances to Knockout Stage
110 Pepe, Portugal – Portugal Advances to Knockout Stage
111 Cedric Soares, Portugal – Portugal Advances to Knockout Stage
112 Joao Cancelo, Portugal – Portugal Advances to Knockout Stage
113 Joao Moutinho, Portugal – Portugal Advances to Knockout Stage
114 William Carvalho, Portugal – Portugal Advances to Knockout Stage
115 Joao Mario, Portugal – Portugal Advances to Knockout Stage
116 Ricardo Quaresma, Portugal – Portugal Advances to Knockout Stage
117 Cristiano Ronaldo, Portugal – Portugal Advances to Knockout Stage
118 Lionel Messi, Argentina – Messi Hits the Mark in Must-Win Match (6.26.18) Argentina 2-1 Nigeria
119 France – France Advances to Knockout Stage
120 Hugo Lloris, France – France Advances to Knockout Stage
121 Lucas Hernandez, France – France Advances to Knockout Stage
122 Samuel Umtiti, France – France Advances to Knockout Stage
123 Raphael Varane, France – France Advances to Knockout Stage
124 Benjamin Pavard, France – France Advances to Knockout Stage
125 Blaise Matuidi, France – France Advances to Knockout Stage
126 N'Golo Kante, France – France Advances to Knockout Stage
127 Paul Pogba, France – France Advances to Knockout Stage
128 Kylian Mbappe, France – France Advances to Knockout Stage
129 Antoine Griezmann, France – France Advances to Knockout Stage
130 Olivier Giroud, France – France Advances to Knockout Stage
131 Denmark – Denmark Advances to Knockout Stage
132 Kasper Schmeichel, Denmark – Denmark Advances to Knockout Stage
133 Jens Stryger Larsen, Denmark – Denmark Advances to Knockout Stage
134 Andreas Christensen, Denmark – Denmark Advances to Knockout Stage
135 Simon Kjaer, Denmark – Denmark Advances to Knockout Stage
136 Henrik Dalsgaard, Denmark – Denmark Advances to Knockout Stage
137 Thomas Delaney, Denmark – Denmark Advances to Knockout Stage
138 Christian Eriksen, Denmark – Denmark Advances to Knockout Stage
139 William Kvist, Denmark – Denmark Advances to Knockout Stage
140 Pione Sisto, Denmark – Denmark Advances to Knockout Stage
141 Yussug Poulsen, Denmark – Denmark Advances to Knockout Stage
142 Nicolai Jorgensen, Denmark – Denmark Advances to Knockout Stage
143 Croatia – Croatia Advances to Knockout Stage
144 Danijel Subasic, Croatia – Croatia Advances to Knockout Stage
145 Ivan Strinic, Croatia – Croatia Advances to Knockout Stage
146 Domagoj Vida, Croatia – Croatia Advances to Knockout Stage
147 Dejan Lovren, Croatia – Croatia Advances to Knockout Stage
148 Sime Vrsaljko, Croatia – Croatia Advances to Knockout Stage
149 Marcelo Brozovic, Croatia – Croatia Advances to Knockout Stage
150 Ivan Rakitic, Croatia – Croatia Advances to Knockout Stage
151 Ivan Perisic, Croatia – Croatia Advances to Knockout Stage
152 Luka Modric, Croatia – Croatia Advances to Knockout Stage
153 Ante Rebic, Croatia – Croatia Advances to Knockout Stage
154 Mario Mandzukic, Croatia – Croatia Advances to Knockout Stage
155 Argentina – Argentina Advances to Knockout Stage
156 Franco Armani, Argentina – Argentina Advances to Knockout Stage
157 Nicolas Tagliafico, Argentina – Argentina Advances to Knockout Stage
158 Marcus Rojo, Argentina – Argentina Advances to Knockout Stage
159 Nicolas Otamendi, Argentina – Argentina Advances to Knockout Stage
160 Gabriel Mercado, Argentina – Argentina Advances to Knockout Stage
161 Ever Banega, Argentina – Argentina Advances to Knockout Stage
162 Javier Mascherano, Argentina – Argentina Advances to Knockout Stage
163 Angel Di Maria, Argentina – Argentina Advances to Knockout Stage
164 Enzo Perez, Argentina – Argentina Advances to Knockout Stage
165 Lionel Messi, Argentina – Argentina Advances to Knockout Stage
166 Sergio Aguero, Argentina – Argentina Advances to Knockout Stage
167 Son Heungmin, Republic of Korea – Taeguk Warriors Eliminated Defending Champs (6.27.18) Republic of Korea 2-0 Germany
168 Thiago Silva, Brazil – Selecao, Silva Jump to Victory Vs. Serbia (6.27.18) Brazil 2-0 Serbia
169 Sweden – Sweden Advances to Knockout Stage
170 Robin Olsen, Sweden – Sweden Advances to Knockout Stage
171 Ludwig Augustinsson, Sweden – Sweden Advances to Knockout Stage
172 Andreas Granqvist, Sweden – Sweden Advances to Knockout Stage
173 Victor Lindelof, Sweden – Sweden Advances to Knockout Stage
174 Mikael Lustig, Sweden – Sweden Advances to Knockout Stage
175 Albin Ekdal, Sweden – Sweden Advances to Knockout Stage
176 Sebastian Larsson, Sweden – Sweden Advances to Knockout Stage
177 Emil Forsberg, Sweden – Sweden Advances to Knockout Stage
178 Viktor Claesson, Sweden – Sweden Advances to Knockout Stage
179 Marcus Berg, Sweden – Sweden Advances to Knockout Stage
180 Ola Toivonen, Sweden – Sweden Advances to Knockout Stage
181 Mexico – Mexico Advances to Knockout Stage
182 Guillermo Ochoa, Mexico – Mexico Advances to Knockout Stage
183 Jesus Gallardo, Mexico – Mexico Advances to Knockout Stage
184 Hector Moreno, Mexico – Mexico Advances to Knockout Stage
185 Carlos Salcedo, Mexico – Mexico Advances to Knockout Stage
186 Edson Alvarez, Mexico – Mexico Advances to Knockout Stage
187 Andres Guardado, Mexico – Mexico Advances to Knockout Stage
188 Hector Herrera, Mexico – Mexico Advances to Knockout Stage
189 Miguel Layun, Mexico – Mexico Advances to Knockout Stage
190 Hirving Lozano, Mexico – Mexico Advances to Knockout Stage
191 Carlos Vela, Mexico – Mexico Advances to Knockout Stage
192 Javier Hernandez, Mexico – Mexico Advances to Knockout Stage
193 Brazil – Brazil Advances to Knockout Stage
194 Alisson, Brazil – Brazil Advances to Knockout Stage
195 Marcelo, Brazil – Brazil Advances to Knockout Stage
196 Miranda, Brazil – Brazil Advances to Knockout Stage
197 Thiago Silva, Brazil – Brazil Advances to Knockout Stage
198 Fagner, Brazil – Brazil Advances to Knockout Stage
199 Paulinho, Brazil – Brazil Advances to Knockout Stage
200 Casemiro, Brazil – Brazil Advances to Knockout Stage
201 Phillipe Coutinho, Brazil – Brazil Advances to Knockout Stage
202 Willian, Brazil – Brazil Advances to Knockout Stage
203 Gabriel Jesus, Brazil – Brazil Advances to Knockout Stage
204 Neymar Jr., Brazil – Brazil Advances to Knockout Stage
205 Switzerland – Switzerland Advances to Knockout Stage
206 Yann Sommer, Switzerland – Switzerland Advances to Knockout Stage
207 Ricardo Rodriguez, Switzerland – Switzerland Advances to Knockout Stage
208 Manuel Akanji, Switzerland – Switzerland Advances to Knockout Stage
209 Fabian Schar, Switzerland – Switzerland Advances to Knockout Stage
210 Stephen Lichtsteiner, Switzerland – Switzerland Advances to Knockout Stage
211 Granit Xhaka, Switzerland – Switzerland Advances to Knockout Stage
212 Valon Behrami, Switzerland – Switzerland Advances to Knockout Stage
213 Steven Zuber, Switzerland – Switzerland Advances to Knockout Stage
214 Blerim Dzemali, Switzerland – Switzerland Advances to Knockout Stage
215 Xherdan Shaqiri, Switzerland – Switzerland Advances to Knockout Stage
216 Haris Seferovic, Switzerland – Switzerland Advances to Knockout Stage
217 Colombia – Colombia Advances to Knockout Stage
218 David Ospina, Colombia – Colombia Advances to Knockout Stage
219 Johan Mojica, Colombia – Colombia Advances to Knockout Stage
220 Yerry Mina, Colombia – Colombia Advances to Knockout Stage
221 Davinson Sanchez, Colombia – Colombia Advances to Knockout Stage
222 Santiago Arias, Colombia – Colombia Advances to Knockout Stage
223 James Rodriguez, Colombia – Colombia Advances to Knockout Stage
224 Carlos Sanchez, Colombia – Colombia Advances to Knockout Stage
225 Juan Quintero, Colombia – Colombia Advances to Knockout Stage
226 Mateus Uribe, Colombia – Colombia Advances to Knockout Stage
227 Juan Guillermo Cuadrado, Colombia – Colombia Advances to Knockout Stage
228 Radamel Falcao Garcia, Colombia – Colombia Advances to Knockout Stage
229 Japan – Japan Advances to Knockout Stage
230 Eiji Kawashima, Japan – Japan Advances to Knockout Stage
231 Yuto Nagatomo, Japan – Japan Advances to Knockout Stage
232 Gen Shoji, Japan – Japan Advances to Knockout Stage
233 Maya Yoshida, Japan – Japan Advances to Knockout Stage
234 Hiroki Sakai, Japan – Japan Advances to Knockout Stage
235 Gaku Shibasaki, Japan – Japan Advances to Knockout Stage
236 Makoto Hasebe, Japan – Japan Advances to Knockout Stage
237 Takashi Inui, Japan – Japan Advances to Knockout Stage
238 Shinji Kagawa, Japan – Japan Advances to Knockout Stage
239 Keisuke Honda, Japan – Japan Advances to Knockout Stage
240 Yuya Osako, Japan – Japan Advances to Knockout Stage
241 Belgium – Belgium Advances to Knockout Stage
242 Thibaut Courtois, Belgium – Belgium Advances to Knockout Stage
243 Jan Vertonghen, Belgium – Belgium Advances to Knockout Stage
244 Dedryck Boyata, Belgium – Belgium Advances to Knockout Stage
245 Toby Alderweireld, Belgium – Belgium Advances to Knockout Stage
246 Yannick Carrasco, Belgium – Belgium Advances to Knockout Stage
247 Thomas Meunier, Belgium – Belgium Advances to Knockout Stage
248 Axel Witsel, Belgium – Belgium Advances to Knockout Stage
249 Kevin De Bruyne, Belgium – Belgium Advances to Knockout Stage
250 Eden Hazard, Belgium – Belgium Advances to Knockout Stage
251 Dries Mertens, Belgium – Belgium Advances to Knockout Stage
252 Romelu Lukaku, Belgium – Belgium Advances to Knockout Stage
253 England – England Advances to Knockout Stage
254 Jordan Pickford, England – England Advances to Knockout Stage
255 Harry Maguire, England – England Advances to Knockout Stage
256 John Stones, England – England Advances to Knockout Stage
257 Kyle Walker, England – England Advances to Knockout Stage
258 Ashley Young, England – England Advances to Knockout Stage
259 Jesse Lingard, England – England Advances to Knockout Stage
260 Jordan Henderson, England – England Advances to Knockout Stage
261 Ruben Loftus-Creek, England – England Advances to Knockout Stage
262 Kieran Trippier, England – England Advances to Knockout Stage
263 Raheem Sterling, England – England Advances to Knockout Stage
264 Harry Kane, England – England Advances to Knockout Stage
265 Antoine Griezmann, France – France Fires First in Offensive Barrage (6.30.18) France 4-3 Argentina
266 Kylian Mbappe, France – Teen Lights Up Round of 16 with Two Goals (6.30.18) France 4-3 Argentina
267 Edinson Cavani, Uruguay – "El Matador" All Business with Brace (6.30.18) Uruguay 2-1 Portugal
268 Igor Akinfeev, Russia – Goalkeeper Right at Home in Russian Upset (7.1.18) Russia 1 (4)-(3) 1 Spain
269 Ivan Rakitic, Croatia – Rakatic Connects to Put Croatia in Quarters (7.1.18) Croatia 1 (3)-(2) 1 Denmark
270 Neymar Jr., Brazil – Star Powers South Americans Into Last Eight (7.2.18) Brazil 2-0 Mexico
271 Nacer Chadli, Belgium – Belgians Fight Back to Book Quarterfinals (7.2.18) Belgium 3-2 Japan
272 Harry Kane, England – England Advances with Shootout Victory (7.3.18) England 1 (4)-(3) 1 Colombia
273 Hugo Lloris, France – Lloris Halts Uruguay in Quarterfinal Clash (7.6.18) France 2-0 Uruguay
274 Antoine Griezmann, France – Griezmann Man of the Hour for Semifinalists (7.6.18) France 2-0 Uruguay
275 Kevin De Bruyne, Belgium – De Bruyne, Belgium Blaze Into Semifinals (7.6.18) Belgium 2-1 Brazil
276 Dele Alli, England – England Makes Headway to Leap Into Last Four (7.7.18) England 2-0 Sweden
277 Ivan Rakitic, Croatia – Shootout Victory Sends Vatreni Into Semis (7.7.18) Croatia 2 (4)-(3) 2 Russia
278 Samuel Umtiti, France – France Heads to Final on Umtiti's Finish (7.10.18) France 1-0 Belgium
279 Mario Mandzukic, Croatia – Croatian Dream Lives on with Semifinal Win (7.11.18) Croatia 2-1 England
280 Eden Hazard, Belgium – Belgium Bags Third-Place Finish (7.14.18) Belgium 2-0 England
281 Paul Pogba, France – Pogba Ppunces to Put Final Out of Reach (7.15.18) France 4-2 Croatia
282 Kylian Mbappe, France – Phenom Joins Elite Company with Goal in Final (7.15.18) France 4-2 Croatia
283 France – FIFA World Cup Champions
284 Hugo Lloris, France – FIFA World Cup Champions
285 Lucas Hernandez, France – FIFA World Cup Champions
286 Samuel Umtiti, France – FIFA World Cup Champions
287 Raphael Varane, France – FIFA World Cup Champions
288 Benjamin Pavard, France – FIFA World Cup Champions
289 Blaise Matuidi, France – FIFA World Cup Champions
290 N'Golo Kante, France – FIFA World Cup Champions
291 Paul Pogba, France – FIFA World Cup Champions
292 Kylian Mbappe, France – FIFA World Cup Champions
293 Antoine Griezmann, France – FIFA World Cup Champions
294 Olivier Giroud, France – FIFA World Cup Champions
295 Luka Modric, Croatia – Modric Inspires Croatia as Golden Ball Winner
296 Harry Kane, England – Kane Captures Golden Boot with Six Goals
297 Thibaut Courtois, Belgium – Courtois Gets Hands on Golden Glove Award
298 Kylian Mbappe, France – Mbappe Runs Off with FIFA Young Player Award
Autographs
Versions:
• Blue – /15
• Black – 1/1
34 Jose Gimenez, Uruguay
36 Cristiano Ronaldo, Portugal
42 Hirving Lozano, Mexico
43 Philippe Coutinho, Brazil
49 Luis Suarez, Uruguay
50 Christian Eriksen, Denmark
62 Harry Kane, England
68 Edinson Cavani, Uruguay
118 Lionel Messi, Argentina
267 Edinson Cavani, Uruguay
270 Neymar Jr., Brazil
278 Samuel Umtiti, France
295 Luka Modric, Croatia
296 Harry Kane, England
297 Thibaut Courtois, Belgium