Stars, Comics AND Cards at 2018 New York Comic Con
Card collectors often lament that comic conventions often omit trading cards, focusing instead on comics, toys, and other superhero-related paraphernalia. While this was still largely true at this year's New York Comic Con, the mega-event held for four days ending this past Sunday, a pair of manufacturers put their best non-sport foot forward.
Topps was there in full force with a setup that promoted their entertainment products in a big way. A display of autograph cards for Star Wars and WWE sets drew crowds in for a closer look. Onsite contests offered fans a way to win free prizes related to properties like Star Wars Card Trader, WWE SLAM, and Walking Dead Card Trader. Special guests, like GPK artist Joe Simko, stopped by to sign autographs for eager show attendees.
Topps also used this opportunity to for their "Take a Card, Leave a Card" wall for collectors to trade cards in a unique and interesting way.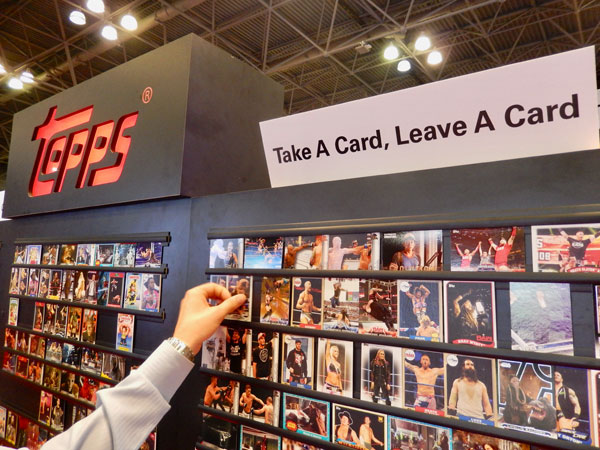 Cryptozoic Entertainment made the scene as well, continuing to advance their "Fans First" philosophy. Among the many pop cultural products they offered at the show were exclusive trading cards for some of their most popular lines.
Offered for sale were Outlander Season 3 Wardrobe Cards CE4 and CE5, featuring pieces of fabrics used in the production of costumes worn by actors Sam Heughan (Jamie Fraser) and Caitriona Balfe (Claire Fraser). Only 299 of each of these NYCC-exclusive cards were produced.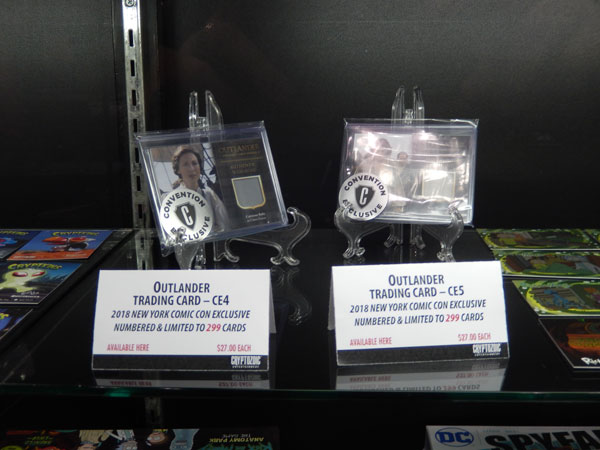 Convention-exclusive five card packs for Rick and Morty Trading Cards Season 1 were also available. Each pack contained an exclusive card that cannot be found in the regular Season 1 release.
Exclusive Cryptkins six-card packs were also purchasable at the show.
Both Topps and Cryptozoic offered free promos for the taking. For Topps, Solo and Garbage Pail Kids were among them, while over at Cryptozoic the freebies were Rick and Morty and Cryptkins.
Several vendors around the show sported vintage non-sport sets and singles. 1965 James Bond, 1966 Batman, 1966 Monkees Series A, and 1973 You'll Die Laughing were among those spotted.
As always, Artist Alley was alive with many artists, both well-known and undiscovered, all keenly interested in selling their original sketch card and comics art.
While non-sport cards remain a very small portion of NYCC's agenda, for those willing to dig deep, there are always treasures to find.
Future Show with Cards?
New York Comic Con doesn't just exist for purveyors of pop culture merchandise. It also give fans an inside peak into some of their favorite movies and TV shows through celebrity autograph sessions and panels. Non-Sport Update was there, attending panels for The Passage, Daredevil, Good Omens, Outlander, and The Walking Dead.
NSU was invited to attend the press conference for SuperMansion, the stop motion adult comedy about an aging group of superheroes just a little bit past their prime. At the event I spoke with the members of the cast and crew most responsible for bringing this Crackle-streaming series to life. Representing the Emmy-nominated show were voice-acting stars Bryan Cranston (Breaking Bad), Breckin Meyer (Robot Chicken), Gary Anthony Williams (Whose Line is it Anyway?), and show's creators Zeb Wells and Matthew Senreich (Robot Chicken).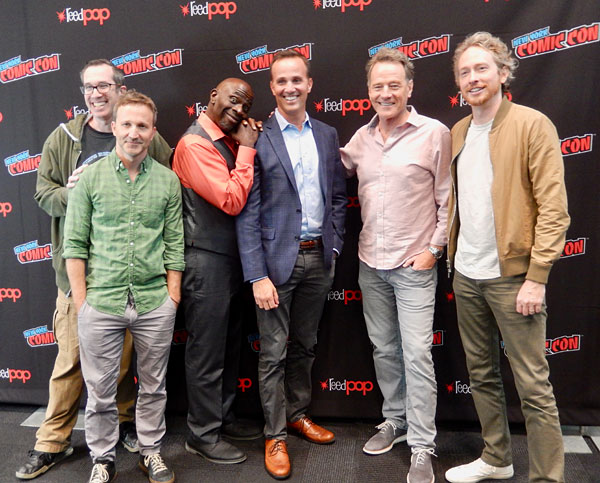 One of the questions I asked Cranston, who plays team leader Titanium Rex and also executive produces the show, was what draws him to voice-acting. It's an endeavor he has engaged in many times throughout his career.
Cranston responded, "To be honest, I do the voiceover work because it's challenging. I think it's very challenging to be able to tell a story just using your voice and to convey an emotion that pinpoints what that character is going through at that moment. I think it is difficult. I'm still learning that.
"And so I'm challenged by that and I like to keep working at it. You know, when we first started talking about doing this show, I said it's all about story, first and foremost. It's got to be a strong story…funny, yes, but nobody [will care] if you don't follow these characters and actually feel empathy for them. As silly as it may seem, even in animation, the foundation of the show is to make every story make sense and that you root for these characters, and then when you add the funny to that you really got something…and that's why I do it."
Cranston did modestly confess that, in his opinion, he's probably the worst voice actor on the show.
Said a joking Cranston, "When you hear a guy like Chris Pine doing Dr. Divizo, it blows me away. Or what Keegan Michael Key can do…and that's probably all I admire about the voice actors on the show…those two guys…and the women."
The lighthearted session, filled with loving barbs thrown back and forth between the celebrity attendees, ended with a quick red carpet-style photo shoot that delighted the participating reporters.
Now in its third season, SuperMansion began airing new episodes on October 4, adding Mini Driver to its growing cast of voice acting stars.
Photos by Alan Biegel.