Hall of Famers Galore Among 2018 National Sports Collectors Convention Autograph Signers
The initial list of 2018 National Sports Collectors Convention autograph signers is here. And it's loaded with Hall of Famers from baseball, football and more.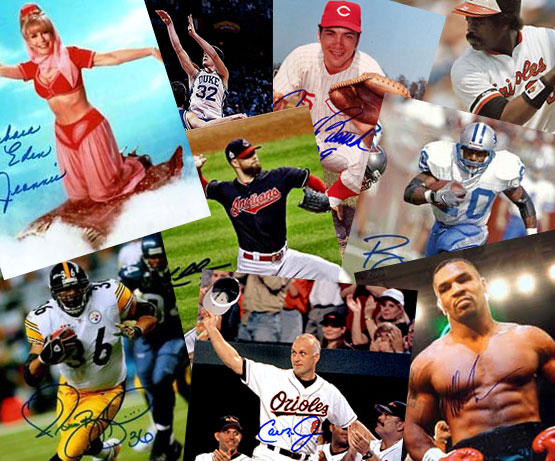 Among those heading to Cleveland at the start of August are Cal Ripken Jr, Reggie Jackson, Ozzie Smith, Bob Gibson, Randy Johnson and Rickey Henderson.
Current Cleveland Indians pitcher and reigning American League Cy Young Award winner, Corey Kluber, is part of the lineup as well.
From football there's Barry Sanders, Jerome Bettis, Earl Campbell and Joe Greene.
Looking to other sports, Mike Tyson, Ray Bourque and 1992 Dream Team member, Christian Laettner are all slated to attend.
VIP tickets return for the 2018 National Sports Collectors Convention. Included with the admission level are autographs from certain guests. Gregg Jefferies, Benito Santiago, Marty Cordova and Charles White are the first confirmed VIP signers.
The TRISTAR Autograph Pavillion won't be all athletes. Some celebrities are also scheduled including Corbin Bernsen and Tom Berenger, who starred together in Major League. I Dream of Jeannie's Barbara Eden will also attend.
Prices, dates and advanced autograph tickets aren't available yet.
The 2018 National Sports Collectors Convention takes place August 1-5 at Cleveland's I-X Center.
Here's the full list of announced signers. It is subject to change. More names are expected to be added.
2018 National Sports Collectors Convention Autograph Signers
VIP signers are noted.
Baseball
Roberto Alomar
Johnny Bench
Wade Boggs
Rod Carew
Steve Carlton
Roger Clemens
Marty Cordova – VIP
Andre Dawson
Dennis Eckersley
Dwight Evans
Bob Gibson
Goose Gossage
Mark Grace
Rickey Henderson
Reggie Jackson
Gregg Jefferies – VIP
Randy Johnson
Al Kaline
Corey Kluber
Tony LaRussa
Fred Lynn
Jack Morris
Eddie Murray
Gaylord Perry
Tim Raines
Jim Rice
Cal Ripken Jr.
Ivan Rodriguez
Pete Rose
Benito Santiago – VIP
Ozzie Smith
Bruce Sutter
Alan Trammell
Dave Winfield
Robin Yount
Basketball
Artis Gilmore
Christian Laettner
Football
Archie Griffin
Jack Ham
Franco Harris
Jim Kelly
Bernie Kosar
Jerry Kramer
Jack Lambert
Bob Lilly
Andre Reed
Andy Russell
Barry Sanders
Donnie Shell
Bruce Smith
Troy Smith
Jason Taylor
Lawrence Taylor
Joe Theismann
Thurman Thomas
Mike Wagner
Charles White – VIP
Randy White
Jack Youngblood
Hockey
Ray Bourque
Jim Craig
Phil Esposito
Other Sports
Mike Tyson – Boxing
Entertainment
Tom Berenger
Corbin Bernsen
Barbara Eden
Comments? Questions? Contact Ryan Cracknell on Twitter @tradercracks or by email.