Adam Bomb: Cast of The Goldbergs Get Starring Role, Autographs in Garbage Pail Kids: We Hate the '80s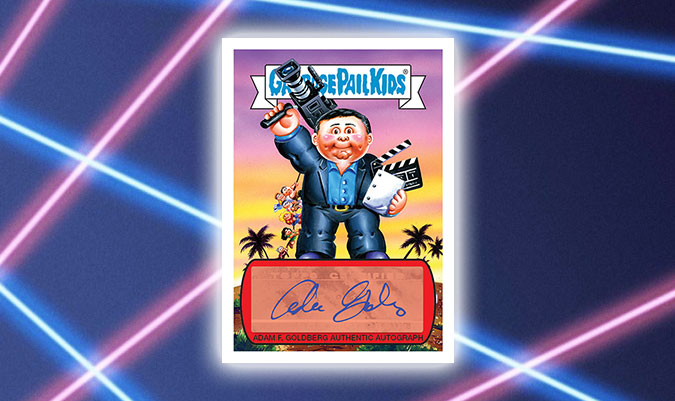 The Goldbergs, one of TV's top comedies, takes place in 1980-something. That's right in the Garbage Pail Kids wheelhouse. Now comes word that the show's stars, along with creator Adam F. Goldberg, have cards and autographs coming to 2018 Topps Garbage Pail Kids Series 1: We Hate the '80s.
Joining Goldberg on the autograph checklist are his on-screen family. It starts with Sean Giambrone, who plays young Adam. Patton Oswalt, the older version of Adam who narrates the show, is also in the set.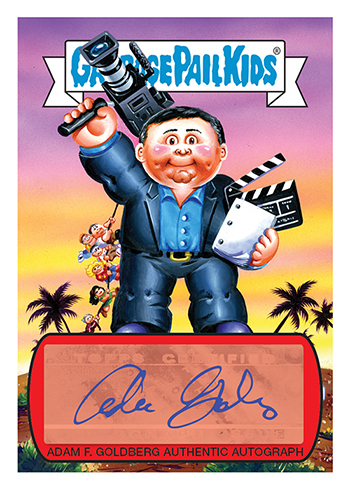 Others include Jeff Garlin (Murray Goldberg), Wendi McLendon-Covey (Beverly Goldberg), Hayley Orrantia (Erica Goldberg) and Troy Gentile (Barry Goldberg).
2018 Topps Garbage Pail Kids The Goldbergs Autographs Checklist
Adam F. Goldberg – Series Creator, Writer and Executive Producer
Sean Giambrone as Adam F. Goldberg
Patton Oswalt as the voice of adult Adam F. Goldberg
Wendi McLendon-Covey as Beverly Goldberg
Jeff Garlin as Murray Goldberg
Troy Gentile as Barry Goldberg
Hayley Orrantia as Erica Goldberg
George Segal as Albert "Pops" Solomon
Bryan Callen as Coach Rick Mellor
Other Goldbergs Garbage Pail Kids Cards
This isn't the first time The Goldbergs have appeared on Garbage Pail Kids. The TV family was added to the mushroom cloud on checklist 2a Adam Bomb in 2015 Garbage Pail Kids 30th Anniversary (as well as the 2b name variant, Blasted Barry). It's a card that has been Adam F. Goldberg's Twitter avatar for some time.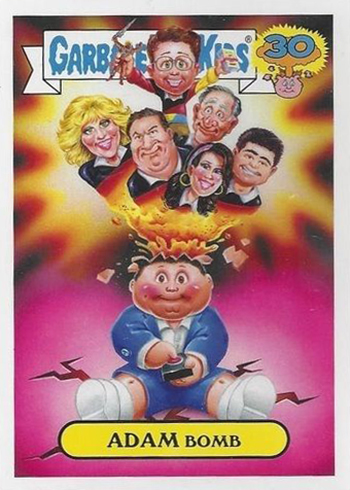 Goldberg also had an autograph and a relic card in the set.
The Goldbergs is currently in its fifth season on ABC.
Comments? Questions? Contact Ryan Cracknell on Twitter @tradercracks or by email
.