2018 Funko POP NFL Figures Feature Large Lineup of Stars and Rookies
The 2018 Funko POP NFL figures list is a big one. A total of 30 players make the list, encompassing star veterans, standout rookies and emerging talents.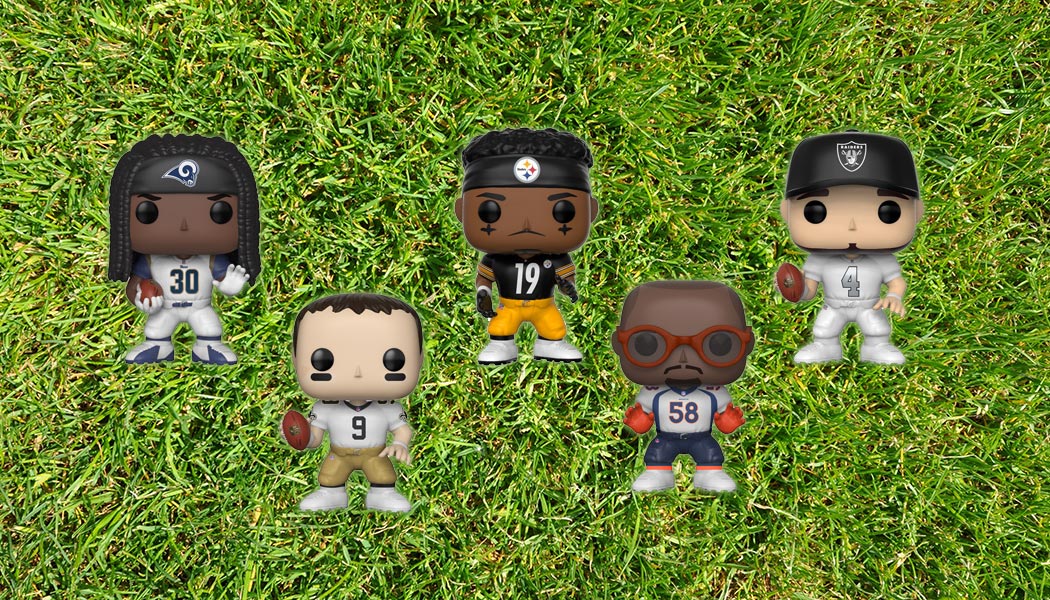 While there's a lot of consistency in the look of the various 2018 Funko POP NFL vinyl figures, both in this group and the POP! line as a whole, enough is done to make players recognizable. So cornerstone POP! features like the over-sized heads and round black eyes that look like they were gathered from a post winter snowman apocalypse are both present.
But then you get accessories that are built into some figures like caps, beanies, headbands and Von Miller's glasses. Of course, team jerseys certainly help players stand out as well.
The majority of the players are making their POP! debuts. However, there are some that have appeared in the past. For example, Drew Brees made his Funko debut in 2014. This was also the first year for Funko POP NFL. That figure has a black jersey. For 2018, he's in a white jersey.
2108 Funko POP NFL figures are slated for a summer release.
2018 Funko POP NFL Checklist
11 Drew Brees, New Orleans Saints
47 Derek Carr, Oakland Raiders
51 J.J. Watt, Houston Texans
52 Le'Veon Bell, Pittsburgh Steelers
56 Rob Gronkowski, New England Patriots
58 Todd Gurley, Los Angeles Rams
60 Von Miller, Denver Broncos
67 Dak Prescott, Dallas Cowboys
68 Ezekiel Elliott, Dallas Cowboys
72 Julio Jones, Atlanta Falcons
73 Matt Ryan, Atlanta Falcons
74 Nick Foles, Philadelphia Eagles
77 Marshawn Lynch, Oakland Raiders
94 Deshaun Watson, Houston Texans
95 Jared Goff, Los Angeles Rams
96 Khalil Mack, Oakland Raiders
97 JuJu Sith-Schuster, Pittsburgh Steelers
98 T.J. Watt, Pittsburgh Steelers
99 Doug Baldwin, Seattle Seahawks
100 Richard Sherman, San Francisco 49ers
101 Travis Kelce, Kansas City Chiefs
102 Matt Stafford, Detroit Lions
103 Jalen Ramsey, Jacksonville Jaguars
104 Leonard Fournette, Jacksonville Jaguars
105 Keenan Allen, Los Angeles Chargers
106 Mitch Trubisky, Chicago Bears
107 Sam Darnold, New York Jets
108 Josh Rosen, Arizona Cardinals
109 Josh Allen, Buffalo Bills
110 Baker Mayfield, Cleveland Browns