2018 Fright-Rags Chucky Trading Cards Checklist and Details
Despite making his debut on the big screen 30 years ago, the world's most famous serial-killing doll is getting a "Rookie Card." 2018 Fright-Rags Chucky trading cards bring the world of Child's Play to the hobby for the first time as a pack-based product.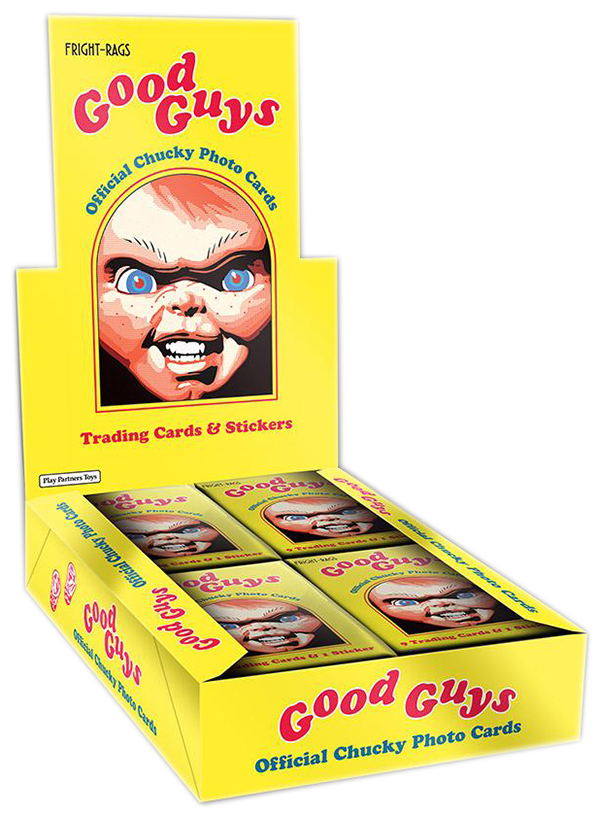 The set covers four films: Child's Play 2, Child's Play 3, Bride of Chucky, Seed of Chucky. It starts with 78 base cards. These, like other Fright-Rags card sets, are done on retro-style chip-back card stock. This gives them a feel similar to what you'd find before glossy cards took over in the late '80s and early '90s.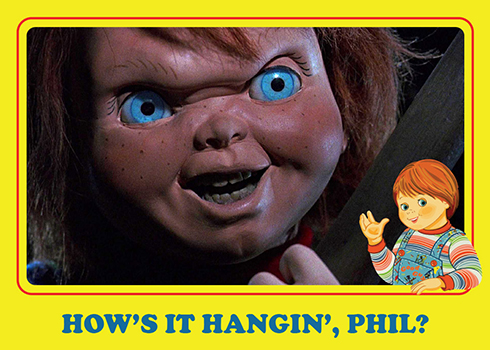 The checklist has a few extras as well. For starters, each pack comes with a sticker. Other inserts include Full-Art parallels, Character cards and Rainbow Foil cards.
As far as premium elements go, Sketch Cards are the big one. These have original art on them done by one of more than a dozen different artists.
Boxes also come with a Printing Plate as a box topper.
2018 Fright-Rags Chucky trading cards are available in three different forms from the Fright-Rags website. Boxes come with 24 packs, each with ten cards. Boxes promise two full base sets as well as two sets of Character cards, Stickers and Full Art cards. One Sketch Card and 12 Rainbow Foil cards are also in every box.
Packs are also available individually for $5 each (boxes are $120). Packs match the old-school feel of the cards in the sense that they're done with wax wrappers.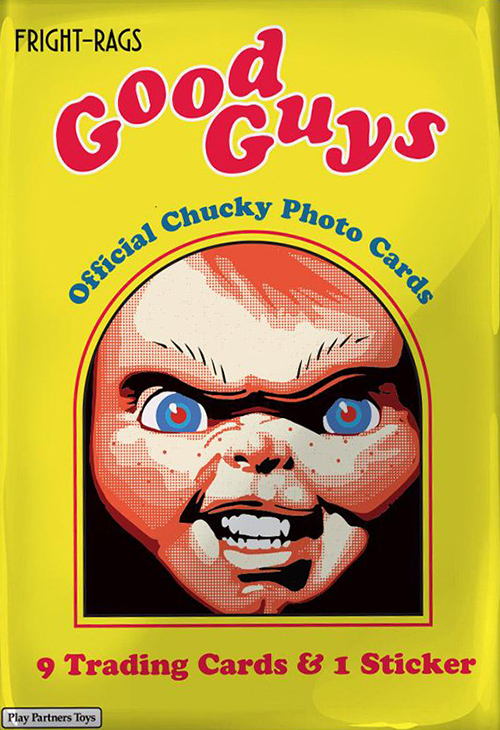 Finally, there's a factory box set. This has the base set, two Full-Art cards, two Stickers, one Rainbow Foil card, and a checklist.
The only other Child's Play trading cards appear to be five promo cards handed out at the 1991 San Diego Comic-Con for the third film.
2018 Fright-Rags Chucky trading cards at a glance:
Cards per pack: 10
Packs per box: 24
Set size: 78 cards
Release date: October, 2018
2018 Fright-Rags Chucky Checklist
Base Set
78 cards.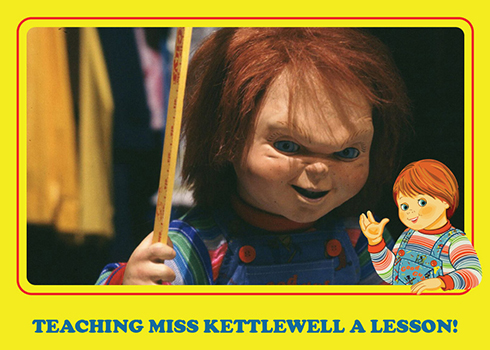 Parallels:
Printing Plates (each has Black, Cyan, Magenta and Yellow versions; 1 per box)
1 Child's Play 2
2 A Real Good Guy
3 A New Home
4 Uncle Charles
5 Hug This!
6 I'm Turning Human Again?!
7 Teaching Miss Kettlewell a Lesson!
8 How's It Hangin', Phil?
9 Uncovering the Truth
10 C'mon, Step on It!
11 Play Pals Toys
12 A Little Game of Chucky Says
13 I'm Gonna Kill You, Andy!
14 Chucky's New Hand
15 Peek-a-Boo!
16 Doll Disaster
17 I Was Only Playin'!
18 Hot Mess!
19 No More Mr. Good Guy
20 Child's Play 3
21 The Good Guy of the '90s!
22 Just Like the Good Old Days
23 I'm New and Improved
24 I'll Be Back!
25 Taking Out the Trash
26 Looking for Andy
27 Long Time No See, Pal!
28 This Means War!
29 Presto, You're Dead!
30 War Games
31 Hi Soldier!
32 A Good Hiding Place
33 The End of the Line!
34 Wrong Place, Wrong Tim
35 Still in Charge
36 Losing Balance
37 Goodbye, Good Guy
38 The Final Cut
39 Bride of Chucky
40 Well Hello, Dolly!
41 Peachy!
42 Play Nice!
43 We Belong Dead
44 Barbie, Eat Your Heart Out
45 Act Natural!
46 Highway Hijinks
47 Will You Be My Bride?
48 I'm All Rubber!
49 Nobody Move!
50 Domestic Dolly
51 A Turn of Events
52 Back in Charge
53 The Heart of Damballa
54 I'll See You in Hell!
55 Get Off My Knife!
56 Together Again
57 I Always Come Back!
58 The Legacy Continues
59 Seed of Chucky
60 Psychs and Shitface
61 Chucky Goes Psycho
62 I'm No Orphan
63 Stark Raving Mad!
64 A Late Bloomer
65 Family Bonding
66 The Perfect Family
67 Get It, Mini Me!
68 The Easy Way or the Hard Way?
69 A Body for Glen
70 Admitting Addiction
71 A Little Slip
72 Can I Be Both?
73 A Real Lady Killer!
74 Chucky, the Killer Doll!
75 Glen Vs. Dad
76 Dismembered Doll
77 Nobody Leaves Me!
Checklist
Character Cards
List TBA.
Full Art Parallels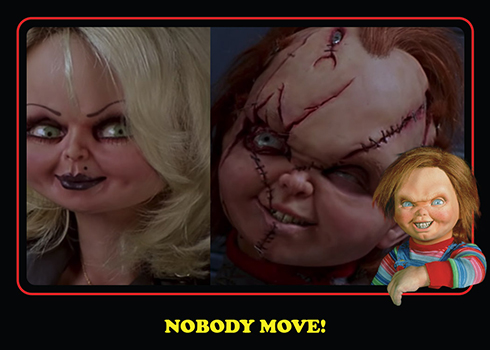 8 How's It Hangin', Phil?
18 Hot Mess!
34 Wrong Place, Wrong Tim
40 Well Hello, Dolly!
49 Nobody Move!
62 I'm No Orphan
Sketch Cards
14 artists.
1 per box.
Casey Booth
Jason Crosby
Shane Garvey
Andrew Lopez
Jason Miller
Rich Molinelli
Stephanie Rosales
Juan Rosales
Jim Sabo
Brent Scotchmer
John Sloboda
Mark Stroud
Chris West
Kevin P. West
Stickers
9 cards.
1 per pack.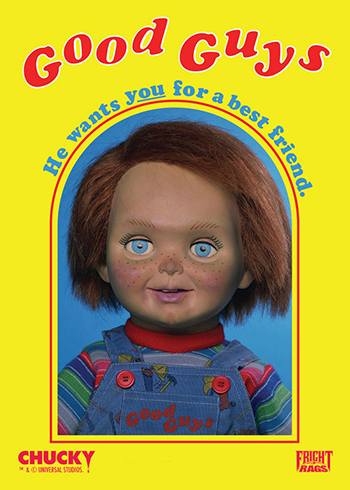 Construction Worker
Courageous Soldier
Cowboy
Doctor
Fearless Fireman
He Wants to Be Your Best Friend
He Wants You for a Best Friend
Let Him Share Your Secrets
Superstar Baseball Player