2018 Donruss Optic Football FOTL Premium Edition Boxes Go on Sale with Exclusive Cards, Configuration
Available starting today, 2018 Donruss Optic Football 1st Off the Line Premium Edition is a new approach for the online offerings. Not only do these limited edition online boxes come with exclusive cards not available in regular boxes, but there's a special configuration as well.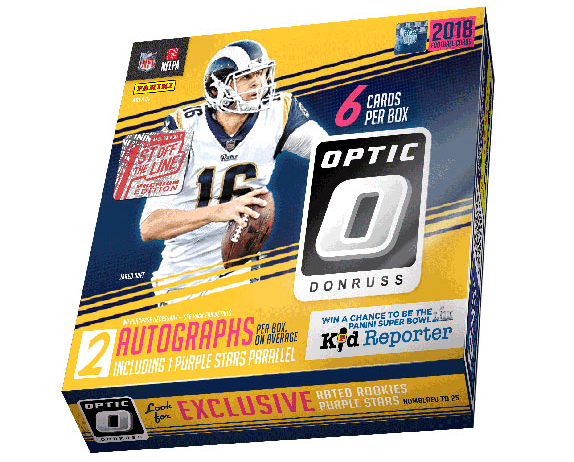 2018 Donruss Optic Football FOTL Premium Edition boxes each have six cards, making for a quick but lively break.
It starts with a pair of autographs, one of which is a FOTL-exclusive Purple Stars parallel numbered to 50. These are available for the set's Rated Rookie Autographs, Rookies Autographs and Rookie Elite Series Autographs. Baker Mayfield, Saquon Barkley and Sam Darnold are among the players to have on-card signatures available.
Each 2018 Donruss Optic Football FOTL Premium Edition box also has an exclusive Purple Stars parallel. Numbered to 25, these are available for the base set, Rated Rookie and Rookie sets.
These special boxes round out with a base card, Rated Rookie and a Rookie Card.
The presell window opens today at 10 AM CST (11 AM EST, 8AM PST) and is available while supplies last.
There's a limit of 14 boxes per transaction.
This is the first time FOTL boxes have gone with a premium configuration.