2018 Cryptozoic Legends of Tomorrow Seasons 1 and 2 trading cards live up the show's large lineup of heroes. This comes through in several parts of the product, most notably in the autographs.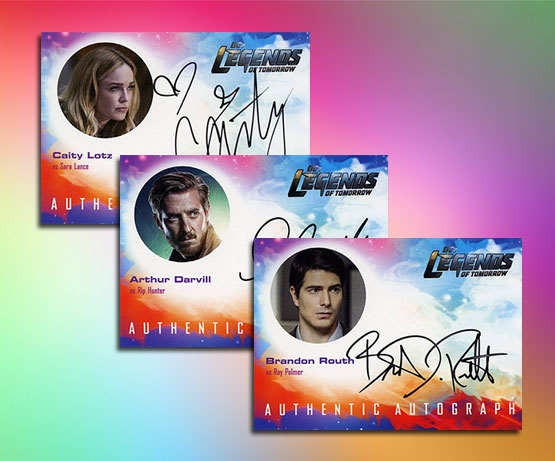 Much of the product follows the Cryptozoic template. This includes the promise of both an autograph and a memorabilia card in each box.
Base Set and Inserts
The 2018 Cryptozoic Legends of Tomorrow Seasons 1 and 2 base set uses 72 cards to summarize the first 33 episodes. Parallels incorporate foil as well as one-of-one Printing Plates.
Regular inserts include Character Bios plus the thematic Icons and Legendary Objects. All three of these are relatively easy to pull with cards landing 1:3 packs. In many ways, they're a compliment to the base set.
For those looking for more of a challenge, there's a nine-card puzzle. If odds play out right, two of these cards are in each box.
STR PWR inserts are also on the checklist. These are extremely tough at 1:144 packs. Three levels of parallels are even more scarce, going all the way down to one-of-one Black versions.
Autographs and Memorabilia Cards
One of the things that makes Legends of Tomorrow standout among the large number of super hero TV shows is its large mix of heroes. It's truly an ensemble. And that's what Cryptozoic has done with the signatures.
Arthur Darvill, who plays the ringmaster of sorts, Rip Hunter, is among them. Darvill's other credits include Doctor Who. He has signed a few cards for Topps in the past.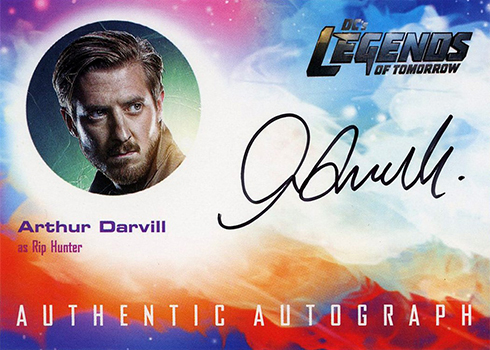 Another notable name is Brandon Routh who shot to immediate stardom as Superman in Superman Returns.
Other key cast members with autographs in 2018 Cryptozoic Legends of Tomorrow Seasons 1 and 2 include Caity Lotz, Amy Louise Pemberton, Franz Drameh, Maise Richardson-Sellers and Neal McDonough.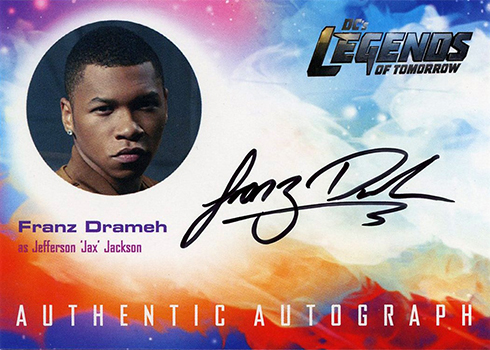 The checklist also has some notable guest stars. One is Stephanie Corneliussen, one of the stars on Mr. Robot.
The one-per-box memorabilia cards include pieces of costumes worn on the show. One is exclusive to the product's binder and not available in packs.
2018 Cryptozoic Legends of Tomorrow Seasons 1 and 2 at a glance:
Cards per pack: 5
Packs per box: 24
Boxes per case: 12
Set size: 72 cards
Release date: May 9, 2018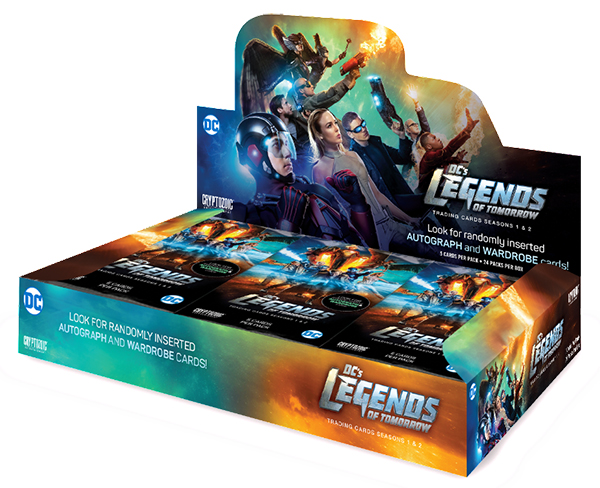 What to expect in a hobby box:
• Autographs – 1
• Memorabilia Cards – 1
2018 Cryptozoic Legends of Tomorrow Seasons 1 and 2 Trading Cards Checklist
Base
Autographs
Memorabilia
Inserts
Comments? Questions? Contact Ryan Cracknell on Twitter @tradercracks or by email.