2018 Bowman Chrome Draft Nolan Gorman Superfractor Autograph Sells for $15,000
The 2018 Bowman Chrome Draft Nolan Gorman Superfractor Autograph has not only surfaced, but apparently sold on eBay for $15,000. And that comes after playing less than 70 games of professional baseball.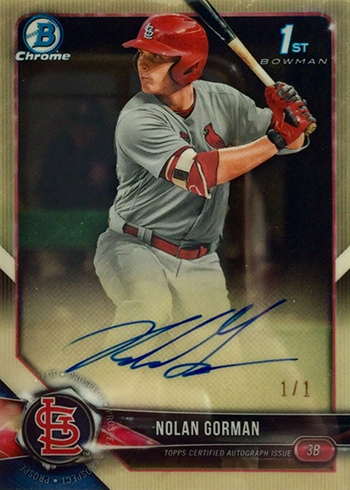 The St. Louis Cardinals took Gorman with the 19th pick in the 2018 MLB Draft. Just 18-years-old at the time of 2018 Bowman Draft's release, the third baseman was an early top-seller among the set's Chrome Draft Pick Autographs.
This is the one-of-one version of the card and should become Gorman's most coveted card whether he goes on to stardom or not. At least that's the case with players' first Superfractor Autographs over the last several years.
Gorman had a strong start to his pro career in 2018, hitting 17 home runs in 63 games combined between Rookie and Single-A.
Between 2018 Bowman Draft and 2018 Bowman's Best, Gorman has eight total Superfractors. This is easily the biggest of them all. Others come from less iconic insert sets. A 2018 Bowman Draft Recommended Viewing Superfractor dual autograph with Gorman and Boston's Tristan Casas sold for just $1,400 on December 17. Gorman's Class of 2018 Superfractor Autograph is currently listed with a $5,999 price tag.