2018 Bowman Big League Breakthrough
2018 Bowman Big League Breakthrough cards look rather unassuming at first glance. But there's much more at play with these inserts. First, they're only in retail packs. Second, and more importantly, they're a predictor type of card.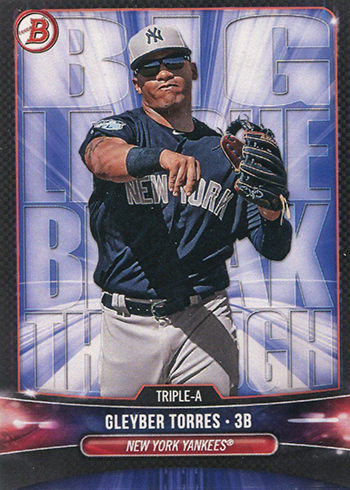 If the player on the front gets called up to the majors in 2018, you can get another exclusive card. An upgrade, if you will.
How the 2018 Bowman Big League Breakthrough Program Works
The first step to the 2018 Bowman Big League Breakthrough is getting the cards. Unless you're going the secondary market route, that means finding them in packs.
The inserts, which double as contest cards, aren't in traditional hobby packs. Rather, they're exclusive to 2018 Bowman Baseball retail packs and blaster boxes found in stores like Walmart and Target.
Even then, they're not easy pulls. Odds of finding one of the 40 different 2018 Bowman Big League Breakthrough cards are 1:164 regular retail packs and 1:75 retail fat packs.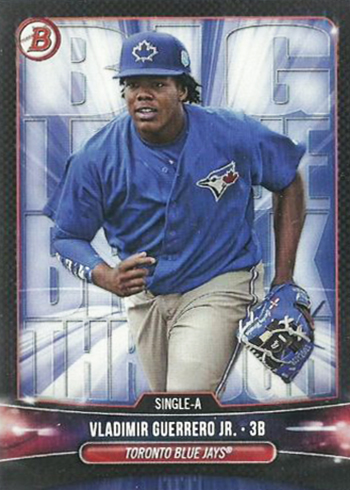 Based on the rules document, each player has 250 total prize card should they make their debut. Some of those could be reserved for No Purchase Necessary entries (outlined below), but it is further proof that even the entry cards are moderately rare. As codes are scratched, entry cards in their original condition will become that much more scarce.
Once you have a card with the code, you enter it online at the Topps website. You'll need to be registered with a Topps online account.
You can also mail an entry in and enter that way. Simply fill out the contact info on the back. According to Topps, you should also write this info on an index card along with the code.
Mail-in entries card be sent to:
Topps Redemption Cards
2300 Stafford Ave.
Scranton, PA 18505
Prize Drawings
All 2018 Bowman Big League Breakthrough codes that are entered, whether the player makes it to the majors or not, is entered into a separate prize drawn.
Ten people win the first prize, a set of 2018 Bowman Chrome Prospect Autographs, which has 43 cards.
Another 75 people get a basic 150-card 2018 Bowman Chrome Prospects set.
No Purchase Necessary
The 2018 Bowman Big League Breakthrough has a No Purchase Necessary component as well that gives you a potential entry for the price of a stamp.
To enter this way, jot down your name, email address, zip/postal code, phone number and birthdate on an index card. Also write, "Bowman Big League Breakthrough."
Send that info to:
The Topps Company
Bowman Big League Breakthrough Promotion NPN
1 Whitehall Street
New York, NY 10004
According to the official rules document, entries will be drawn at random at the same odds in packs. Those picked get a code and a player name from the checklist (not an original card).
There's a limit of one NPN entry per household and requests must be received by October 15, 2018.
Topps has a ten-page rules document posted on their site that has all the fine print and legal jargon in case you have further questions.
2018 Bowman Big League Breakthrough Checklist
BL-AB Austin Beck, Oakland Athletics
BL-AG Andres Gimenez, New York Mets
BL-AM Austin Meadows, Pittsburgh Pirates
BL-AR Austin Riley, Atlanta Braves
BL-BH Brent Honeywell, Tampa Bay Rays
BL-BM Brendan McKay, Tampa Bay Rays
BL-CA Chance Adams, New York Yankees
BL-CB Casey Gillaspie, Chicago White Sox
BL-CR Corey Ray, Milwaukee Brewers
BL-DC Dylan Cozens, Philadelphia Phillies
BL-EJ Eloy Jimenez, Chicago White Sox
BL-FTJ Fernando Tatis Jr., San Diego Padres
BL-GT Gleyber Torres, New York Yankees
BL-HG Hunter Greene, Cincinnati Reds
BL-JB Jake Bauers, Tampa Bay Rays
BL-JG Jay Groome, Boston Red Sox
BL-JS Justus Sheffield, New York Yankees
BL-JSA Jesus Sanchez, Tampa Bay Rays
BL-JSO Juan Soto, Washington Nationals
BL-KH Keston Hiura, Milwaukee Brewers
BL-KW Kyle Wright, Atlanta Braves
BL-LR Luis Robert, Chicago White Sox
BL-LT Leody Taveras, Texas Rangers
BL-MC Michael Chavis, Boston Red Sox
BL-MG MacKenzie Gore, San Diego Padres
BL-MK Michael Kopech, Chicago White Sox
BL-MM Mickey Moniak, Philadelphia Phillies
BL-NG Nick Gordon, Minnesota Twins
BL-NS Nick Senzel, Cincinnati Reds
BL-PS Pavin Smith, Arizona Diamondbacks
BL-RA Ronald Acuna, Atlanta Braves
BL-RL Royce Lewis, Minnesota Twins
BL-RM Ryan Mountcastle, Baltimore Orioles
BL-SB Shane Baz, Pittsburgh Pirates
BL-SK Scott Kingery, Philadelphia Phillies
BL-SS Sixto Sanchez, Philadelphia Phillies
BL-TO Tyler O'Neill, St. Louis Cardinals
BL-TT Taylor Trammell, Cincinnati Reds
BL-VGJ Vladimir Guerrero Jr., Toronto Blue Jays
BL-WA Willy Adames, Tampa Bay Rays
Winning Cards
Here's a list of players in the set who have made their MLB debuts already and qualify for the exclusive prize cards.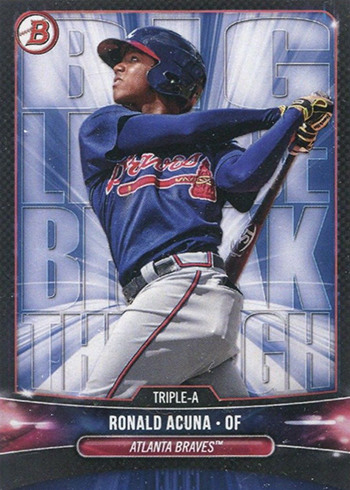 Last Updated: May 25, 2018
BL-AM Austin Meadows
BL-GT Gleyber Torres
BL-JSO Juan Soto
BL-RA Ronald Acuna
BL-SK Scott Kingery
BL-TO Tyler O'Neill
BL-WA Willy Adames
Comments? Questions? Contact Ryan Cracknell on Twitter @tradercracks or by email.