2018 Beckett Non-Sport Almanac Preview – Beckett Pricing Insider
On August 10th, the annual Beckett Non-Sport Almanac goes to print. This is the 4th edition to be released since the split of gaming and non-sport into two separate publications. Once again, this almanac will contain 376 pages of pricing from cover-to-cover. It also has all the year's new non-sport releases along with some oddball promo sets added throughout 2017-18.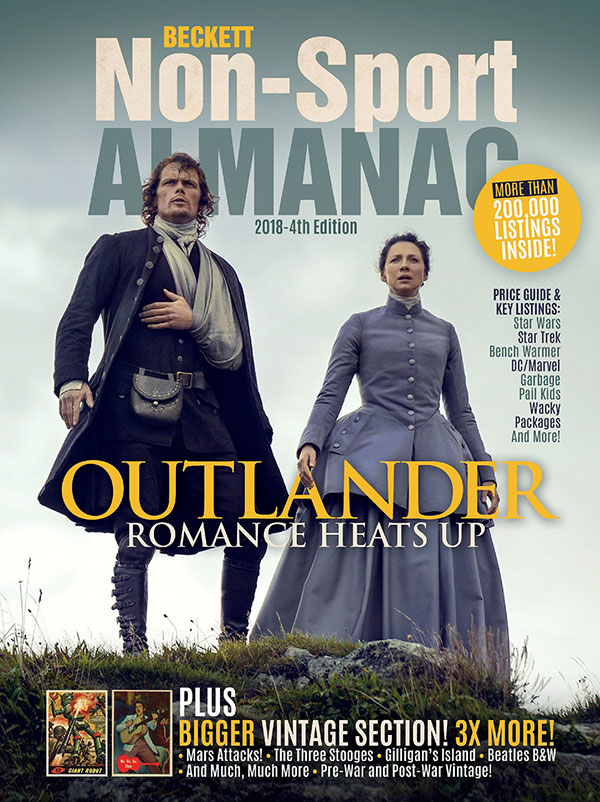 The format is basically the same with the following major categories:
Vintage
Modern
Bench Warmer
Comics
Garbage Pail Kids
Star Trek
Star Wars
Wacky Packages
The vintage section is split into two subsections: Pre-War (1879-1941) and Post-War (1942-1980). Many more sets have been added this year along with the respective pricing.
The modern section features, from A-Z, everything from 1981 to present day. There are many different subsections containing all of the usual favorites, from Buffy and Doctor Who to Game of Thrones and The Walking Dead.
DC/Marvel has now become the Comics section with each property split into its own subsection. Superheroes such as Batman, Superman, Spider-Man and the X-Men have their own specific sections, as well.
Wacky Packages will also be split into two sub-sections: Vintage and Modern.
As usual with this publication, we continue to edit and fill in the gaps. Many more sets have manufacturers listed in the header and many descriptions have been corrected for accuracy.
The cover for this edition features the mega-hit series, Outlander. It's expected to hit newsstands and retail outlets on August 24th, although that is subject to change.