2018-19 Upper Deck Ultimate Collection Hockey cards are all about the high-end. Ample autographs run alongside memorabilia cards and relatively low-numbered base cards.
Boxes come with just four cards, three of which are considered hits. The first is a rookie autograph or autographed memorabilia card. The other two come from a variety of insert themes.
2018-19 Upper Deck Ultimate Collection Hockey Base Set Overview
Regular base cards in 2018-19 Upper Deck Ultimate Collection Hockey aren't exactly plentiful. Numbered to 149, they may not be the rarest regular cards but they're up there.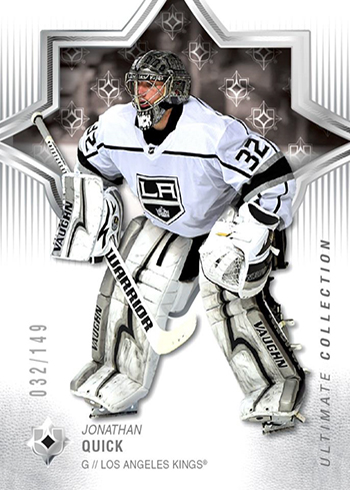 Traditional parallels come in Onyx Black (/10). On top of those are Autographs, which have varying quantities, and Onyx Black Autos (1/1). One-of-one Shield and Auto Shield variations are also available for select players.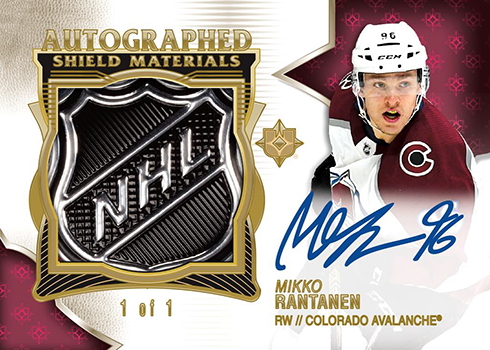 Ultimate Rookies Autographs come in a couple of tiers with either 299 or 99 copies. Alternate versions for these include Jersey (/399), Auto Patch (/99 or /49) and Auto Shield (1/1). As has been the case for the past couple of years, Ultimate Rookies Auto Shield cards are exclusive to the product's hobby version. These cards do not carry over to the e-Pack release.
Autographs and Memorabilia
2018-19 Upper Deck Ultimate Collection Hockey has several autograph insert sets. 1997 Legends Autographs (1:28 packs) and 1997 Legends HOF Autographs (1:120) bring back the popular design for another batch of cards.
Signatures Masterpieces (1:8) return, bringing with them an artistic flair.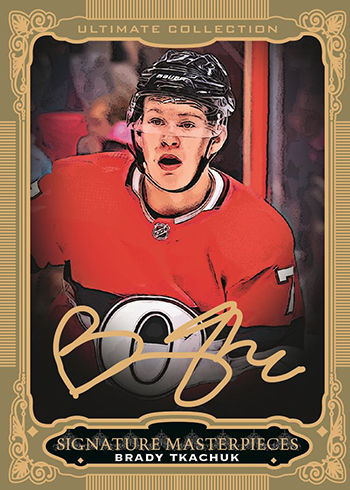 Signature Laureates, Signature Material Laureates, Debut Threads Patch Auto (/99), Retro Rookies Auto (/175), and Retro Rookies Auto Patch (/49) are among the other places to find signed cards.
Entering the memorabilia realm, there's Ultimate Materials and their autograph counterparts. Both come with serial numbers, although to varying quantities.
Ultimate Quad Materials (/99 or less) and Ultimate Dual Materials Auto come with multiple swatches.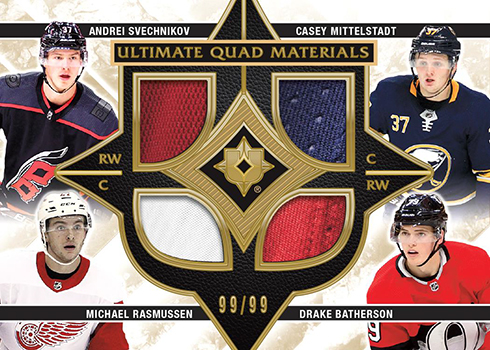 One-of-one Shield Patch cards are available with and without signatures. Other Shield themes include All-Star Skills (1/1), All-Star Skills Auto (1/1), All-Star Tandem (1/1), and Rookie Tandem (/2).
Other Inserts
Ultimate Introductions offer up another place to find rookies in 2018-19 Upper Deck Ultimate Collection Hockey. Players are divided up into four levels, each progressively tougher to pull. Tier 1 are the most common at 1:3 packs while Tier 4 top out at 1:12. Cards also have three parallels: Showcase (1:80), Onyx Black (/10) and Royal Red (/6).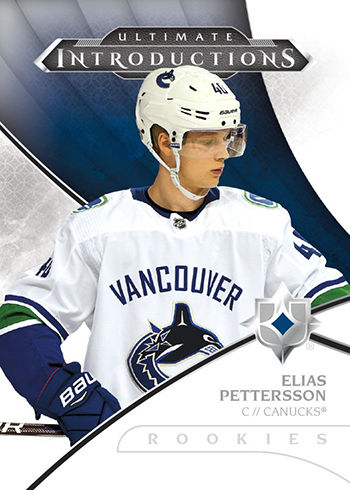 Ultimate Access inserts are 1:8 packs for Tier 1 while Tier 2 are 1:64. Parallels for these come in the form of hits. Ultimate Access Autographs have varying print runs, all numbered. Materials Copper have ten copies or less while Premium Materials Gold have three copies. Materials Copper Auto and Premium Materials Gold Auto (/6) add more ink.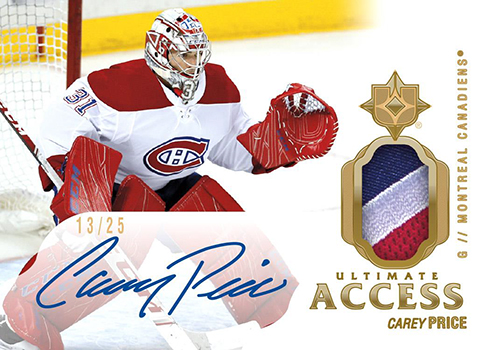 Taking a similar approach is Ultimate Icons (Tier 1 – 1:12, Tier 2 – 1:36). The parallel lineup includes Materials Copper (/10 or less), Materials Copper Auto, Premium Materials Gold (/3), and Premium Materials Gold Auto (/6).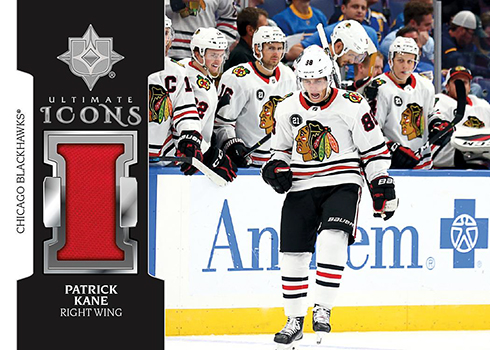 2018-19 Upper Deck Ultimate Collection Hockey cards at a glance:
Cards per pack: 4
Packs per box: 1
Boxes per case: 16 (two 8-box inner cases)
Set size: 50 cards
Release date: August 21, 2019
What to expect in a hobby box:
Rookie Autographs or Rookie Autograph Memorabilia Cards – 1
Additional Autographs or Memorabilia Cards – 2 Total
Base, Parallel or Ultimate Introductions – 1
2018-19 Upper Deck Ultimate Collection Hockey Checklist
Base
Autographs
Memorabilia
Inserts
Updates
Team Sets