2018-19 Upper Deck Trilogy Hockey Checklist, Team Set Lists and Details
2018-19 Upper Deck Trilogy Hockey likes to do things in threes. This comes up in a few ways. Sometimes, it's a print run. Others, it's the number of parallels. And then there's the rookies. These come in three different levels, each taking a more premium approach than the one that came before it.
Another way that three is apparent is in the distribution of autographs and memorabilia cards. Each 2018-19 Upper Deck Trilogy hobby box boasts that number. At least one of those is an autograph.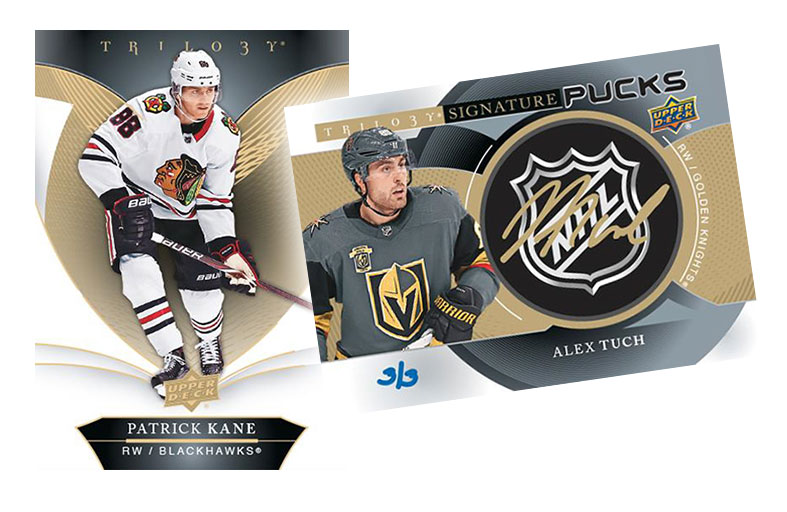 2018-19 Upper Deck Trilogy Base Set and Rookies
The main base set isn't a very big one. It has just 50 cards. Parallels for these start with Blue Rainbow (/799) and Red Rainbow (/499). Green Jersey Relics and Black Premium Material Relics are also available. These come numbered to varying amounts.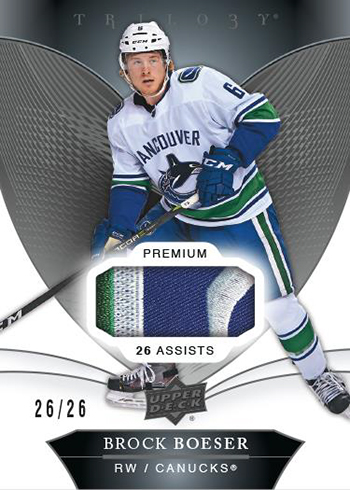 The rookies are one of the cornerstones of Trilogy and it's no different this time around. These are done three different ways for all 29 players on the checklist. Common Level 1 cards are the most basic and the easiest pull with 999 copies each. Next up are Uncommon Level 2 Autographs. These have three tiers of their own with print runs ranging from 399 to 149. Finally, there are Rare Level 3 Autographs, which are numbered to 49.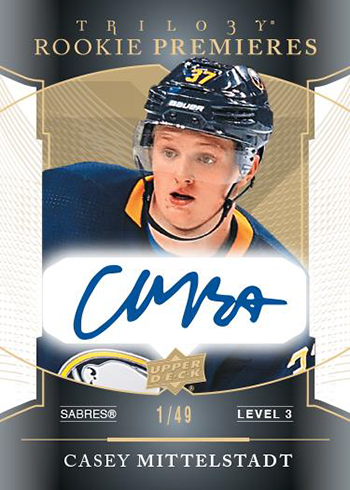 These have a couple of parallels as well. Green Rookies have memorabilia: Level 1 Jersey (/599), Level 2 Patch (/49) and Level 3 Tag (/5). Black is the other color. For Level 1 cards, these are simply numbered to 99 and have no additional elements. Black Level 2 Autographs have varying print runs while Black Level 3 Autographs (/9) feature inscriptions.
Autographs, Memorabilia Cards and Other Inserts
Signature Pucks return in 2018-19 Upper Deck Trilogy Hockey. Regular versions are 1:18 packs while parallels are available in Team Logos (/19) and NHL Shield Logo (/3).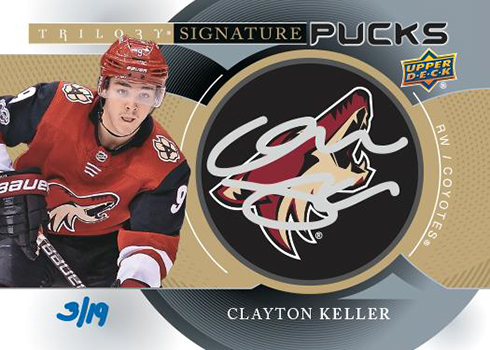 In addition to these are some thematic versions with separate checklists. Hall of Fame, Trophy Winners, Stanley Cup Championship, and new All-Star Signature Pucks are all 1:560 packs. Team Logo parallels are numbered to 10 or less while NHL Shield Logo cards have no more than three copies depending on the theme.
Triple Rookie Autographs have 25 copies while their Black parallels are one-of-ones.
Four additional autograph inserts are done on plexiglass: Ice Scripts (1:85 packs), Auto Focus (1:800), Personal Scripts (1:800) and Scripted Hall of Fame Plaques (/25).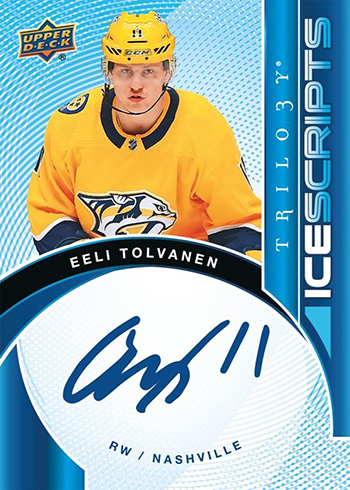 Tryptich memorabilia cards get a new batch of cards. The three levels of memorabilia are Legends Jersey (/49), Rookies and Stars Jersey (/99), and Premium Series, which have varying quantities. Numbered Tryptich Autographs are also available.
Other memorabilia inserts in the product include Triple Relics and Honorary Triple Swatches.
2018-19 Upper Deck Trilogy Hockey goes back in time for 2003-04 15th Anniversary Retro Rookies (/599) and Rookies Autographs (/99). Other spins on these include Jersey (/399), Auto Patch (/15), Black (/25) and Black Autographs (/5).
2018-19 Upper Deck Trilogy Hockey at a glance:
Cards per pack: 4
Packs per box: 8
Boxes per case: 20 (two 10-box inner cases)
Set size: 50 cards
Release date: January 9, 2019
What to expect in a hobby box:
• Autographs – 1
• Additional Autographs or Memorabilia Cards – 2 Total
2018-19 Upper Deck Trilogy Hockey Checklist
Base
Parallels
Autographs
Memorabilia
Inserts
Updates
Team Sets