2018-19 Upper Deck Tim Hortons Hockey Cards Checklist, Team Set Lists and Details
When you click on links to various merchants on this site, like eBay, and make a purchase, this can result in this site earning a commission.
2018-19 Upper Deck Tim Hortons Hockey cards are giving Canadian collectors an excuse to indulge in double-doubles — and all-day breakfast. This marks the fourth year in a row for the massive hockey card promotion, which has quickly become a mainstay north of the border.
2018-19 Upper Deck Tim Hortons Hockey Cards Base Set Basics
As with past sets, 2018-19 Upper Deck Tim Hortons Hockey is similar to a full-on release. Overall, the checklist might not be as large as some other early-season releases like MVP or O-Pee-Chee. But it's not your typical food issue promo set either.
The base set has 120 cards. This is 20 more than the 2017-18 set. NHL stars are the primary focus, although with a list that size, there's still room for some fan favorites. Once again, foil is the backdrop for the design, which has been the case for every Upper Deck Tim Hortons set thus far.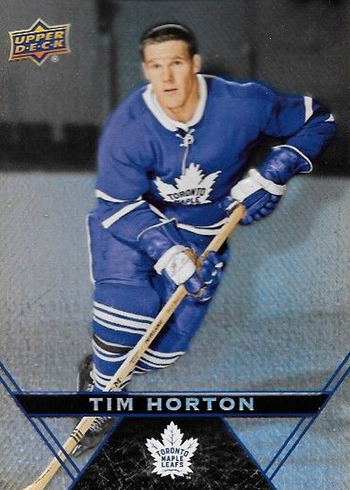 2018-19 Upper Deck Tim Hortons Hockey Inserts
Like any modern full release, 2018-19 Upper Deck Tim Hortons Hockey has several insert sets to compliment the base set. These incorporate different themes and technology.
Sticking with foil, similar to the base set, is Superstar Showcase (1:6 packs). Featuring 15 cards, these represent the best of the best in the NHL. Card fronts take a dual-photo approach with a color action shot at the forefront and a closeup of their face in the background. If you see similarities to Flair Showcase sets from about 20 years ago, you wouldn't be wrong. They're also close in some ways to the 2017-18 Upper Deck Tim Hortons Platinum Profiles inserts.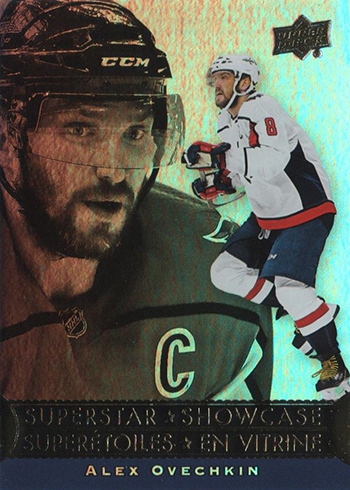 Gold Etchings (1:8) use foil with a more dramatic effect. Color is removed from the images, but embossed highlights around the border add style and pop. The Gold Etchings checklist is limited to ten cards.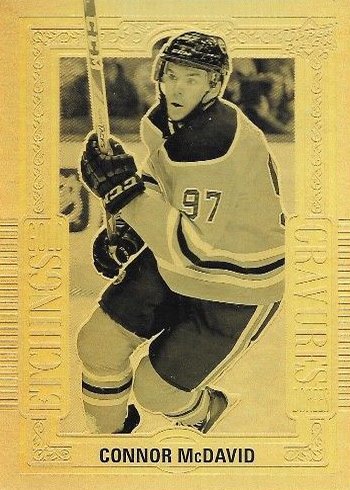 For fans of acetate, Clear Cut Phenoms (1:12) return for another year with cards from 15 young stars. These are done on the plastic-style stock and have an opaque background, giving off the resemblance of an ice sheet.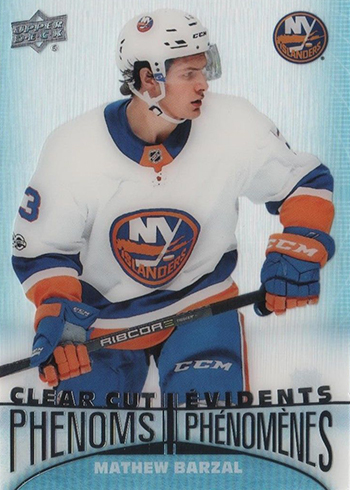 Game Day Action (1:4) is another returning insert set. Also boasting 15 cards, these incorporate a ticket design and full-color player shots.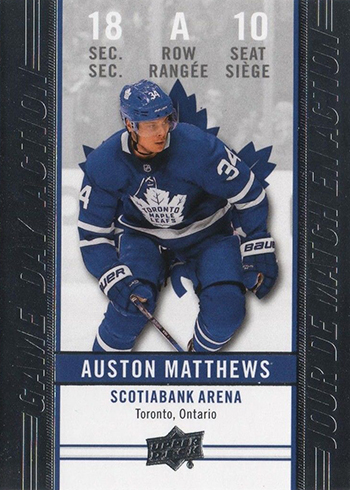 Top Line Talent (1:24) is a tougher insert set. This feature superstars with a lenticular 3-D design.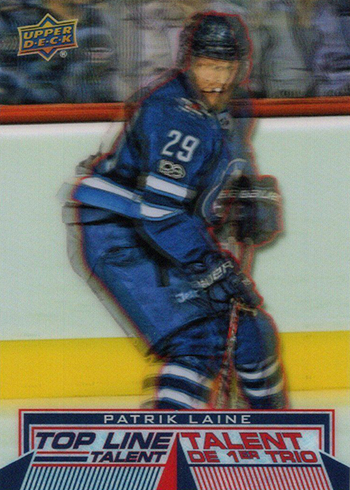 Five NHL All-Star Standouts double as checklists. At 1:3 packs, these are the easiest inserts to get in 2018-19 Upper Deck Tim Hortons Hockey.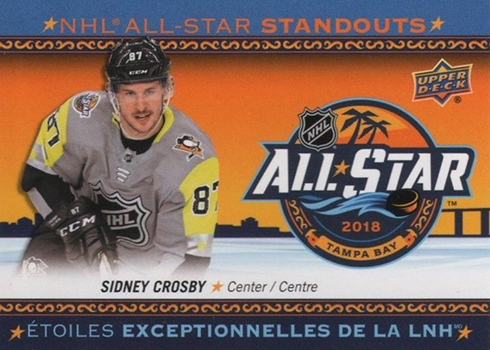 Autographs and Memorabilia Cards
2018-19 Upper Deck Tim Hortons Hockey does have autographs and memorabilia cards, they're just extremely tough to find. They're also awarded as prize redemptions. Across the entire product print run, there are just 1,714 NHL Signatures (1:7,200), 6,855 Jersey Relics (1:1,800) and 150 NHL Jersey Relic Autographs (1:82,256).
In addition to these is a new Sidney Crosby Tim Hortons autograph, which has 87 copies. Brad Marchand joins the Timbits Autographs club. Previous years have had Crosby, Aaron Ekblad and Nathan MacKinnon. The Marchand card has a print run of 100 cards.
2018-19 Upper Deck Tim Hortons Hockey Card Promotion Details
2018-19 Upper Deck Tim Hortons Hockey cards arrived officially at Canadian restaurants starting on September 26.
Packs were $1.00 each with a drink purchase or $1.99 each without. You could only get one discounted pack for every beverage. So one coffee got one $1.00 pack. Any others were $1.99. If you ordered a pair of drinks, you could get two $1.00 packs.
The promotion was scheduled to run through November 7, although many stores sold out sooner. According to the official rules, more than 12,000,000 packs have been made.
2018-19 Upper Deck Tim Horton's Hockey at a glance:
Cards per pack: 3
Packs per box: 100
Set size: 120 cards
Release date: late September 26, 2018
2018-19 Upper Deck Tim Hortons Hockey Checklist
The following is what is know of the 2018-19 Upper Deck Tim Hortons Hockey checklist at this point. It will be rounded out in the days ahead with the rest of the base set, more autograph and memorabilia card specifics, and card numbers as that info becomes available.
Checklist
2018-19 Upper Deck Tim Hortons Hockey Base Set Checklist
120 cards.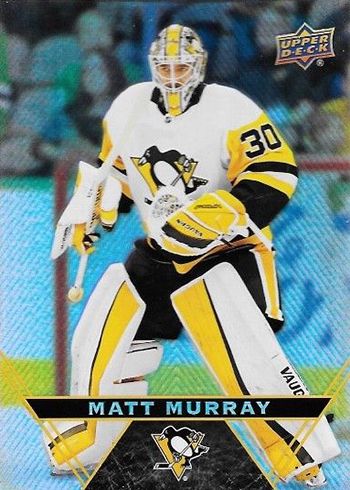 1 Tim Horton
2 Duncan Keith
3 John Klingberg
4 Artemi Panarin
5 Mathew Barzal
6 Brock Boeser
7 Andrei Vasilevskiy
8 Alex Ovechkin
9 Taylor Hall
10 Marc-Andre Fleury
11 Anze Kopitar
12 Patrick Marleau
13 Johnny Gaudreau
14 Jamie Benn
15 Ryan Getzlaf
16 Mitch Marner
17 Jack Eichel
18 Henrik Sedin
19 Jonathan Toews
20 Corey Crawford
21 Niklas Backstrom
22 Brayden Schenn
23 Oliver Ekman-Larsson
24 Tyler Seguin
25 Zdeno Chara
26 Blake Wheeler
27 Seth Jones
28 Claude Giroux
29 Nathan MacKinnon
30 Henrik Lundqvist
31 Carey Price
32 Aaron Ekblad
33 Devan Dubnyk
34 Auston Matthews
35 Pekka Rinne
36 Mats Zuccarello
37 Patrice Bergeron
38 Sean Couturier
39 Anthony Mantha
40 Henrik Zetterberg
41 Nico Hischier
42 Ryan Johansen
43 Max Pacioretty
44 Eric Staal
45 Mike Smith
46 Aleksander Barkov
47 Gabriel Landeskog
48 Josh Bailey
49 Sebastian Aho
50 Patrik Laine
51 Ryan O'Reilly
52 Logan Couture
53 Bo Horvat
54 Clayton Keller
55 Mark Scheifele
56 Jaden Schwartz
57 Mark Stone
58 Kris Letang
59 Roman Josi
60 Leon Draisaitl
61 Corey Perry
62 Daniel Sedin
63 Brad Marchand
64 Mikael Granlund
65 Erik Karlsson
66 Shayne Gostisbehere
67 Rikard Rakell
68 Mike Hoffman
69 Kevin Shattenkirk
70 Brayden Holtby
71 Evgeni Malkin
72 Ryan Nugent-Hopkins
73 Kyle Palmieri
74 Nikolaj Ehlers
75 Patrick Kane
76 P.K. Subban
77 Victor Hedman
78 David Pastrnak
79 Darnell Nurse
80 Matt Murray
81 Phil Kessel
82 Jeff Carter
83 Jonathan Marchessault
84 Jonathan Huberdeau
85 Shea Weber
86 Nikita Kucherov
87 Sidney Crosby
88 Brent Burns
89 Joe Pavelski
90 Dylan Larkin
91 Steven Stamkos
92 Jonathan Drouin
93 Jakub Voracek
94 Evgeni Kusnetsov
95 Matt Duchene
96 Mikko Rantanen
97 Connor McDavid
98 Reilly Smith
99 William Karlsson
100 Drew Doughty
101 Noah Hanifin
102 Mark Girodano
103 Sven Baertschi
104 Brayden Point
105 Alex Galchenyuk
106 Roberto Luongo
107 Connor Hellebuyck
108 Morgan Rielly
109 Teuvo Teravainen
110 Vladimir Tarasenko
111 Brendan Gallagher
112 Sean Monahan
113 Anders Lee
114 Mika Zibanejad
115 William Nylander
116 Rasmus Ristolainen
117 Pierre-Luc Dubois
118 Max Domi
119 Jonathan Quick
120 John Tavares
Clear Cut Phenoms Checklist
15 cards.
1:12 packs.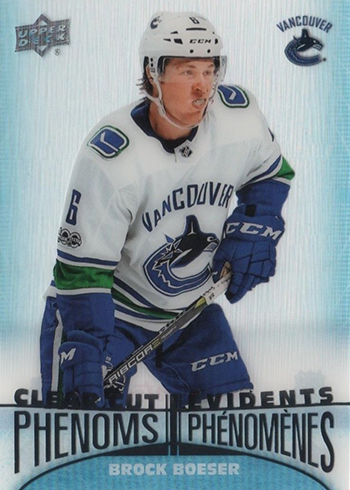 CC-1 Connor McDavid
CC-2 Jack Eichel
CC-3 Mathew Barzal
CC-4 Mitch Marner
CC-5 Jonathan Drouin
CC-6 David Pastrnak
CC-7 Patrik Laine
CC-8 Matthew Tkachuk
CC-9 Leon Draisaitl
CC-10 Dylan Larkin
CC-11 Nikolaj Ehlers
CC-12 William Nylander
CC-13 Nathan MacKinnon
CC-14 Brock Boeser
CC-15 Auston Matthews
Game Day Action Checklist
15 cards.
1:4 packs.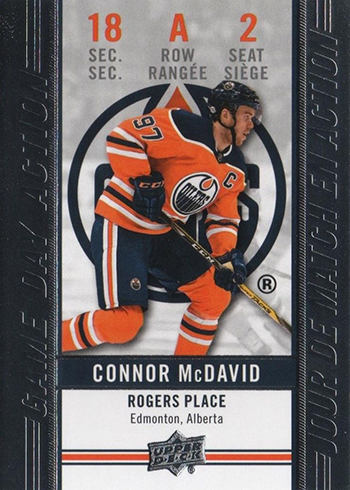 GDA-1 Brock Boeser
GDA-2 Connor McDavid
GDA-3 Patrik Laine
GDA-4 Johnny Gaudreau
GDA-5 Carey Price
GDA-6 Erik Karlsson
GDA-7 Steven Stamkos
GDA-8 Nikita Kucherov
GDA-9 Sidney Crosby
GDA-10 Auston Matthews
GDA-11 Evgeni Malkin
GDA-12 Brad Marchand
GDA-13 Mathew Barzal
GDA-14 P.K. Subban
GDA-15 Nathan MacKinnon
Gold Etchings Checklist
10 cards.
1:8 packs.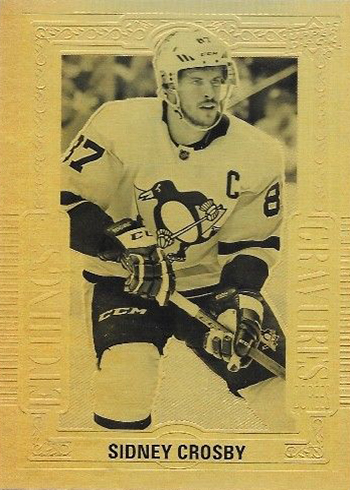 GE-1 Sidney Crosby
GE-2 Auston Matthews
GE-3 Erik Karlsson
GE-4 Patrik Laine
GE-5 Johnny Gaudreau
GE-6 John Tavares
GE-7 Carey Price
GE-8 Steven Stamkos
GE-9 Nathan MacKinnon
GE-10 Connor McDavid
NHL All-Star Standouts Checklist
5 cards.
1:3 packs.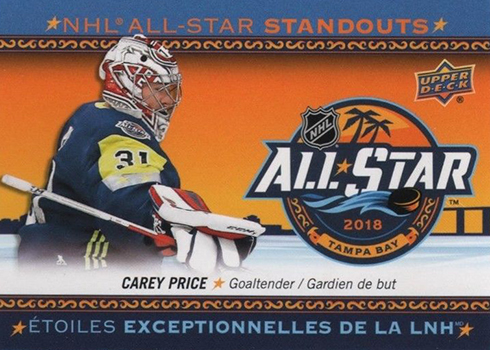 AS-1 Connor McDavid
AS-2 Sidney Crosby
AS-3 Brock Boeser
AS-4 Auston Matthews
AS-5 Carey Price
NHL Jersey Relic Cards Checklist
18 cards.
1:1,800 packs.
6,855 total cards available.
Distributed as a prize redemption.
Alex Ovechkin
Auston Matthews
Brock Boeser
Carey Price
Connor McDavid
Drew Doughty
Erik Karlsson
Henrik Lundqvist
Henrik Zetterberg
John Tavares
Johnny Gaudreau
Jonathan Toews
Marc‑Andre Fleury
Nathan MacKinnon
P.K. Subban
Patrik Laine
Sidney Crosby
Steven Stamkos
NHL Jersey Relic Autographs Checklist
6 cards.
1:82,256 packs.
150 total cards available.
Distributed as a prize redemption.
Brock Boeser
Carey Price
Leon Draisaitl
Mark Giordano
Patrik Laine
William Nylander
NHL Signatures Checklist
15 cards.
1:7,200 packs.
1,714 total cards available.
Distributed as a prize redemption.
Alex Galchenyuk
Bo Horvat
Brady Skjei
Duncan Keith
Evgeny Kuznetsov
Jake Gardiner
Jeff Carter
Marc‑Andre Fleury
Mark Stone
Matt Murray
Matthew Tkachuk
Mitch Marner
Nikita Kucherov
Nikolaj Ehlers
Vladimir Tarasenko
No. 1 Draft Picks Redempiton Checklist
1 card.
1:15,000 packs.
Sidney Crosby Superstar Signatures Checklist
1 card.
1:141,821 packs.
Distributed as a prize redemption.
Sidney Crosby /87
Superstar Showcase Checklist
15 cards.
1:6 packs.
SS-1 Connor McDavid
SS-2 Brock Boeser
SS-3 Blake Wheeler
SS-4 Carey Price
SS-5 Taylor Hall
SS-6 Claude Giroux
SS-7 Erik Karlsson
SS-8 Sidney Crosby
SS-9 Johnny Gaudreau
SS-10 Alex Ovechkin
SS-11 Evgeni Malkin
SS-12 Nikita Kucherov
SS-13 Drew Doughty
SS-14 P.K. Subban
SS-15 Auston Matthews
Timbits Autographs Checklist
1 card.
100 available.
1:123,384 packs.
Distributed as a prize redemption.
Brad Marchand
Top Line Talent Checklist
Full list TBA.
1:24 packs.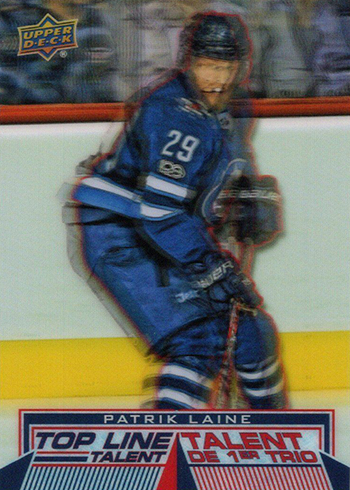 TLT-1 Connor McDavid
TLT-2 Carey Price
TLT-3 Nikita Kucherov
TLT-5 Sidney Crosby
TLT-6 Johnny Gaudreau
TLT-7 Erik Karlsson
TLT-8 Patrik Laine
TLT-9 Alex Ovechkin
TLT-10 Claude Giroux
TLT-11 Henrik Lundqvist
TLT-12 Auston Matthews
Team Sets
2018-19 Upper Deck Tim Hortons Hockey Team Set Checklists
Want to know what cards your favorite team has in 2018-19 Upper Deck Tim Hortons Hockey? Here's the checklist broken down by team. Scroll through or click below to go directly to that team.
We'll add card numbers and the few remaining cards as soon as the information becomes available.
2018-19 Upper Deck Tim Hortons Hockey Anaheim Ducks Checklist
15 Ryan Getzlaf
61 Corey Perry
67 Rikard Rakell
2018-19 Upper Deck Tim Hortons Hockey Arizona Coyotes Checklist
23 Oliver Ekman-Larsson
54 Clayton Keller
118 Max Domi
2018-19 Upper Deck Tim Hortons Hockey Boston Bruins Checklist
25 Zdeno Chara
37 Patrice Bergeron
63 Brad Marchand
78 David Pastrnak
Clear Cut Phenoms
CC-6 David Pastrnak
Game Day Action
GDA-12 Brad Marchand
Timbits Autographs
Brad Marchand
2018-19 Upper Deck Tim Hortons Hockey Buffalo Sabres Checklist
17 Jack Eichel
51 Ryan O'Reilly
116 Rasmus Ristolainen
Clear Cut Phenoms
CC-2 Jack Eichel
2018-19 Upper Deck Tim Hortons Hockey Calgary Flames Checklist
13 Johnny Gaudreau
45 Mike Smith
102 Mark Girodano
112 Sean Monahan
Clear Cut Phenoms
CC-8 Matthew Tkachuk
Game Day Action
GDA-4 Johnny Gaudreau
Gold Etchings
GE-5 Johnny Gaudreau
NHL Jersey Relics
Johnny Gaudreau
NHL Jersey Relic Autographs
Mark Giordano
NHL Signatures
Matthew Tkachuk
Superstar Showcase
SS-9 Johnny Gaudreau
Top Line Talent
TLT-6 Johnny Gaudreau
2018-19 Upper Deck Tim Hortons Hockey Carolina Hurricanes Checklist
49 Sebastian Aho
101 Noah Hanifin
109 Teuvo Teravainen
2018-19 Upper Deck Tim Hortons Hockey Chicago Blackhawks Checklist
2 Duncan Keith
19 Jonathan Toews
20 Corey Crawford
75 Patrick Kane
NHL Jersey Relics
Jonathan Toews
NHL Signatures
Duncan Keith
2018-19 Upper Deck Tim Hortons Hockey Colorado Avalanche Checklist
29 Nathan MacKinnon
47 Gabriel Landeskog
96 Mikko Rantanen
Clear Cut Phenoms
CC-13 Nathan MacKinnon
Game Day Action
GDA-15 Nathan MacKinnon
Gold Etchings
GE-9 Nathan MacKinnon
NHL Jersey Relics
Nathan MacKinnon
2018-19 Upper Deck Tim Hortons Hockey Columbus Blue Jackets Checklist
4 Artemi Panarin
27 Seth Jones
117 Pierre-Luc Dubois
2018-19 Upper Deck Tim Hortons Hockey Dallas Stars Checklist
3 John Klingberg
14 Jamie Benn
24 Tyler Seguin
2018-19 Upper Deck Tim Hortons Hockey Detroit Red Wings Checklist
39 Anthony Mantha
40 Henrik Zetterberg
90 Dylan Larkin
Clear Cut Phenoms
CC-10 Dylan Larkin
NHL Jersey Relics
Henrik Zetterberg
2018-19 Upper Deck Tim Hortons Hockey Edmonton Oilers Checklist
60 Leon Draisaitl
72 Ryan Nugent-Hopkins
79 Darnell Nurse
97 Connor McDavid
All-Star Standouts
AS-1 Connor McDavid
Clear Cut Phenoms
CC-1 Connor McDavid
CC-9 Leon Draisaitl
Game Day Action
GDA-2 Connor McDavid
Gold Etchings
GE-10 Connor McDavid
NHL Jersey Relic Autographs
Leon Draisaitl
NHL Jersey Relics
Connor McDavid
Superstar Showcase
SS-1 Connor McDavid
Top Line Talent
TLT-1 Connor McDavid
2018-19 Upper Deck Tim Hortons Hockey Florida Panthers Checklist
32 Aaron Ekblad
46 Aleksander Barkov
84 Jonathan Huberdeau
106 Roberto Luongo
2018-19 Upper Deck Tim Hortons Hockey Los Angeles Kings Checklist
11 Anze Kopitar
82 Jeff Carter
100 Drew Doughty
119 Jonathan Quick
NHL Jersey Relics
Drew Doughty
NHL Signatures
Jeff Carter
Superstar Showcase
SS-13 Drew Doughty
2018-19 Upper Deck Tim Hortons Hockey Minnesota Wild Checklist
33 Devan Dubnyk
44 Eric Staal
64 Mikael Granlund
2018-19 Upper Deck Tim Hortons Hockey Montreal Canadiens Checklist
31 Carey Price
43 Max Pacioretty
85 Shea Weber
92 Jonathan Drouin
105 Alex Galchenyuk
111 Brendan Gallagher
All-Star Standouts
AS-5 Carey Price
Clear Cut Phenoms
CC-5 Jonathan Drouin
Game Day Action
GDA-5 Carey Price
Gold Etchings
GE-7 Carey Price
NHL Jersey Relic Autographs
Carey Price
NHL Jersey Relics
Carey Price
NHL Signatures
Alex Galchenyuk
Superstar Showcase
SS-4 Carey Price
Top Line Talent
TLT-2 Carey Price
2018-19 Upper Deck Tim Hortons Hockey Nashville Predators Checklist
35 Pekka Rinne
42 Ryan Johansen
59 Roman Josi
76 P.K. Subban
Game Day Action
GDA-14 P.K. Subban
NHL Jersey Relics
P.K. Subban
Superstar Showcase
SS-14 P.K. Subban
2018-19 Upper Deck Tim Hortons Hockey New Jersey Devils Checklist
9 Taylor Hall
41 Nico Hischier
73 Kyle Palmieri
Superstar Showcase
SS-5 Taylor Hall
2018-19 Upper Deck Tim Hortons Hockey New York Islanders Checklist
5 Mathew Barzal
48 Josh Bailey
113 Anders Lee
120 John Tavares
Clear Cut Phenoms
CC-3 Mathew Barzal
Game Day Action
GDA-13 Mathew Barzal
Gold Etchings
GE-6 John Tavares
NHL Jersey Relics
John Tavares
2018-19 Upper Deck Tim Hortons Hockey New York Rangers Checklist
30 Henrik Lundqvist
36 Mats Zuccarello
69 Kevin Shattenkirk
114 Mika Zibanejad
NHL Jersey Relics
Henrik Lundqvist
NHL Signatures
Brady Skjei
Top Line Talent
TLT-11 Henrik Lundqvist
2018-19 Upper Deck Tim Hortons Hockey Ottawa Senators Checklist
57 Mark Stone
65 Erik Karlsson
68 Mike Hoffman
95 Matt Duchene
Game Day Action
GDA-6 Erik Karlsson
Gold Etchings
GE-3 Erik Karlsson
NHL Jersey Relics
Erik Karlsson
NHL Signatures
Mark Stone
Superstar Showcase
SS-7 Erik Karlsson
Top Line Talent
TLT-7 Erik Karlsson
2018-19 Upper Deck Tim Hortons Hockey Philadelphia Flyers Checklist
28 Claude Giroux
38 Sean Couturier
66 Shayne Gostisbehere
93 Jakub Voracek
Superstar Showcase
SS-6 Claude Giroux
Top Line Talent
TLT-10 Claude Giroux
2018-19 Upper Deck Tim Hortons Hockey Pittsburgh Penguins Checklist
58 Kris Letang
71 Evgeni Malkin
80 Matt Murray
81 Phil Kessel
87 Sidney Crosby
All-Star Standouts
AS-2 Sidney Crosby
Game Day Action
GDA-11 Evgeni Malkin
GDA-9 Sidney Crosby
Gold Etchings
GE-1 Sidney Crosby
NHL Jersey Relics
Sidney Crosby
NHL Signatures
Matt Murray
Superstar Showcase
SS-11 Evgeni Malkin
SS-8 Sidney Crosby
Superstar Signatures
Sidney Crosby /87
Top Line Talent
TLT-5 Sidney Crosby
2018-19 Upper Deck Tim Hortons Hockey San Jose Sharks Checklist
52 Logan Couture
88 Brent Burns
89 Joe Pavelski
2018-19 Upper Deck Tim Hortons Hockey St. Louis Blues Checklist
22 Brayden Schenn
56 Jaden Schwartz
110 Vladimir Tarasenko
NHL Signatures
Vladimir Tarasenko
2018-19 Upper Deck Tim Hortons Hockey Tampa Bay Lightning Checklist
7 Andrei Vasilevskiy
77 Victor Hedman
86 Nikita Kucherov
91 Steven Stamkos
104 Brayden Point
Game Day Action
GDA-7 Steven Stamkos
GDA-8 Nikita Kucherov
Gold Etchings
GE-8 Steven Stamkos
NHL Jersey Relics
Steven Stamkos
NHL Signatures
Nikita Kucherov
Superstar Showcase
SS-12 Nikita Kucherov
Top Line Talent
TLT-3 Nikita Kucherov
2018-19 Upper Deck Tim Hortons Hockey Toronto Maple Leafs Checklist
1 Tim Horton
12 Patrick Marleau
16 Mitch Marner
34 Auston Matthews
108 Morgan Rielly
115 William Nylander
All-Star Standouts
AS-4 Auston Matthews
Clear Cut Phenoms
CC-12 William Nylander
CC-15 Auston Matthews
CC-4 Mitch Marner
Game Day Action
GDA-10 Auston Matthews
Gold Etchings
GE-2 Auston Matthews
NHL Jersey Relic Autographs
William Nylander
NHL Jersey Relics
Auston Matthews
NHL Signatures
Jake Gardiner
Mitch Marner
Superstar Showcase
SS-15 Auston Matthews
Top Line Talent
TLT-12 Auston Matthews
2018-19 Upper Deck Tim Hortons Hockey Vancouver Canucks Checklist
6 Brock Boeser
18 Henrik Sedin
53 Bo Horvat
62 Daniel Sedin
103 Sven Baertschi
All-Star Standouts
AS-3 Brock Boeser
Clear Cut Phenoms
CC-14 Brock Boeser
Game Day Action
GDA-1 Brock Boeser
NHL Jersey Relic Autographs
Brock Boeser
NHL Jersey Relics
Brock Boeser
NHL Signatures
Bo Horvat
Superstar Showcase
SS-2 Brock Boeser
2018-19 Upper Deck Tim Hortons Hockey Vegas Golden Knights Checklist
10 Marc-Andre Fleury
83 Jonathan Marchessault
98 Reilly Smith
99 William Karlsson
NHL Jersey Relics
Marc‑Andre Fleury
NHL Signatures
Marc‑Andre Fleury
2018-19 Upper Deck Tim Hortons Hockey Washington Capitals Checklist
8 Alex Ovechkin
21 Niklas Backstrom
70 Brayden Holtby
94 Evgeni Kusnetsov
NHL Jersey Relics
Alex Ovechkin
NHL Signatures
Evgeny Kuznetsov
Superstar Showcase
SS-10 Alex Ovechkin
Top Line Talent
TLT-9 Alex Ovechkin
2018-19 Upper Deck Tim Hortons Hockey Winnipeg Jets Checklist
26 Blake Wheeler
50 Patrik Laine
55 Mark Scheifele
74 Nikolaj Ehlers
107 Connor Hellebuyck
Clear Cut Phenoms
CC-11 Nikolaj Ehlers
CC-7 Patrik Laine
Game Day Action
GDA-3 Patrik Laine
Gold Etchings
GE-4 Patrik Laine
NHL Jersey Relic Autographs
Patrik Laine
NHL Jersey Relics
Patrik Laine
NHL Signatures
Nikolaj Ehlers
Superstar Showcase
SS-3 Blake Wheeler
Top Line Talent
TLT-8 Patrik Laine