Exclusive 2018-19 Upper Deck Hockey Cards Coming to an NHL Game Near You
When you click on links to various merchants on this site, like eBay, and make a purchase, this can result in this site earning a commission.
A series of 2018-19 Upper Deck Hockey arena giveaways are coming to several NHL cities in the weeks ahead. Given to fans simply for attending games, each team set highlights top players and fan favorites from around the league.
The Anaheim Ducks kick things off on November 23 with a six-card checklist that includes Josh Gibson, Ryan Getzlaf, Corey Perry and more. The Anaheim set has an added focus as it celebrates the team's 25th anniversary. The photos showcase a variety of jerseys used by the franchise over the years.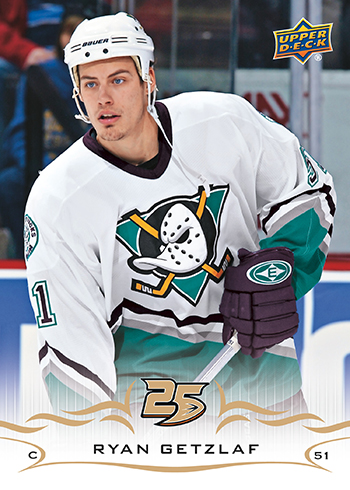 For the Washington Capitals set, there's a Stanley Cup theme among all of the photos. The Penguins take it back to their 2009 Stanley Cup Championship. While key players like Sidney Crosby and Evgeni Malkin are still on the team, several others have moved on.
Team sets vary in size from six to nine cards. All use the 2018-19 Upper Deck Hockey design, giving them a bit of familiarity for card collectors. Production numbers vary from team to team. For example, the Bruins set is limited to 10,000 fans while everyone in attendance at the November 23 Ducks game get one. Columbus is limiting their giveaway to kids aged 12 and under.
Not all teams are using traditional arena giveaways to distribute their cards. The Edmonton Oilers cards are being used to raised spirits in local hospitals. The St. Louis Blues set is being handed out at youth camps and school visits.
Full checklists and galleries for all of the confirmed 2018-19 Upper Deck Hockey arena giveaway sets are listed below.
2018-19 Upper Deck Hockey Arena Giveaways Checklist
Anaheim Ducks
Date: November 23, 2018
All fans.
ANA-1 Ryan Getzlaf
ANA-2 Adam Henrique
ANA-3 Andrew Cogliano
ANA-4 John Gibson
ANA-5 Corey Perry
ANA-6 Cam Fowler
Boston Bruins
Date: December 20, 2018
10,000 fans.
BOS-1 Patrice Bergeron
BOS-2 Charlie McAvoy
BOS-3 David Pastrnak
BOS-4 Zdeno Chara
BOS-5 Brad Marchand
BOS-6 Tuukka Rask
Calgary Flames
Date: February 18, 2019
10,000 fans.
Johnny Gaudreau
Matthew Tkachuk
Sean Monahan
Mike Smith
James Neal
Elias Lindholm
Columbus Blue Jackets
Date: December 15, 2018
Kids 12 and under.
COL-1 Nick Foligno
COL-2 Sergei Bobrovsky
COL-3 Seth Jones
COL-4 Cam Atkinson
COL-5 Zach Werenski
COL-6 Artemi Panarin
Edmonton Oilers
Given away at local hospitals rather than as an arena giveaway.
Packs have six player cards. Hunter distributed outside of pack.
Connor McDavid
Leon Draisaitl
Cam Talbot
Ryan Nugent-Hopkins
Adam Larsson
Zack Kassian
Hunter
Montreal Canadiens
Date: December 15, 2018
All fans.
MTL-1 Jonathan Drouin
MTL-2 Carey Price
MTL-3 Andrew Shaw
MTL-4 Jeff Petry
MTL-5 Paul Byron
MTL-6 Victor Mete
MTL-7 Tomas Plekanec
Philadelphia Flyers
Date: January 5, 2019
Kids only.
Claude Giroux
Wayne Simmonds
Travis Konecny
Sean Couturier
Ivan Provorov
James Van Riemsdyk
Gritty
Pittsburgh Penguins
Date: January 6, 2019
All fans.
Sidney Crosby
Evgeni Malkin
Kris Letang
Marc-Andre Fleury
Jordan Staal
Chris Kunitz
Sergei Gonchar
Max Talbot
Bill Guerin
St. Louis Blues
Given away at school visits and youth camps.
Vladimir Tarasenko
Ryan O'Reilly
Jaden Schwartz
Alex Pietrangelo
Joel Edmundson
Brayden Schenn
Tampa Bay Lightning
Date: March 2, 2019
All fans.
Point available separately at team store.
Steven Stamkos
Nikita Kucherov
Victor Hedman
Andrei Vasilevskiy
J.T. Miller
Ondrej Palat
Brayden Point
Thunderbug
Washington Capitals
Date: December 11, 2018
19,000 fans.
WSH-1 Alex Ovechkin
WSH-2 Nicklas Backstrom
WSH-3 John Carlson
WSH-4 Braden Holtby
WSH-5 Evgeny Kuznetsov
WSH-6 T.J. Oshie
Winnipeg Jets
Date: January 6, 2019
16,000 fans.
WIN-1 Blake Wheeler
WIN-2 Kyle Connor
WIN-3 Mark Scheifele
WIN-4 Patrik Laine
WIN-5 Connor Hellebuyck
WIN-6 Dustin Byfuglien
WIN-7 Josh Morrissey