Exclusive 2018-19 Upper Deck Hockey Cards Coming to an NHL Game Near You
A series of 2018-19 Upper Deck Hockey arena giveaways are coming to several NHL cities in the weeks ahead. Given to fans simply for attending games, each team set highlights top players and fan favorites from around the league.
The Anaheim Ducks kick things off on November 23 with a six-card checklist that includes Josh Gibson, Ryan Getzlaf, Corey Perry and more. The Anaheim set has an added focus as it celebrates the team's 25th anniversary. The photos showcase a variety of jerseys used by the franchise over the years.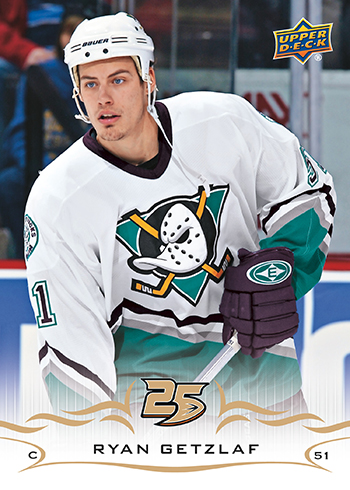 Columbus (December 15), Montreal (December 15) and Boston (December 20) are among the other teams in the initial batch of giveaways. By the end of the season, more teams will have similar hockey card promotions.
Team sets vary in size from six to seven cards. All use the 2018-19 Upper Deck Hockey design, giving them a bit of familiarity for card collectors. Production numbers vary from team to team. For example, the Bruins set is limited to 10,000 fans while everyone in attendance at the November 23 Ducks game get one. Columbus is limiting their giveaway to kids aged 12 and under.
Full checklists and galleries for all of the confirmed 2018-19 Upper Deck Hockey arena giveaway sets are listed below.
2018-19 Upper Deck Hockey Arena Giveaways Checklist
Anaheim Ducks
Date: November 23, 2018
All fans.
ANA-1 Ryan Getzlaf
ANA-2 Adam Henrique
ANA-3 Andrew Cogliano
ANA-4 John Gibson
ANA-5 Corey Perry
ANA-6 Cam Fowler
Boston Bruins
Date: December 20, 2018
10,000 fans.
BOS-1 Patrice Bergeron
BOS-2 Charlie McAvoy
BOS-3 David Pastrnak
BOS-4 Zdeno Chara
BOS-5 Brad Marchand
BOS-6 Tuukka Rask
Columbus Blue Jackets
Date: December 15, 2018
Kids 12 and under.
COL-1 Nick Foligno
COL-2 Sergei Bobrovsky
COL-3 Seth Jones
COL-4 Cam Atkinson
COL-5 Zach Werenski
COL-6 Artemi Panarin
Montreal Canadiens
Date: December 15, 2018
All fans.
MTL-1 Jonathan Drouin
MTL-2 Carey Price
MTL-3 Andrew Shaw
MTL-4 Jeff Petry
MTL-5 Paul Byron
MTL-6 Victor Mete
MTL-7 Tomas Plekanec