2018-19 Upper Deck Clear Cut Hockey are giving cards from the flagship line a makeover that's both acetate and autographed. Boxes come with just one card, although it's an on-card autograph done on the clear stock.
2018-19 Upper Deck Clear Cut Hockey Overview
The majority of cards in 2018-19 Upper Deck Clear Cut Hockey draw their inspiration from 2018-19 Upper Deck Series 1 and Series 2 Hockey. That means a familiar design only with the acetate and signature overhaul. Clear Cut Autographs are 1:10 packs while Clear Cut Rookie Autographs are 1:3.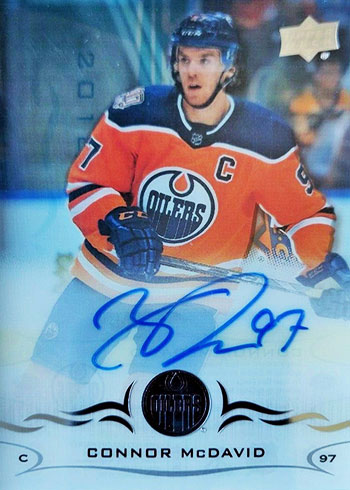 Parallels for both also draw from the flagship line with Exclusive (/35, Rookies /65), High Gloss (/10). There are also One-of-One versions that have a single copy.
UD Canvas Signatures also make the jump from flagship. Print runs for these cards vary.
2018-19 Clear Cut Hockey doesn't just recreate cards from the current season. It delves into the past in a couple of areas as well. Clear Cut Rookie Tribute Autographs (1:15 packs) offer up new spins on some of the company's most iconic Rookie Cards.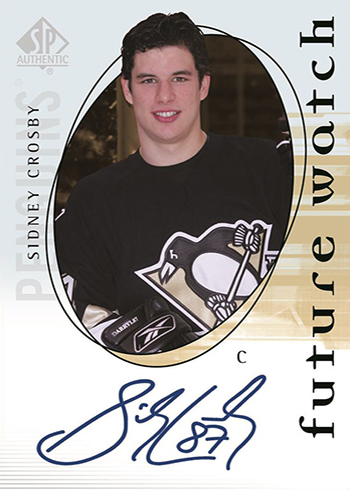 A long-running insert set return as well with Clear Cut Hockey Heroes Tribute Autographs (1:32). And in true Hockey Heroes form, there's a tough Header version that's 1:400 packs. Like everything in the product, it has a signature.
The Embedded Endorsements (/99) checklist has veterans, rookies and stars from the past. Parallels for these are available in Gold (/25) and Orange (/3).
Similar to Topps' Clearly Authentic baseball line, all 2018-19 Clear Cut Hockey cards come a sealed one-touch case.
2018-19 Upper Deck Clear Cut Hockey at a glance:
Cards per pack: 1
Packs per box: 1
Boxes per case: 30 (two 15-box inner cases)
Set size: 87 cards
Release date: October 9, 2019
What to expect in a hobby box:
2018-19 Upper Deck Clear Cut Hockey Checklist
Base
Autographs
Inserts
Team Sets