2018-19 Upper Deck Chronology Hockey cards are dedicated entirely to retired players. It's the first set to use the manufacturer's agreement with the NHL Alumni Association. Hobby boxes come with a single pack of four cards. At least one autograph is guaranteed. Two additional spots are reserved for either more signatures or chase cards.
Autographs
There's a one-two combination that drives Chronology. The all-retired checklist is one. But there's also an expansive list of autograph signers to go with it.
Franchise Heroes Autographs make up the main signature content, averaging one per pack. Around 300 different players are signing, making it among the most comprehensive lineups in hockey card history. Upper Deck says that key teams have more than ten different signers with some getting significantly more.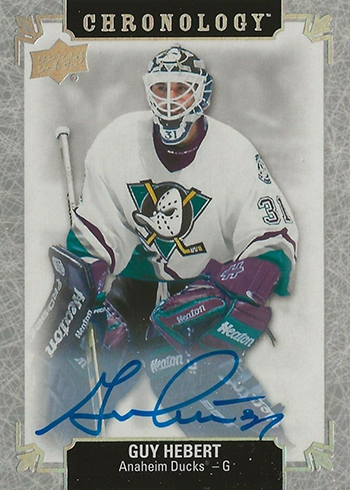 Card prefixes differ from team to team, further targeting team collectors.
Canvas Autographs (1:7 packs) and Canvas Masterpiece Autograph (Tier 1 – 1:19, Tier 2 – 1:85) take things back to the Upper Deck Masterpieces line from about a decade ago. Masterpieces use paintings to recreate big hockey moments. The set has 50 cards, the majority of which are in the Hall of Fame. Parallels are Green (/10 or less) and Black (1/1). Canvas Autographs also have Red (1:35) and Red Autograph Memorabilia (1:65) versions. Canvas Masterpiece Red cards follow a similar approach and have 25 copies or less.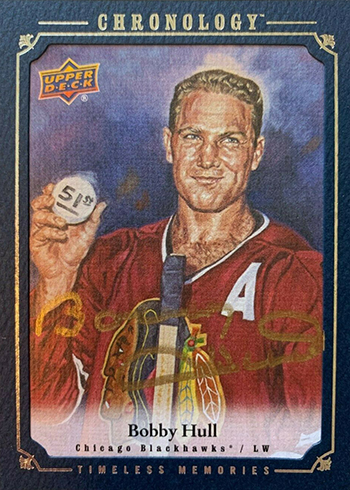 Dual (/25), Triple (/15) and Quad (/10) can also be found.
One-of-one Chronology Combo Cuts have a pair of cut signatures on one card.
2018-19 Upper Deck Chronology Hockey Base Set and Inserts
The base set covers hockey's past. Each has 222 copies, making individual cards relatively sparse. Premium Gold parallels are either autographs, memorabilia or autographed memorabilia, all with varied numbering.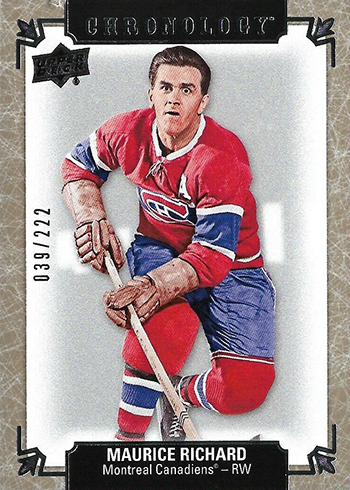 Packs that don't have a base card come with a 0 Celsius insert. These land 1:3 packs.
2018-19 Upper Deck Chronology Hockey has a couple of additional premium inserts whose concepts may be familiar to a lot of collectors. Diamond Relics come with a gem embedded in them. Averaging one per eight-box inner case, both regular and autograph versions have 36 copies each.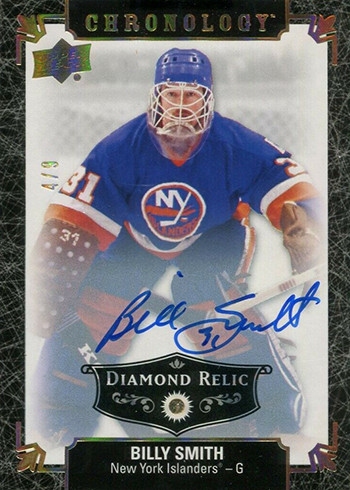 Letterman Patches have a large checklist of more than 150 players. According to Upper Deck, about 90 are Hall of Famers. Although not all of the patches have autographs, the majority of them do.
1 in 100 cards have autograph, memorabilia and autographed memorabilia versions.
Time Capsules Rip Cards
2018-19 Upper Deck Chronology Hockey includes a lineup of rip cards under the Time Capsules banner. Available in two tiers that land 1:3 and 1:32 packs, each of the cards has a smaller one within it. The collector's dilemma is whether to destroy the original card or not to get at it.
The main checklist has 50 cards. Parallels are Gold (/25) and Black (/15 or less).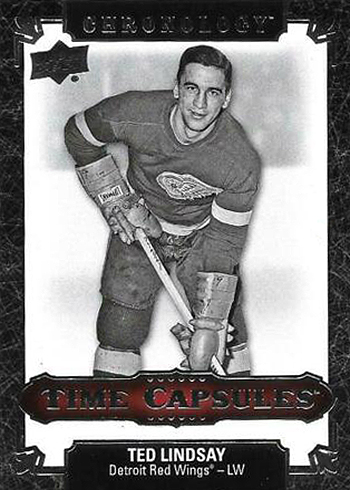 The mini cards checklist expands to 192 cards, each with 60 copies. Mini Blank Backs are hand-numbered to 3. Black Autograph Minis max out at 30 copies each.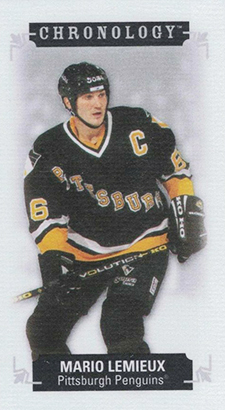 Redemptions for Canvas Masterpiece original art can also be found inside Time Capsules.
This is the first part of Chronology Hockey. Upper Deck plans to add a second in summer, 2020 that will consist of current and retired players.
2018-19 Upper Deck Chronology Hockey cards at a glance:
Cards per pack: 4
Packs per box: 1
Boxes per case: 16 (two 8-box inner cases)
Set size: 100 cards.
Release date: July 31, 2019
What to expect in a hobby box:
Autographs – 1
Additional Autographs or Inserts – 2
Base or 0 Celsius Legends – 1
2018-19 Upper Deck Chronology Hockey Checklist
Base
Autographs
Memorabilia
Inserts
Team Sets