2018-19 SP Hockey Checklist, Team Set Lists and Retail Details
2018-19 SP Hockey cards are a retail-exclusive, found at places like Walmart, Target, London Drugs and Toys 'R' Us (Geoffrey Giraffe and company are still around north of the border). The set is, in some ways, an abbreviated spin on the year's SP Authentic set. It also stands completely on its own in other ways.
2018-19 SP Hockey Cards Overview
The full 2018-19 SP Hockey base set has 140 cards. The first 100 are veterans and retired players.
First-year players round out the remaining 40 cards in the Rookie Authentics subset. These are numbered to 1,199 copies.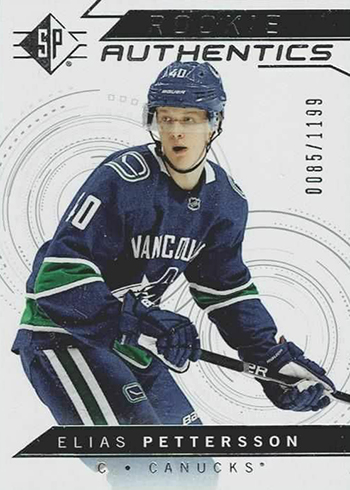 All base cards – veterans, rookies and retired players – have Blue parallels. Not numbered, four out of five packs have them.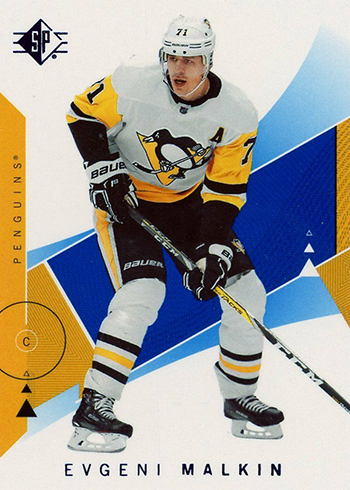 Rookie Authentics are the basis for much of the autographs and memorabilia cards in 2018-19 SP Hockey. All 40 players have jersey versions, which combine to land 1:18 packs. More than 30 also have Rookie Authentics Signatures, which are 1:100 packs. Autographs also have Gold parallels, which have 25 copies each.
Authentic Signatures (1:110 packs) bring autographs from veteran players.
The lone regular insert set in the product is Authentic Profiles. Highlighting star NHL players, there are 20 cards on the checklist, all numbered to 649. Similar to the base set, these have Blue parallels (1:5 packs). All 20 cards also have jersey versions (1:120 packs) and more than half have tough autographs (1:640 packs).
2018-19 SP Hockey cards at a glance:
Cards per pack: 5
Packs per box: Blaster – 8
Boxes per case: Blaster – 20
Set size: 140 cards
Release date: June, 2019
2018-19 SP Hockey Checklist
Base
Autographs
Memorabilia
Inserts
Team Sets