2018-19 SP Authentic Hockey Easter Eggs and Surprises
As one might expect, 2018-19 SP Authentic Hockey has some surprises Easter Egg inserts. These are cards left off the checklist by the company and arrive with some mystery.
But there are several inserts, under both the SP Authentic and Upper Deck Update banners, lurking in packs. Like other surprises from Upper Deck, print runs and insertions for these cards remain a mystery. It's not likely they'll be announced. That said, Easter Eggs are traditionally tough pulls.
Here are the things you should be watching for as you bust packs.
Future Watch Acetate
A couple of key 2018-19 SP Authentic Future Watch cards have surprise Acetate parallels. Elias Pettersson and Rasmus Dahlin have clear versions of their base cards.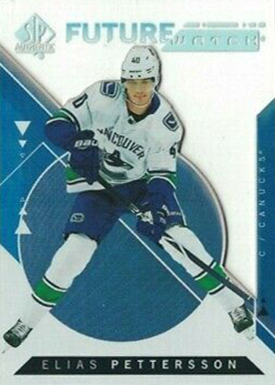 These don't have serial numbers but all signs point to them being tough short prints. For Pettersson, his Future Watch Acetate card doesn't have a signature, either.
It's possible there could be more Future Watch Acetate cards.
2018-19 SP Authentic Future Watch Acetate Checklist
189 Elias Pettersson, Vancouver Canucks
230 Rasmus Dahlin, Buffalo Sabres
Stan Mikita Tribute
The Blackhawks legend gets a special 2018-19 Upper Deck Update insert. Numbered SM, it uses the same general design as the main 2018-19 Upper Deck Hockey set with a gold "Tribute" ribbon running up the side.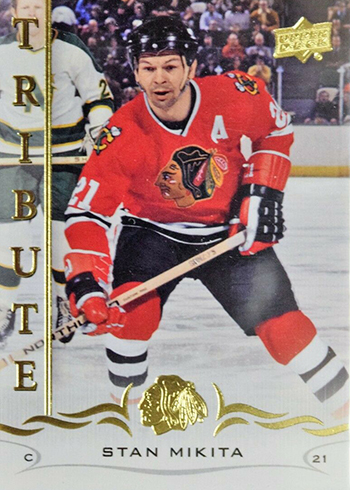 Mikita played for Chicago for more than 20 years, racking up more than 500 goals and 1,400 points in the process. He helped the Blackhawks win the 1961 Stanley Cup and won the Hart Memorial Trophy as the NHL's MVP in 1967 and 1968. Mikita passed away last August.
Gritty Young Guns
2018-19 SP Authentic Hockey gets Gritty. The Flyers mascot appears on a new 2018-19 Upper Deck Young Guns card (#SP-GR). It actually comes with two variations, depending on the foil on the front. Silver and Gold versions are available.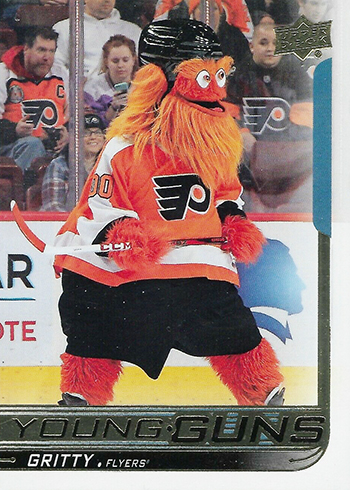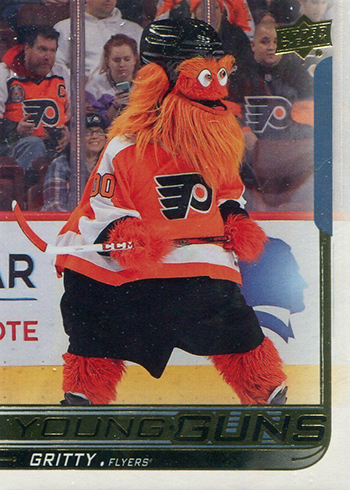 Early in the season, Upper Deck had an over-sized Gritty Young Guns card that was handed out at a Flyers game. It was also shrunken down to regular size for a promo set. The image on the promo version is different. The mascot does not have a stick. It also doesn't have a card number.
The card in 2018-19 SP Authentic is the first Gritty Young Guns card available in regular packs for a mainstream set.
Young Guns Acetate Variations
It's not just the select Future Watch cards that get the plastic stock treatment in 2018-19 SP Authentic Hockey. The product treads some familiar territory, revisiting the 2018-19 Upper Deck Young Guns and reimagine them with acetate. These are variation versions with different images. This prevents overlap from the Clear Cut parallels available in 2018-19 Upper Deck Series 1 and Series 2 Hockey packs.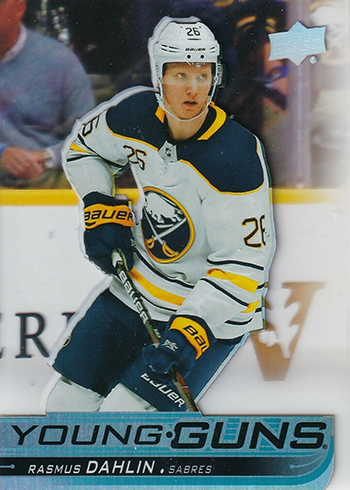 It's still early, but it looks as though Series 1 and Series 2 Young Guns have Acetate Variations.
30th Anniversary Diamond Relics
The 2018-19 Upper Deck 30th Anniversary Diamond Relics checklist continues to expand, this time brought to you by the letter 'C'. Carey Price and Casey Mittelstadt join the growing set that has popped up in several of the company's products this year.
As usual, each card has just 30 copies and feature a pair of diamonds embedded in them.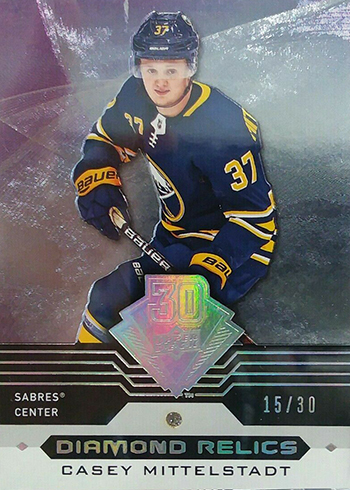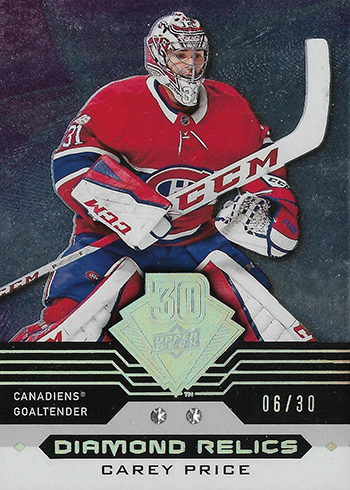 2018-19 SP Authentic UD 30th Anniversary Diamond Relics Checklist
30th-CA Casey Mittelstadt, Buffalo Sabres /30
30th-CP Carey Price, Montreal Canadiens /30