2018-19 Parkhurst Hockey Checklist, Team Set Lists and Details
2018-19 Parkhurst Hockey cards have set builders in mind. It comes with one of the biggest single-series checklists of the season, little that's complicated and an affordable price tag. And while it's still a Walmart-exclusive when it comes to traditional packs, Upper Deck is also adding an e-Pack component this time around.
Also new — buybacks from one of the most iconic sets of all-time, 1951-52 Parkhurst.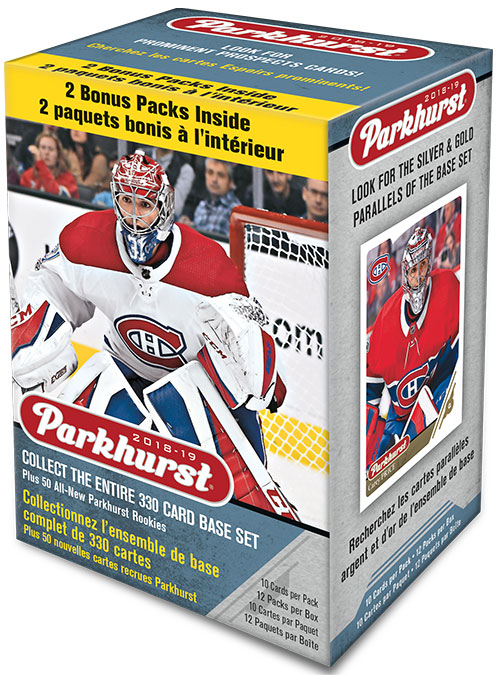 2018-19 Parkhurst Hockey Base Set Basics
The main 2018-19 Parkhurst Hockey checklist has 380 total cards and three distinct sections. Veterans make up the vast majority of the set, taking up the first 330 spots (327 if you want to be exact and discount the three checklists). Following that, 20 big-name players get the All-Star treatment.
Rookies round out the final 50 cards. These are short prints, but not particularly tough ones. They land one per regular pack and three per fat pack.
Parallels come in two colors: Silver and Gold.
Inserts, Autographs and Buybacks
2018-19 Parkhurst Hockey has a handful of chase sets. In keeping with the product's overall theme of set building, all are attainable. Some are more common than others but, barring unannounced Easter Eggs, none come with extreme rarity. Inserts themes include: Prominent Prospects (25 cards, 1:4 packs), View from the Ice (18 cards, 1:5.5), Original 6 (18 cards, 1:8), Ice Ambassadors (ten cards, 1:30).
There's also Parkhurst Permits, which has 25 cards and landing at a rate of 1:12 packs. These have Stamped parallels that are found only in fat packs, falling 1:36 of the 30-card packs.
This isn't a set that's heavy on autographs or memorabilia cards. Prominent Prospects Blue Autograph parallels are the only signatures in the product. A total of 22 rookies have signatures in the set. Autographs are only available in regular packs.
A full set of 1951-52 Parkhurst Hockey cards have been randomly inserted in packs. The classic set includes Rookie Cards of Gordie Howe, Maurice Richard and more.
2018-19 Parkhurst Hockey at a glance:
Cards per pack: Walmart – 10, Fat Packs – 30
Packs per box: Walmart Blaster – 12
Set size: 380 cards
Release date: December 12, 2019
2018-19 Parkhurst Hockey Checklist
Base
Autographs
Inserts
Buybacks
Team Sets