2018-19 National Treasures Luka Doncic Rookie Card Sells for Over $237,000
Less than a year after its release,  2018-19 Panini National Treasures Luka Doncic Rookie Card has sold for $237,777 on eBay.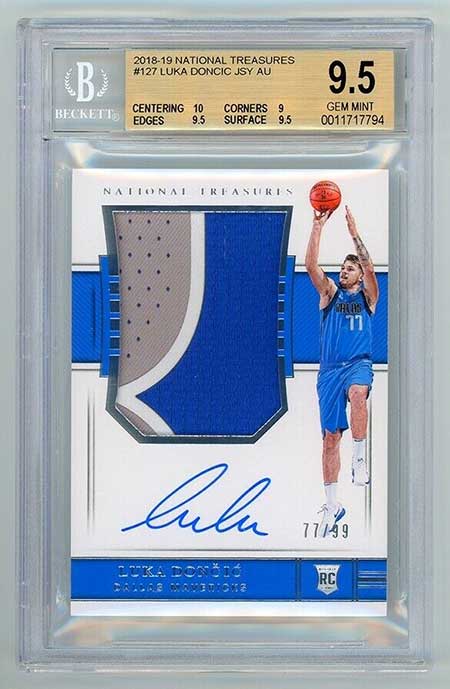 And while Doncic's top RC has seen some massive prices, particularly since the start of his sophomore season, this particular copy is different. It's copy 77/99, his jersey number. It's one of those x-factors that can help elevate cards.
And apparently for this one, by a lot.
The card was originally listed with a $265,000 Buy It Now, but an offer of $237,777 was accepted. Beckett Media did confirm with the seller, eBay user buybuymj, the final selling price and that the buyer had paid for the card.
The seller purchased the card last June from a collector in China. At the time, it was raw. It has since been graded by BGS 9.5 Gem Mint with a 10 for the autograph. The cards subgrades are 10 for centering, 9.5 for edges and surface, and 9 for corners.
Over the last couple of months, 2018-19 National Treasures Luka Doncic RCs have been selling for around $40,000. This shows a large premium is being added for the serial number. It could be argued that if National Treasures is Doncic's cornerstone Rookie Card, that this is its most desirable copy.
What does this mean for other National Treasures Doncic RCs? Probably not a lot beyond the usual market activity, which is already extremely volatile. The serial number makes this particular copy an outlier and not something that is likely to establish a wider trend.