2018-19 Donruss Soccer cards change things up from past years. It's adding Donruss Optic to the mix. Similar to how Bowman and Bowman Chrome work in baseball, it's like getting two products in the same package.
Besides the Optic inclusions, 2018-19 Donruss Soccer is changing its hobby configuration, bringing jumbo packs with 30 cards each. Hobby boxes have a dozen packs. As far as what you can expect in a hobby box, there are two autographs, 36 additional inserts and 36 parallels.
2018-19 Donruss Soccer Base Set
The main Donruss checklist features 200 total cards. Twenty-five of these are Rated Rookies.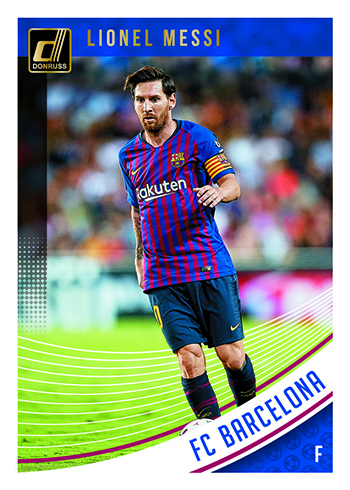 The set isn't league-specific. Rather, it's a mix of clubs and national teams from around the world. That means FC Barcelona, Real Madrid and Manchester City share space with the American, Mexican and Spanish teams, amongst others. All told, 30 squads are represented.
Hobby packs have seven exclusive Press Proof parallels for the regular Donruss cards: Silver, Die-Cuts (/100), Gold (/75), Canvas (/25), Gold Die-Cuts (/10), Blue (/5), and Purple (1/1).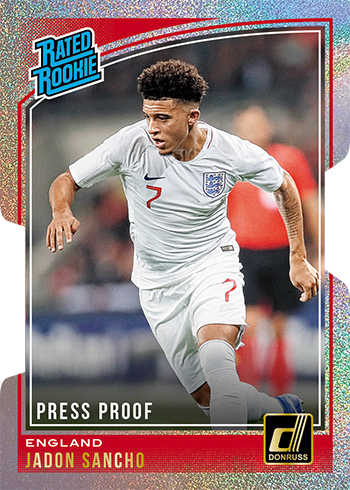 Optic parallels include Aqua (/149), Orange (/99), Red Velocity (/50), Black Velocity */25), Gold (/10), Green (/5), and Gold Vinyl (1/1).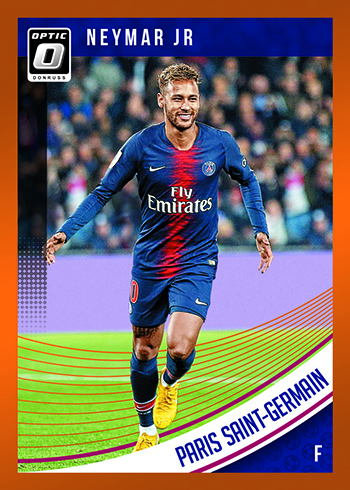 Inserts
It's not just the base set that has a deep checklist. 2018-19 Donruss Soccer has several inserts as well.
Looking back on the brand's heritage are 1989 Donruss Tribute cards. These use a design inspired by 1989 Donruss Baseball. These have four hobby-exclusive parallels: Silver, Gold (/75), Blue (/10) and Purple (1/1).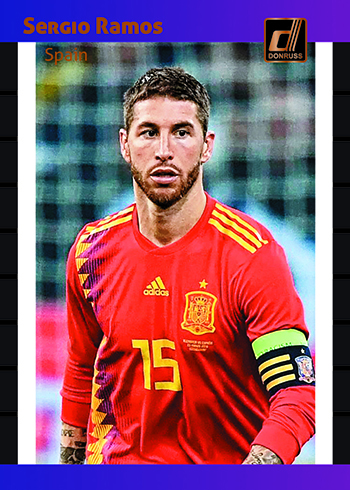 Elite Series, a Donruss staple, carries over here with 20 elite superstars.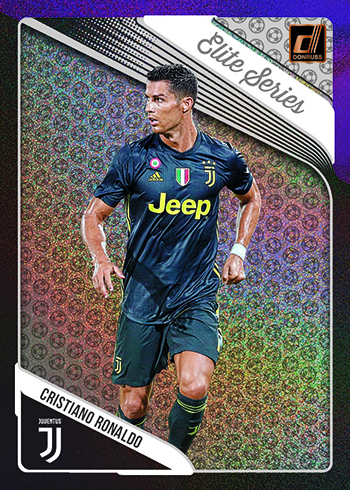 Additional Donruss inserts include Dominators, Legends Series, Magicians and Out of This World.
Six Optic-themed inserts are only in hobby, averaging 12 per box. One is Titans, which has 15 of the game's most dominant players. X-Ponential Power centers on strong stars. Other Optic inserts are Chain Reaction, Preferred, Explosive and Illusions. All have Silver, Gold (/10) and Gold Vinyl (1/1) parallels.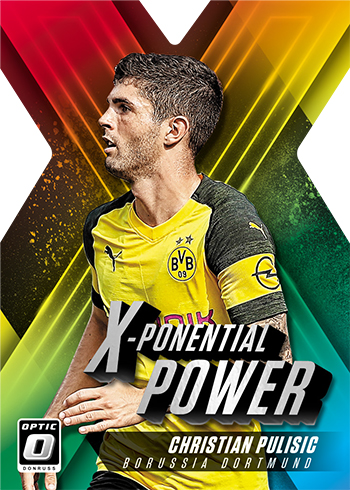 Autographs
2018-19 Donruss Soccer has multiple signature sets. Among them is The Beautiful Game Autographs, which has past and present players. Pele and Lionel Messi are among the headliners. Parallels come in Gold (/75 or less), Blue (/10 or less) and Purple (1/1).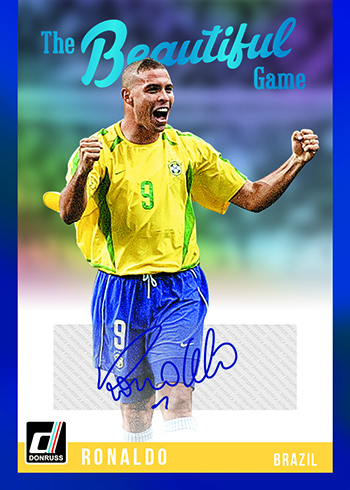 The U.S. Women's National Team get the spotlight in Road to France Autographs. Carli Lloyd, Tobin Heath and Alex Morgan are among the signers here. Hobby-exclusive parallels include Gold (/75), Blue (/10) and Purple (1/1).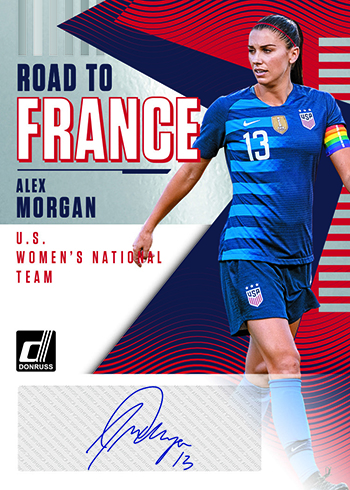 Select Donruss Optic cards also have autograph versions, all of which have 99 copies or less.
Multi-signature cards are available with two, three and four signers, but are found only in hobby packs.
2018-19 Donruss Soccer cards at a glance:
Cards per pack: 30
Packs per box: 12
Boxes per case: 12
Set size: 200 cards
Release date: April 10, 2019
What to expect in a hobby box:
Autographs – 2
Optic Inserts – 12
Additional Inserts – 24
Parallels – 36
Rated Rookies – 24
Optic Rated Rookies – 12
2018-19 Donruss Soccer Checklist
Base
Optic Base
Autographs
Inserts
Team Sets