2017 Upper Deck Goon: Last of the Enforcers Trading Cards Checklist and Details
As Goon: Last of the Enforcers opens in theatres across Canada, the comedy sequel has received a set of hockey cards. 2017 Upper Deck Goon: Last of the Enforcers arrives as a promo set that's being distributed a couple of different ways throughout Canada in the weeks ahead.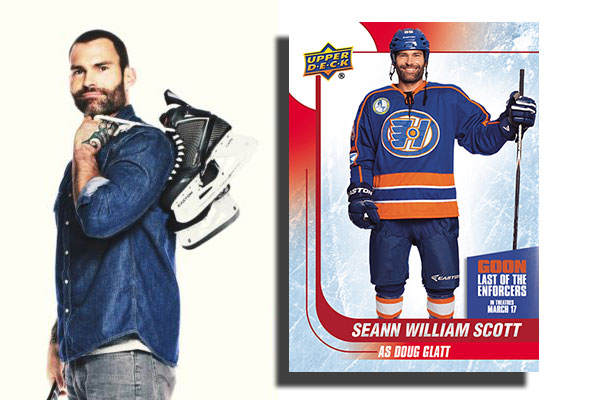 A total of eight Goon: Last of the Enforcers trading cards make up the set. They come cello wrapped together so there should be a need to chase down singles if you're looking for them all.
Seven of the cards are devoted to key characters from the movie and the actors who play them. The cast includes Seann William Scott (Doug Glatt), Liev Schreiber (Ross Rhea), Alison Pill (Eva), Elisha Cuthbert (Mary) and Sons of Anarchy's Kim Coates (Ronnie Hortense).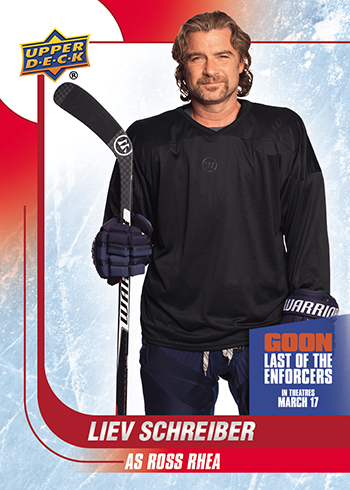 A sequel to Goon, the 2011 film which starred Seann William Scott as tough customer Doug Glatt along with Liev Schreiber and co-writer Jay Baruchel, the adventures of the Halifax Highlanders continue on for moviegoers. This time, Glatt faces the challenges of dealing with life after hockey and makes a return to the ice. That film did have mock-up cards but they were limited to digital PDFs that fans had to print them off themselves.
2017 Upper Deck Goon: Last of the Enforcers sets were first offered to audiences at early screenings of the film.
The cards will become more widely available through Canadian hobby shops. Those that are Upper Deck Certified Diamond Dealers will be giving them out to those spending $10 or more on 2016-17 hockey products.
Upper Deck will also have some themselves at a couple of Canadian card shows, the Summit Show in Edmonton (April 22-23) and the Sportscard & Memorabilia Spring Expo in Mississauga (May 5-7). Adults can get a set at the show by wearing a hockey jersey.
If none of those three channels work, sets are bound to surface on the secondary market soon.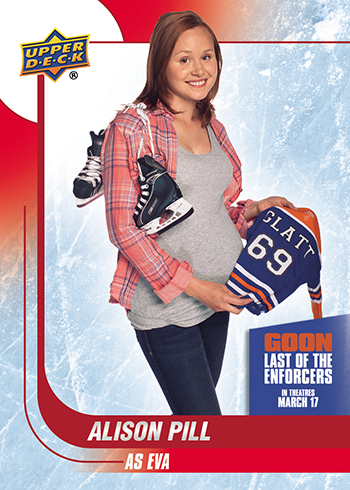 This isn't the first time Upper Deck has produced a set of promo cards for a sports movie. They did a similar promo set in 2008 for Will Ferrell's Semi-Pro.
2017 Upper Deck Goon: Last of the Enforcers Checklist
Kim Coates as Ronnie Hortense
Elisha Cuthbert as Mary
Marc-Andre Grondin as Xavier Laflamme
Alison Pill as Eva
Wyatt Russell as Anders Cain
Liev Schreiber as Ross Rhea
Seann William Scott as Doug Glatt
Halifax Highlanders
Comments? Questions? Contact Ryan Cracknell on Twitter @tradercracks. Additional notes and contributions provided Stephen Laroche.