2017 Topps WWE Wrestling Cards Checklist and Details
Like any flagship card product do, 2017 Topps WWE wrestling cards aim to be an anthology of sorts. It showcases the current stars of the company's various brands as well as highlighting some retired superstars as well.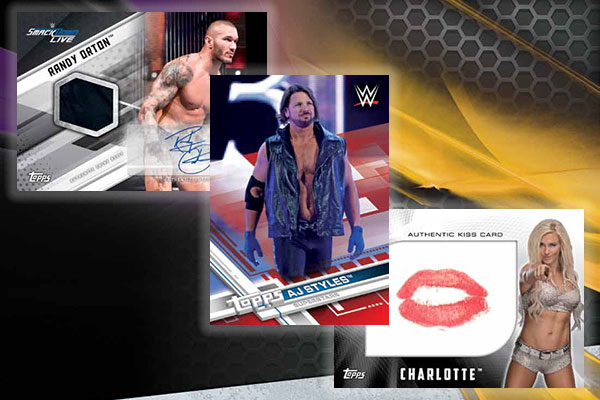 Keeping with the brand's tradition for the past several years, boxes come with a pair of autographs, memorabilia or manufactured relics.
Base Set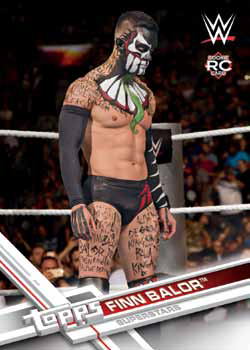 The 2017 Topps WWE base set has 100 cards. Both Raw, Smackdown and NXT are included as well as some retired wrestlers who fall under the Legends banner. The design is rooted in the one used for the flagship 2017 Topps Baseball design.
Parallels include Bronze (1:2 hobby packs), Blue (/99), hobby-exclusive Silver (/25), Gold (/10) and Red (1/1).
Select cards also have variation short prints, offering alternate photos with the same design. These are tough to pull.
Inserts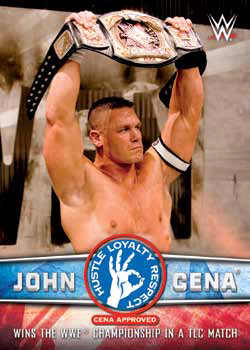 John Cena is featured with a second installment of Tribute inserts (the first can be found in 2017 Topps WWE Road to WrestleMania). Ten are added here with the final group coming later in the year.
Other 2017 Topps WWE inserts focus on other programming from the company. Total Divas highlights the show's fifth season. WWE Network shows Breaking Ground and Stone Cold Podcast also have inserts.
Autographs and Memorabilia Cards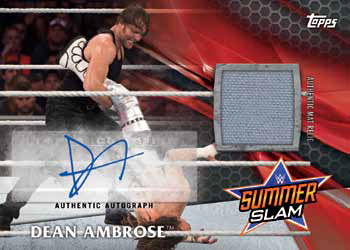 Hits follow a familiar path in the product.
Autographs use the same design as the main set. Signers come from all parts of the WWE roster plus retired stars. Parallels come in Blue (/50), Silver (/25), Gold (/10) and Red (1/1). 2017 Topps WWE includes the company's first Undertaker autographs. Goldberg is also a signer for the first time as a member of the WWE roster.
Triple Autographs are also randomly inserted.
Shirt relics use clothes worn by the featured stars.
Mat relics come from a couple of events: SummerSlam and NXT TakeOver: Brooklyn II. Parallels for both Shirt and Mat relics are the same as base autographs. Autographed versions are numbered to 10.
Kiss cards are back. These have actual lip imprints from the women of Smackdown, Raw and NXT. Base versions are numbered to 99 while parallels are available in Gold (/10) and Red (1/1). Select cards also have autographed versions numbered to 25, 10 (Gold) and 1 (Red).
Commemorative Championship cards spotlight some of the wrestlers who have help various belts over the years. A total of eight championships are used this time around.
2017 Topps WWE at a glance:
Packs per box: 24
Cards per pack: 7
Boxes per case: 8
Set size: 100 cards
Release date: May 3, 2017
What to expect in a hobby box:
• Autographs, Memorabilia Cards or Commemorative Championship Cards – 2 Total
• Stone Cold Podcast Inserts – 6
• Total Divas Inserts – 12
• WWE Breaking Ground Inserts – 12
• Bronze Parallels – 12
2017 Topps WWE Checklist
Base
Autographs
Memorabilia Cards
Inserts
Comments? Questions? Contact Ryan Cracknell on Twitter @tradercracks.