2017 Topps WWE Variations Gallery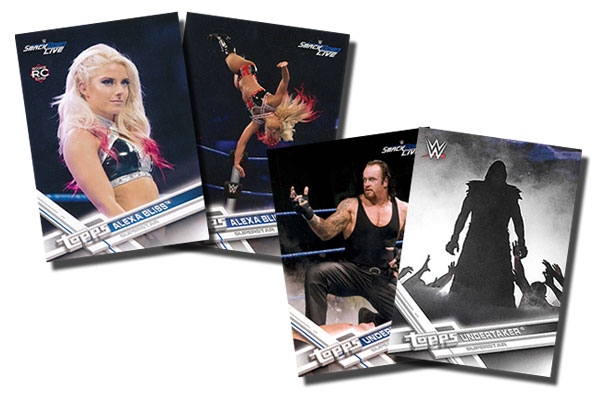 By Ryan Cracknell | Hobby Editor
A general design isn't the only thing that 2017 Topps WWE shares with its baseball counterpart. For the first time in five years, the main set has variants. We're not just talking a couple, either. The 2017 Topps WWE variations are much more ambitious in size than the rare instances they've been used before.
The 2017 Topps WWE variation short prints follow a familiar pattern (at least in other sports) of offering an alternate photo. Some are more dramatic than the regular card (like the Undertaker's smoky silhouette), while others are fairly similar.
We haven't seen exact odds, but the variations are tough. It's likely they'll become even harder to track down once most of the stock has dried up and made its way into personal collections.
Identifying 2017 Topps WWE Variations
Topps cards have a code on the back at the end of the fine print. It's not intended for identification purposes, but sometimes it can be helpful in confirming variations. This is one of those instances.
The code for regular base cards ends in 658. For variations, it's 665.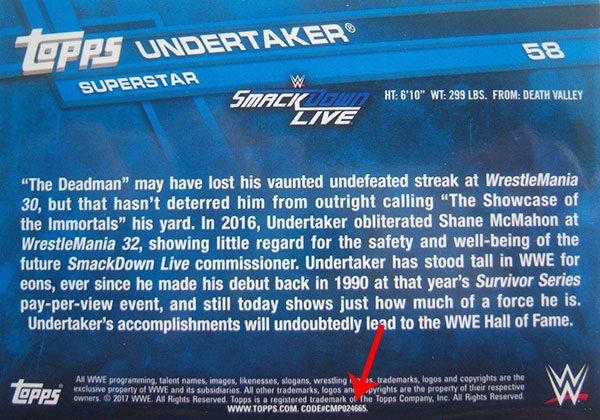 2017 Topps WWE Variations Checklist
Here's a quick look at the confirmed 2017 Topps WWE variations. More are likely.
If you're looking for a particular card, click on the link to see what's available on eBay.
2017 Topps WWE Variations Gallery
More to come as confirmed.
1 The Rock
5 Bayley
7 Big E
9 The Brian Kendrick
10 Brock Lesnar
13 Chris Jericho
17 Finn Bálor
18 Goldberg
22 Kofi Kingston
Variation – jumping, no horn
26 Nia Jax
33 Triple H
36 Alexa Bliss
38 Carmella
48 Kane
53 The Miz
55 Randy Orton
58 Undertaker
62 Asuka
63 Austin Aries
86 Shinsuke Nakamura
Comments? Questions? Contact Ryan Cracknell on Twitter @tradercracks.