2017 Topps Walking Dead Season 7 Trading Cards Checklist and Details
2017 Topps Walking Dead Season 7 offer continuity not only for the long-running show, but the card maker's trading card interpretation. It follows much the same path as their Season 5 and Season 6 sets as far as general configuration goes. It also catches Topps up to the show's run on television.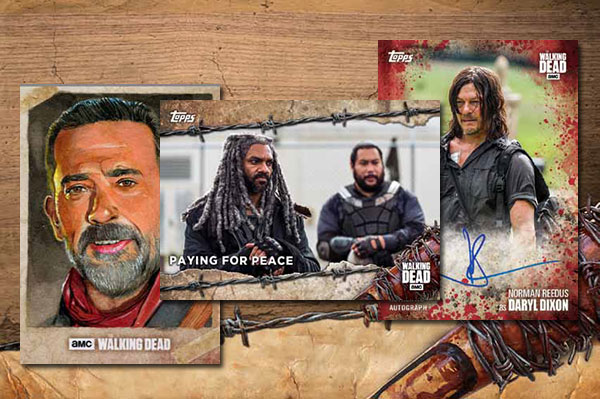 Base Set
Negan and his trusty Lucille may have made their debut towards the end of the sixth season, but they really came out to play in season seven. Their story, along with Rick, Daryl, some old friends and new ones are the focus of the base set. It has 100 cards covering all 16 episodes.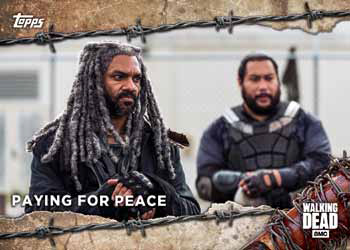 Every pack has at least one parallel. Names for these continue to fall under show's grim tone. Rust are the easiest to pull at one per pack. Others include Mold (/50), Mud (/25), Sepia (/10) and Blood (1/1). Base cards also have one-of-one Printing Plates.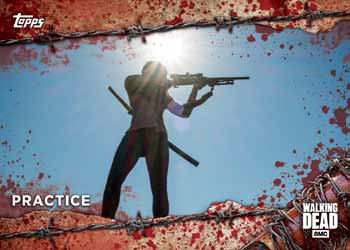 Autographs and Relics
Each 2017 Topps Walking Dead Season 7 hobby box promises to have at least least one autograph.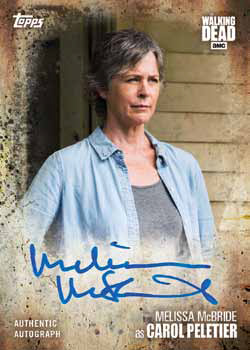 Basic signed cards have regular versions plus several parallels: Rust (/99), Mud (/50), Mold (/25), Sepia (/10) and Blood (1/1).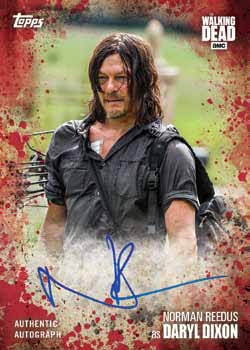 Dual and Triple Autographs with multiple signatures are also randomly inserted. One-of-one Blood versions are the only parallels for these.
Costume Relics have pieces of wardrobe worn on the show. These have the same parallel levels and numbers as autographs.
Dual Relics are numbered to 15 while Autographed Relics have ten copies each.
Inserts
Alongside relics, sketch cards are among the other premium inserts in 2017 Topps Walking Dead Season 7. Hobby boxes have the autograph plus one additional hit. Sketch cards come with original art done directly on the card. Due to each card's unique nature, they're generally considered to be one-of-a-kind.
More traditional inserts, which combine to land one per pack, are Chop, Walkers, Character Cards and Rivalries, which are new. These inserts have Rust (/99), Mud (/50), Mold (/25), Sepia (/10), Blood (1/1) and Printing Plate parallels.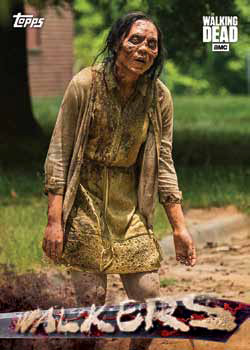 2017 Topps Walking Dead Season 7 trading cards at a glance:
Packs per box: 24
Cards per pack: 8
Boxes per case: 8
Set size: 100 cards
Release date: September 13, 2017
What to expect in a hobby box:
• Autographs – 1
•  Additional Autograph, Relic or Sketch Cards – 1
• Inserts – 24
• Parallels – 24
2017 Topps Walking Dead Season 7 Checklist
Base
Autographs
Memorabilia
Inserts
Sketch Cards
Comments? Questions? Contact Ryan Cracknell on Twitter @tradercracks.